Rhythms Riding

A School with Purpose
Rhythms Riding is situated on the outskirts of Sedgefield in a beautiful and peaceful setting against the backdrop of Cloud 9. Chenda Cullingworth owns and runs the riding school.
Chenda pursued the disciplines of Equine studies through the Elsenburg Agricultural Training Institute affiliated to Stellenbosch University and has qualifications according to SANEF (South African National Equestrian Federation) and EQASA (Equestrian Qualifications Authority of South Africa) and teaches according to these standards. 
After finishing her studies, Chenda's love for her own horse, Brandy committed her to set up a safe haven for him. With a passion for horses, it soon became her dream and vision to rescue those in bad situations or that for one reason or another their owners could not keep. Her aim was to rehabilitate them and/or rehome them or if they stayed with her, to find suitable jobs for them.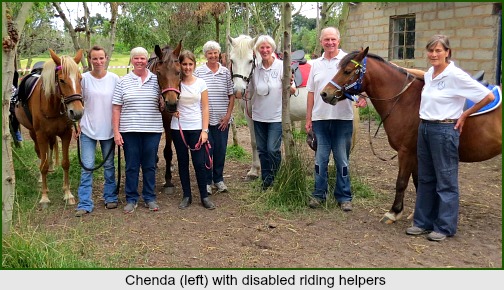 She faced some difficult years as subjected to short term rentals, she was forced to jump from property to property every few months. Now she has found respite on a highly suitable and beautiful plot in Sedgefield and has teamed up with Brenda Wright, a retired qualified disabled riding instructor. 
Together, through the facility of Rhythms Riding School, they are providing an invaluable therapeutic service for local children affected by illnesses such as Tuberculosis, Epilepsy, Autism, Rheumatoid Arthritis and HIV/Aids. In many instances these are children from disadvantaged communities.
Administrated locally by Hospice who has the where-with-all to find sponsorship, these children experience huge benefits from appropriately structured riding lessons. As Brenda points out, a single movement by a horse activates 5 different muscles in the human body so that one hour on a horse's back is worth 20 hours of physiotherapy. In extreme cases just passively lying on a horse's back as it walks is beneficial therapy for a child with rheumatoid arthritis.
With a carer, walking beside them, each child is assisted and supported to participate in gentle exercises as Chenda puts the horses through their paces. Aside from the health benefits, children gain confidence and self-esteem as they overcome their fears and experience a sense of freedom from their restrictive disabilities. They blossom under the oftentimes rare and personal dedicated attention and care shown to them, frequently establishing a rewarding bond with their horses. 
Chenda in turn, has found her desired purpose for some 15 horses that she has taken on, some trained and others in the process of being trained, to provide this specialised and worthwhile service.
With the more robust horses, she gives regular riding lessons to people of all ages, provides outrides and holds pony camps during school holidays.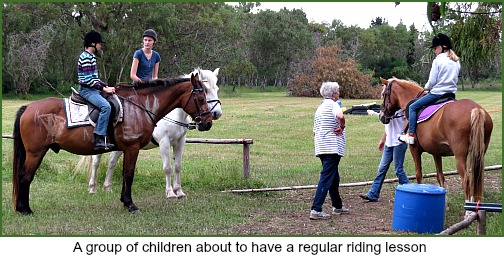 Contact Rhythms Riding School
Chenda's Cell: 084 474 6563 for more information on riding lessons, out-rides and pony camps.

Anyone prepared to volunteer to be a side-walker for a disabled rider can contact Chenda on the above number.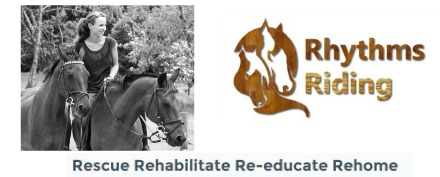 Rhythms Riding is a school with purpose, the dream and vision of Chenda Parkin.

Related Links

South African Riding for the Disabled Association, SARDA, was established in Cape Town in 1973 by Belinda Samson and Joy Finlay. SARDA's aim is to provide the opportunity of therapeutic and recreational horse riding for disabled people so that they might benefit in all aspects of their mental, physical and social lives…..
---