Adventure Sports


& Other Activities



Many different kinds of exciting outdoor activities and supervised adventure sports are available from the Sedgefield Adventure Association which is a group of companies that complement each other and work together to organise a multitude of recreational pursuits for locals and visitors.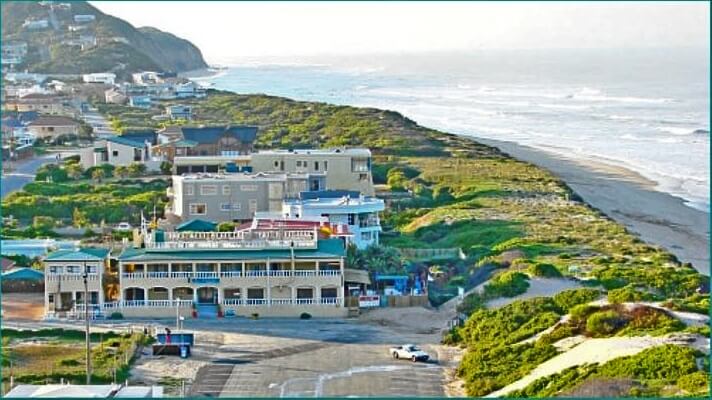 Pilipili Beach Cabanas, Beach Bar and Restaurant
Aptly named Pilipili Beach Cabanas is at the main parking area to Myoli Beach. It puts you right in the middle of the action at Myoli beach from where the Adventure Centre Gurus can set you up to have the time of your life in Sedgefield's magnificent outdoor environment.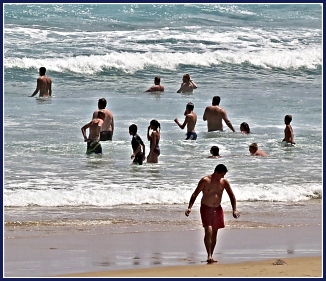 Bathers enjoying the waves on Myoli Beach
Myoli Beach is just one of the beautiful accessible beaches that attracts so many people to Sedgefield. You can walk all the way to Platbank that borders on the Goukamma Nature Reserve and Marine Protected Area if you walk in an easterly direction.
You'll find the Swartvlei rivermouth if you walk west. Then you can participate in what the locals call "surging" through the rivermouth. Ask at  Pilipili as they know all about it! 
Activities on offer include beach volleyball, beach golf, rock and surf fishing, snorkeling, water skiing, tube skiing and paragliding.
Afrovibe Beach Lodge  is now a 3-star graded guest house that offers prime beach-front accommodation just a hop and skip from the ocean.

Contact them:

website: http://www.afrovibes.co.za./beachlodge/
email: reservations@afrovibe.co.za

Tel: +27 (0)44 343 3217
Fax: +27 (0)86 6556 576
Cell: +27 (0)82 854 4136
Pili Pili Xtreme runs the restaurant and beach bar adjacent to the beach cabanas. 
SUPing on the Swartvlei Lagoon
PiliPili's adventure sports include activities such as adrenaline-rush kite boarding lessons, surf lessons and wake boarding, stand up paddling, kite surfing, skurfing and horse riding.
Contact them:
website: http://www.pilipili.co.za/pilipili-sedgefield/
email: info@pilipili.co.za
Tel: +27 (0)44 343 3087
Horse riding on Buffalo Beach at low tide
André Gauché at Myoli Beach Lodge offers "bootcamp@rondevlei" that is customised team building and educational type events for all ages that take place at his Rondevlei farm on the northern side of the Swartvlei Lake.
He provides a safe facility for groups of individuals, especially children to engage in ball sports, adventure programmes, martial arts, aerobics and Tai Chi, field guiding and life skills courses.

Judo lessons at Rondevlei Farm
Contact Andre:
Tel: +27 (0)44 343 2108
Fax: +27 (0)44 343 2937
For a comprehensive list of outdoor activities along the Garden Route.....
website: www.southcapetourism.com
email: info@southcapetourism.com

Canoeing on the Swartvlei lagoon
Eugene at Cycleworx offers customised road rides and off-road cycle trails, bike repairs and a wide range of bike related items. 
There are two local groups that organise regular rides. One is is the Eden Easy Riders and the other is the Hamba Kahle group. Contact Eugene for more information.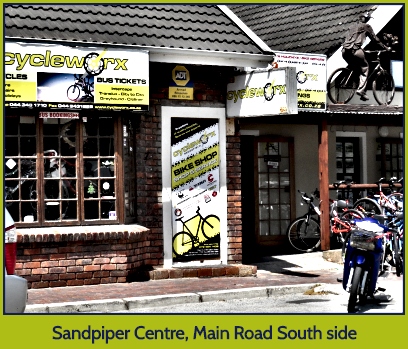 Contact Eugene:

website: Cycleworx Sedgefield
 email: eugene@cycleworx.co.za
Cell: +27 (0)72 464 1439
Tel: +27 (0)44 343 1710


Adventure Sports at Timberlake
Timberlake Farm Village and Organic Food just a few kilometres outside of Sedgefield in the George direction provides a great day's outing for the family that includes fine food, specialist shops offering the best in local produce and products and they have some great outdoor activities and adventure sports for children and adults of all ages.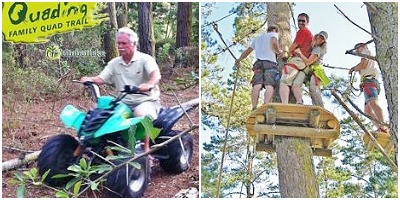 Quad-biking & Acrobranch Tree Adventures at Timberlake
Wildwood tree adventures involves supervised fun challenges of varying degrees of difficulty in the tree tops.
MTB time trial and skills course
An Art walk that consists of large outdoor sculptural installations made from recycled materials with relevance to specific environmental issues e.g. plastic waste and water scarcity.
Fairy garden walk
Website: https://www.timberlakeorganic.co.za/our-activities

Related Link


The Adventure People consider South Africa to be the hottest new tourist destination for any adventurer, and for good reason. With so much diversity from wildlife to culture, picturesque valleys and buzzing cities, and of course the wine! - If South Africa isn't on your list of places to go, it should be! 

---