Wildlife Encounters

on a day-trip to Plettenberg Bay
I investigated and organised a number of different wildlife encounters in the vicinity of Plettenberg Bay for longstanding friends visiting us from Australia. It turned out to be an awesome experience for all of us.

We left Sedgefield at 7:30am and were in Plett with time to spare at 8:30am.
The first of our wildlife encounters was with Ocean Blue Adventures.  It was scheduled for 9:30 am so we took our friends up to the Whale's Tail lookout point and were pleased to notice Southern Right Whales in the bay.
It meant we were assured of seeing them once we got out on the water.

Whale and Dolphin spotting
Once we had been issued life jackets and given some refreshments we walked to the nearby beach and boarded the boat that was then launched from the sand by being pushed at speed into the water by a tractor. It seemed pretty easy but was quite impressive.
It was amazing how many more whales were in the bay than we could see from the lookout point and we had plenty of opportunities to take some great photographs. 


It's something to know when you watch these massive creatures breaching that they don't feed in our waters. They come here to mate and calf between June and November and return to the Antarctic waters to feed. 
Imagine the amount of energy it takes to hurtle tons of body weight into the air by the act of breaching. We watched one whale do it repeatedly. For whatever reason they do it, they do it all on the energy stored within their bodies for several months. Imagine doing press-ups daily whilst going just one month without eating!!!
It was an awesome wildlife encounter getting so close to these magnificent creatures. Over an hour later, as we headed back towards the beach, a large pod of dolphins was noticed swimming through the breakers close to the shoreline so we headed off in that direction and got some great sightings of them leaping through the waves.


A number of babies were clearly visible among the pod. At one stage they even passed very close to a whale.

Our safari was meant to finish at 11am but it was closer to 11:45am before the boat ramped up the beach and we were able to disembark. It had already been a thrilling day with wildlife encounters of the sea and it wasn't over yet!

Monkeying Around!
We headed off to the Crags for a visit to Monkeyland. The second of our wildlife encounters was a 1hr guided tour through an indigenous forest inhabited by 9 free roaming species of primates – all of which are able to cohabit in this 12 hectare arboreal sanctuary.


From the largest – a Gibbon to the tiniest squirrel monkey – it was a fascinating experience to wander around in their environment, unafraid, being able to observe these creatures going about their monkey business.

The guide was most informative and I won't spoil the experience for others by elaborating on it here. Suffice to say we were all very pleased we had done this tour.
Catching up with Birds
It was now pretty hot but it was just a short walk across to the cool canopy known as Birds of Eden the third of our wildlife encounters.
This sanctuary was created by virtually throwing a vast net over a deep valley or kloof as it is known in South Africa. This huge 2.3 hectare mesh dome is lightly misted to imitate a rain forest environment.
Whilst we were there a troop of baboons were running about on top of the dome clamoring loudly about being banished to the outside of this "garden of eden"! We understood then, that strong mesh was needed to keep troublemakers like these tough-minded baboons, out!

A veritable forest of indigenous trees, running water in the form of streams, waterfalls and quiet pools, shrubs and grasses provide all the essentials for birdlife to exist normally as wild birds would.
A winding 1.2 km path enables visitors to walk from ground level gradually up to the highest point of the canopy so that one is eventually seeing the birds that inhabit the top branches of the trees.
There are many places to stop and sit quietly and observe the birds. They have obviously become habituated to humans and know they are safe, so aren't as secretive as they would be in the wild. With patience, one is able to get some great photos. There is also a restaurant where one can enjoy a coffee break and a light meal.

We unfortunately had to rush this a bit because it was now 2:30pm and we had to be at the Tenikwa Wildlife Awareness Centre by 3pm.
If we hadn't been quite so long at our whale safari, I think the timing would have been fine – not that we regretted that – but it did mean that we all felt we hadn't quite done our bird experience justice especially as we started seeing really interesting birds as we got nearer the end, but we had a timetable we were obliged to stick to.

Walking with Wild Cats
On to the fourth of our wildlife encounters for the day Tenikwa – the place of wild cats! It had turned into a pretty warm day and all 4 of us were beginning to feel the effects of it so fortunately Tenikwa decide to delay their 1 hour guided cat tour for half an hour to allow the day to cool down a bit and we had time for some food and refreshments which revived our flagging energy levels.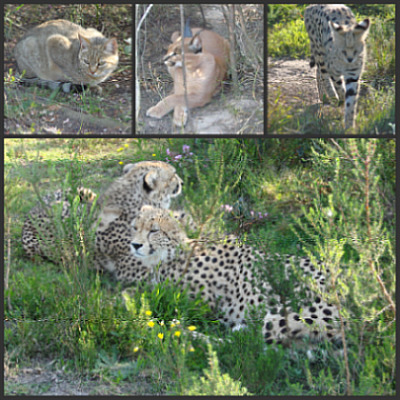 The tour started indoors with a video about the cats and then we went out into camps to learn about and see the smallest of the cats, the African Wild Cat, then the Serval, the Lynx, the Leopard and the Cheetahs. There was opportunity to observe them and photograph them whilst we were being told about them.

Straight after this it was time for the sunset cheetah walk. Two cheetahs are put in harnesses and walked along forest paths in a naturally treed area of the sanctuary.
Besides the two handlers there were 6 of us and we were all given turns to walk with the cheetahs. Once again we were shown a video of the protocol beforehand so we knew how to behave with them.

One has to hold the lead correctly because if a cheetah decides to chase something it sees, you cannot hang on and have to let go!
If your hand is all wrapped around a lead, you could find yourself being dragged willy nilly through the forest! Again we were presented with some excellent photographic opportunities.
It is a sad thing to realise that virtually all the wildlife encounters we enjoyed today are with animals that are endangered in some way. The Southern Right Whale is coming back from the brink of extinction and is still considered vulnerable.
There are 33 species of lemurs - all from Madagascar, that are endangered through severe loss of habitat. Many birds in the bird sanctuary have been rescued from the bird trade - this ruthless trade takes thousands of birds worldwide from their natural environment every year. Most of them do not survive the trauma.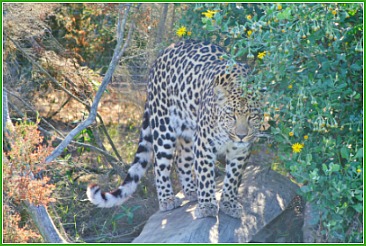 Wild cats of Africa are threatened for multiple reasons - their fur is highly prized for traditional garments. Farmers trap them because they threaten their livestock. Everywhere they suffer loss of habitat where man either destroys it or replaces it or invades it to inhabit it.
This being said, on an emotional level these wildlife encounters are draining when one realises how much we humans are costing all other forms of life on this planet. We don't seem to realise that we're not above nature but a part of it. Instead of giving and receiving, we're like a cancer cell constantly consuming and expanding, to the detriment of every other living organism and creature.
I appreciate more and more the small minority of people who devote their lives to trying by every means possible to preserve these creatures and the diversity they represent, for us and future generations. How impoverished will our world be when there is no sound of birdsong, no whales in the oceans, no wild cats out on the savannah of Africa?
Watch the video of the TED talk, "Life Lessons from Big Cats" by famous couple Dereck and Beverley Joubert to see what Africa's magnificent big cats are up against.
Finally our schedule is complete and we return to the Tenikwa restaurant for a complementary sundowner and snacks before heading back to Sedgefield. It has been an incredible and thought-provoking day.
There are several other wildlife encounters to be considered around the Plettenberg Bay area so click on the "Links to other wildlife Sites" below to find out more.
A great way to wind down the day is to have a unique dining experience at the magical Emily Moon Restaurant. Candles and fairy lights echo the sunset and glow of evening stars as you enjoy a delicious meal under an African sky. Booking is essential for this popular restaurant.
Tel: 044-533 2982 
Directions: Driving back towards Plett turn right into Rietvlei Road at Penny Pinchers. Drive 1.4kms to the end of the road and into Emily Moon River Lodge.
website: www.emilymoon.co.za
email: info@emilymoon.co.za

More Wildlife Encounters


Animal Spirit is a website promoting the exploration of inter-species communication –a journey of discovering ways to compassionately understand and connect with all forms of non-human creatures.
Anna Breytenbach –the animal communicator explains that coming from a place of respect and reverence for all life, we can learn to interact meaningfully and in positive ways with those creatures we share our planet with in order to honour them, enrich our lives and live in harmony with our environment.
---

Landmark Foundation is a conservation NGO that promotes and facilitates conservation land uses in Southern Africa. They do this severally by expansion work in protected areas, developing tourism, encouraging local economic development that concentrates on conservation, waste recycling, renewable energy development and species conservation.
---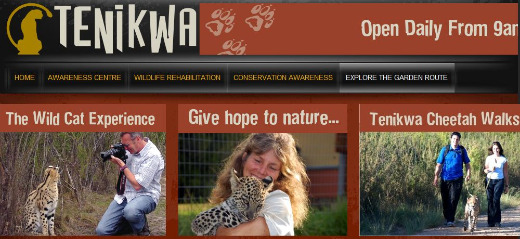 Tenikwa Wildlife Awareness Centre in the vicinity of Plettenberg Bay on the Garden Route gives you an opportunity to experience a wildlife encounter with some of Africa's wild cats up close and personal in a deeply rewarding way. You will be allowed to take photographs of the cats to remind you of a magical experience that will in all probability, change your life.
---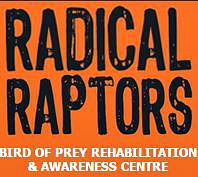 Radical Raptors is a rehabilitation centre that aims at community awareness and the rescue, rehabilitation and release of birds of prey. Radical Raptors operates directly under the rules & regulations laid down by Cape Nature Conservation. The centre opened at the Heath in Plettenberg Bay on Garden Route on the 6th December 2008.
---