Birding in Gondwana Game Reserve
Feed your soul with the solace of nature
Gondwana Game Reserve was the destination of Lakes Bird Club one gorgeous Spring Saturday in mid September thanks to Pat Nurse, our chairlady knowing the parents of Mark Rutherfoord the owner of this 11 000 hectare reserve.  Once a number of cattle and sheep farms this spectacular piece of nature has now been consolidated into a wildlife sanctuary in one of the most precious biomes on earth – the fynbos one.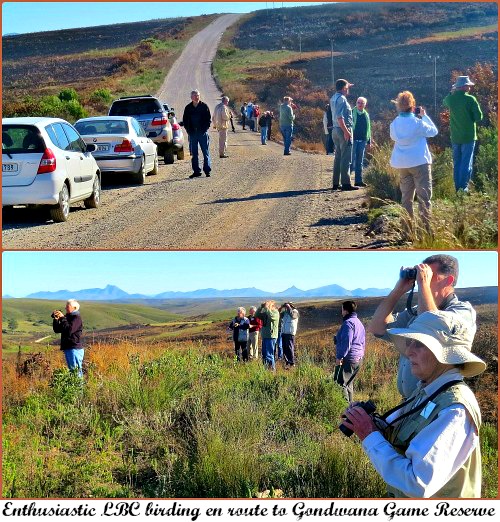 Birding along the way, the group of 30 birders couldn't resist stopping at a recently burnt area that attracted all kinds of opportunists like Secretary birds and Denham's Bustards that are not averse to roasted bugs and the like on their menu. 
Adjacent to the burnt area were several numbers of protea bushes in flower mixed among the ericas typical of fynbos. In the distance we spotted a lone buffalo and a few Red Hartebeest. Once inside the gates of Gondwana Game Reserve, the first sighting we had was of a small herd of Eland with a striking bull close by keeping a careful eye on them.

Gondwana Game Reserve Fauna & Flora
We arrived at Gondwana Game Reserve eventually en masse at Lehele Lodge where we were welcomed with tea, coffee, juice and a light bite with time to drink in the stunning views and the sunbirds that liberally littered the Erica discolor in front of us. These fynbos plants and the Orange–breasted Sunbird have an interdependent relationship that nurtures both of them we were told by our guide, Mike.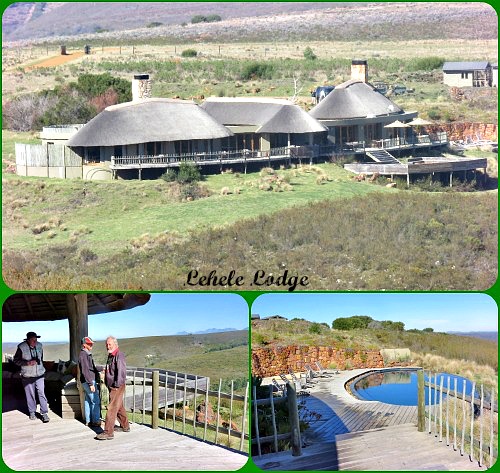 Soon we clambered aboard the sturdy Land Rovers, each with 10 eager birders and their own knowledgeable driver/guide heading off in different directions to explore Gondwana Game Reserve. Our young guide was Mike Fabricius, a mine of information he willingly and enthusiastically shared with us.  
One of the things we were most fortunate to see early on was the rarest endemic raptor in Southern Africa, the Black Harrier that has been uplisted in 2013 to "endangered". There are a number of pairs to be found within the Gondwana Game Reserve and Mike is currently monitoring a nest with a remote camera to better understand the breeding habits of these birds.
The fynbos biome provides plentiful food for raptors and many other creatures such as bat-eared foxes, African wild cats, genets and puff adders in the form of multitudes of vlei-rats and 4 striped field mice that thrive in the rich plant diversity.  Driving along a valley slope full of flowering ericas Mike explained that the species Struthiola (Featherhead) only exudes a scent at night attracting moths to pollinate its flowers.
 Later, he stopped his vehicle to pick up and show us a harmless common slug eater on the side of the road. Everything however insignificant it may seem has a role to play in nature. So much we miss when we're only interested in the "Big 5"!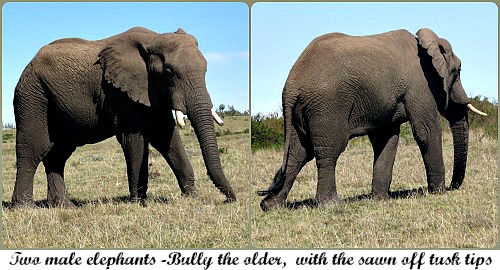 In open grassland we came across a large elephant called Bully that because of his bad habit has had his tusk tips removed. A younger male was amicably accompanying him. 
Grasslands interspersed with thickets of alien Black Wattle provided a few surprises as Mike left the road and drove through open fields flushing a number of startled Denham's Bustards hidden in the grass. They are heavy birds and I had not seen them in flight before.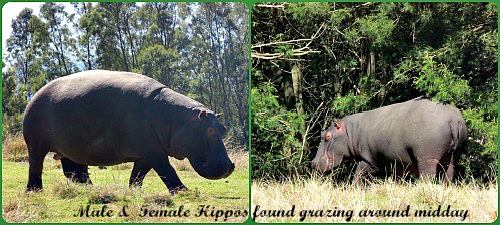 We were amazed to come across a pair of hippos browsing grass in the midday sun. They speedily made for the small dam we had passed moments earlier as we headed towards them but then slowed down as we did and seemed to realise we weren't a threat. I had never been so close to hippo out of the water and they have quite comical faces with smiley mouths and pink around eyes and ears. 
Mike said to us that the "Big 5" was a name given by hunters to the large animals they predominantly hunted. As hippo are not considered in that light they are not named but they are definitely in the "BIG" category considering their size. As far as wild animals are concerned, they are one of the biggest dangers and killers of people on the African continent.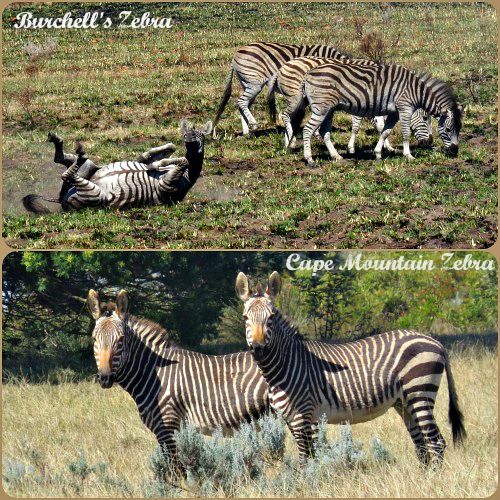 We noticed a few female kudu browsing within a thicket edge and Mike said that lions also like to rest in the shade provided and to use its camouflage to surprise their prey.  Near the top of a ridge we came across a mixed party of Burchell's zebra, blue wildebeest and elegant gembok except for one whose horns were skew – almost like having a bad hair day! The ridge obviously gives them all a good view of sneaky approaching predators and the more lookouts there are the better security for the would-be prey.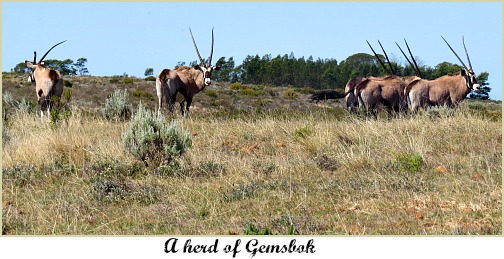 A short while later Mike found some Cape mountain zebra – very aristocratic looking beasts which made the black wildebeest with them look noticeably hill-billy comical. We could then compare this variety with their cousins we had seen earlier. 
In short-grassed rocky area Mike pointed out the rounded stones that were naturally found there. He then searched for and found quite easily a number of tear-drop shaped sharpened stones that he explained had been carried there and were tools crafted by the early hunter/gatherers that walked over the mountains, across the plateau and down to the sea. Not far away is the discovery of their existence at Pinnacle Point near Mossel Bay and those archeological digs are strongly suggesting that this place could really be the cradle of mankind. 
These lands of Gondwana Game Reserve were also inhabited at some time by these forerunners of modern man. Mike postulated that areas were workshops because incomplete and half-made instruments are found, possibly abandoned when a craftsman made a mistake and had to begin again. The size and shape of the tool could give an indication of the size of the person making it and/or the purpose for which it was made.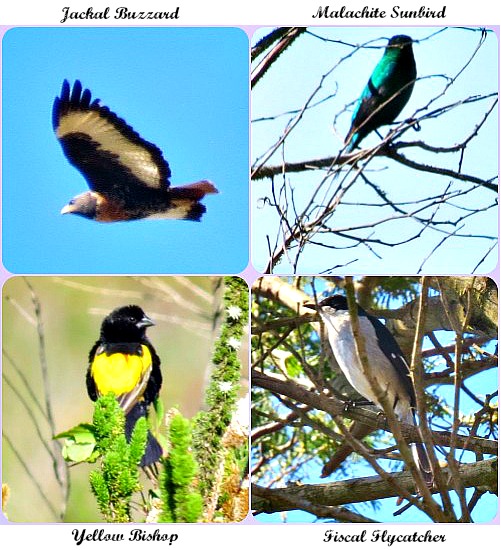 Birds were constantly being identified as we travelled – Bokmakierie,  Forest Buzzard, Malachite Sunbird,  Greater Double-collared Sunbird, White-eye, Karoo Prinia, African Hoopoe,  Red-faced Mousebird, Jackal Buzzard, Fiscal Flycatcher, Neddicky, Cape Batis, Cape Longclaw, Common Waxbill, Plain-backed Pipit and African Pipit.  A possible Common Quail sped past us too fast to positively identify. At a shallow stream crossing a dirt road we watched as a Cape Siskin, White-eye and Orange-breasted Sunbirds bathed energetically.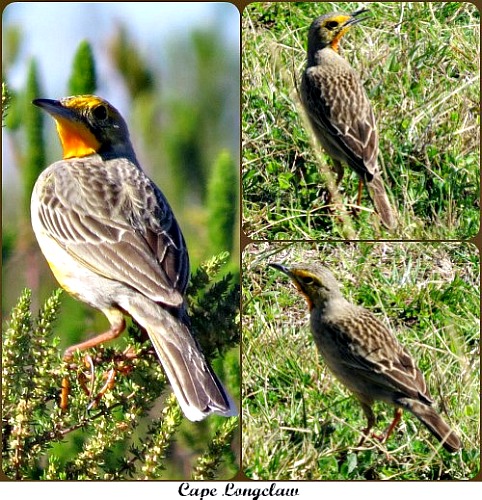 3 photos above by Wessel Rossouw
All too soon it was time to return to the Lodge but it had been a rewarding outing and after everyone enjoyed the picnic lunches they had brought with them, it was time to leave this magical place. My thanks to Mark Rutherfoord for giving the Lakes Bird Club a discounted rate to visit Gondwana Game Reserve and the informative guides who went the extra mile to ensure that we were more than delighted with our game/birding drives.
---
Links to Related Sites
---
Situated in the heart of the Garden Route, you will find a beautiful piece of land that will stir your senses.
Gondwana is a private game reserve in South Africa that holds the distinction of being the only fynbos reserve in the world that's home to free roaming BIG FIVE game as well as endangered species like Cape Mountain zebra and Black Harrier among others. Its breathtaking beauty will soothe and delight you with endless mountain views and green rolling hills blanketed in colourful fynbos.
---