Meiringspoort Road Trip
Save a day of your holiday to do the Meiringspoort road trip inland to the Great Karoo so you can experience the thrilling gigantic proportions of the Cape Fold Mountains close–up and in all their awe-inspiring splendour.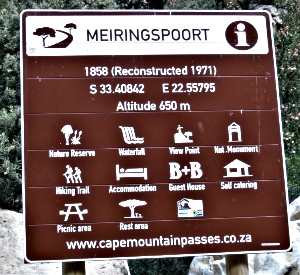 The 18km physical drive through Meiringspoort is breath-taking in its magnificence and a worthwhile whole day outing to consider when the Garden Route is experiencing  windy/wet/winter weather - It happens! 

Distances: Sedgefield to Montagu Pass 48.1km, Montagu Pass to De Rust via Dysselsdorp 59.4km, De Rust to the Meiringspoort Rest Stop 12.8km  Total=121kms (one way). Continue on to complete the journey through the gorge (another 5.2kms if you choose to do this) and then turnaround and enjoy the Meiringspoort day trip in reverse. You'll see things you missed before because it's a main road between Beauford West and Oudtshoorn and you can't travel it too slowly.
The very nature of the gorge, being narrow, means there are few places to pull off the road to really enjoy the scenery. To call in at the SANParks Rest Stop that has plenty of parking is essential; to visit the small information centre, take a short hike up to the waterfall and to walk around the carpark to take notice of the interesting trees, plants, bird life and other small animals you could be lucky to see. Then, drink in the raw magnificence of these ancient Cape Fold Mountains. There is also a handy neat ablution block.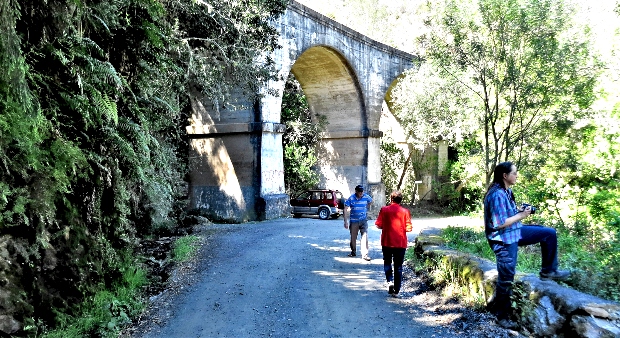 Photo stop at the culvert train crossing above Montagu Pass.
TO GET THERE, You can either go:
Route 1 - Over the Outeniqua Pass on the other side of George, taking the turnoff left to Oudtshoorn and then on the outskirts of the town proper, you will take a right turn to De Rust. Stay on the main road through De Rust and almost immediately beyond it, the winding Meiringspoort road begins. (If you choose Route 2. to go there, the reverse of this for the return trip is faster because its tar all the way.)

Le Roux Station awash with wildflowers but longer in Use
Route 2 - Near the bottom of the Outeniqua Pass turn right at the sign indicating the Montagu Pass. This is a scenic drive of itself and is a dirt road that has to be driven slowly and carefully as it has numerous twists and turns that take you through the mountains rather than up them although there is a gradual climb to the little hamlet of Herold shortly after which you reach the N9 tar road. Turn right and then take the turn left on to the Paardeport dirt road to Dusseldorp. You will go through this small rural village and carry on until you reach the N12 tar road. Turn right to go to De Rust. This way you bypass Oudtshoorn.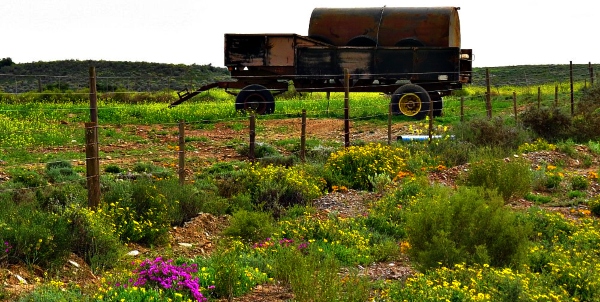 Old Water Bowser in a field of Spring Wildflowers
An added bonus: If the Karoo has had some rain before you do this trip, particularly in the months of  September or October, you will be captivated by an amazing roadside garden of wildflowers reaching beyond the farm fences in some places and smothering the banks of the abandoned railway Station, Le Roux (named for an early resident of the De Rust area), you will pass along the way.


Roadside garden of wildflowers after Spring rains in the Little Karoo
Restaurant Lunch or Picnic on the Meiringspoort Road Trip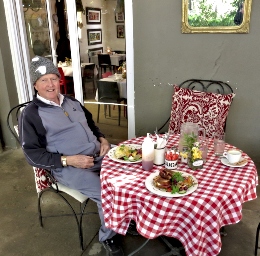 De Rust lunch stop
Depending on the time you arrive in De Rust, there are several places where you can stop for lunch, most of them along the main road.
Otherwise take a picnic basket, your swimming costumes and towels and have fun at the waterfall at the SANParks Meiringspoort Rest Spot where, on a typically hot Karoo day, you can swim and picnic in the cool of the giant shading rock formation. 
Here is a little gem of a website. 
http://www.derustheritage.org.za/ with lots of interesting information about De Rust so that it's worth looking through the different pages. You can also download much useful information from many of the pages as a pdf file.
http://www.derustheritage.org.za/brief-history/story-de-rust/

De Rust - A small town with a Big Heart
Your Meiringspoort road trip takes you through the gorge of the hugely impressive Swartberg mountain range. The road had to be rehabilitated and upgraded between 1998-2000 at a cost of R70 million after floods had caused extensive damage to it in November 1996.  The Cape Provincial Roads Department had constructed the pre-existing road and surfaced it for R1,6million during the period from 1966 to 1971.
This new road was a far cry from the one known as the "Boer" road that was completed in 1858 at a cost of £5018.

Petrus Johannes Meiring & Meiringspoort-a brief History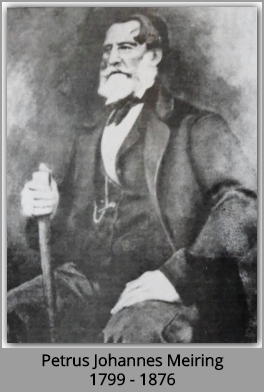 Petrus Johannnes Meiring after whom the road was named (with good reason) came to De Rust on horseback from Worcester with two friends around 1820. He got a job as foreman for a wealthy property owner, Martinus Bekker, who had bought the De Rust farm in 1812. After his death in 1832, Petrus married his widow and became the owner of the farm and other properties. When she died, he married Catherina Helena Geldenhys with whom he had 10 children.
On horseback, Petrus and his friends regularly explored the area and he eventually discovered a "bridle path" through the gorge in 1848. As time went by, Petrus led a vigorous and relentless campaign for a road to be built through the narrow meandering ravine to expedite the transport of wool from the Great Karoo to Mossel Bay harbour and to improve transportation and communication between the coast and its hinterland.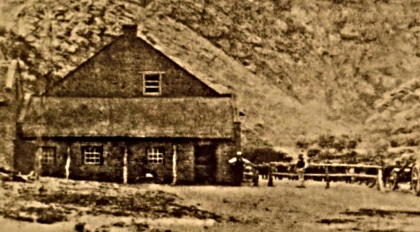 Rankin's Tollgate at the southern end of Meiringspoort 1876.
A toll house was operated by Mr Rankin for the very first road, when it was officially opened on 3 March 1858. He was also a herbalist and a dentist. The road was upgraded by Thomas Bain in 1886 after serious flood damage in 1885.
After the death of their parents, the Bekker and and Meiring children put the De Rust farm up for auction because they couldn't agree on how it should be divided among them.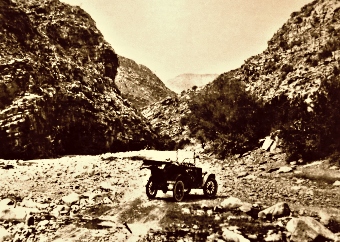 Meiringspoort Road circa 1925
Local businessmen, J.J.Schoeman and S.D.P. Le Roux bought it and  divided it up into 100 plots that became the basis of the town when it was proclaimed in April 1900. 
During the depression years 1920-1930's the Meeiringspoort road was upgraded again at a cost of £10,000 as part of the government's job creation project and between 1948 and 1953, the drifts were replaced by causeways costing £14,928. 
Meiringspoort road trip begins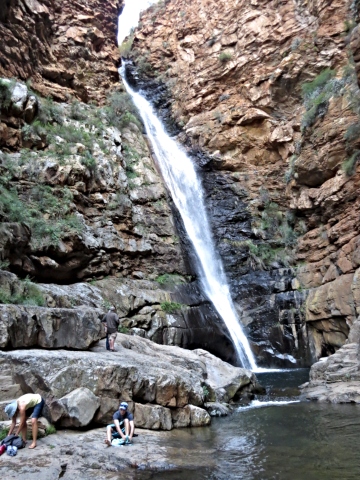 Meiringspoort (60m high) Waterfall and natural pool (9m deep)
The Meiringspoort road trip starts properly almost immediately as you drive out of De Rust. You can literally see the spectacular folds that were created by pressures within the earth's molten crust some 260 million years ago, causing tectonic plates to crash and buckle and push upwards to form these mighty mountains. Weathered and exposed for millennia, it is not surprising that from time to time rockfalls occur, sometimes blocking the road.
The road bends and twists its way at the base of this great mountain range so that colossal cliff walls tower above you and in some places almost meet above your head.

The South African poet, CJ Langenhoven 1873-1925  who played a major role in the development of Afrikaans literature and cultural history, described it as "In every drift there is a bend and around every corner there is a drift."
The current road crosses the Groot River 25 times and each crossing has a unique name that relates to a specific memorable incident.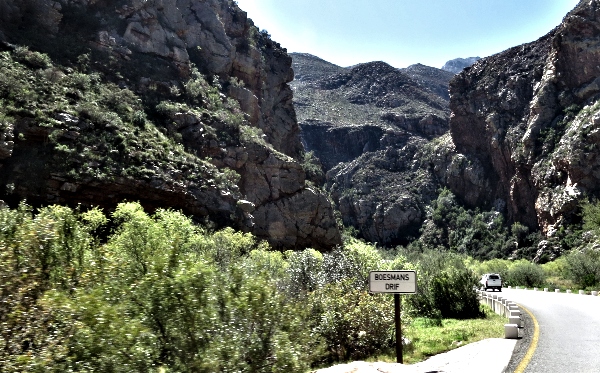 Boesmansdrif
1.  Spookdrif - a supernatural light appearing as a ball of fire was seen at this drift.
2. Skandrif-stone ramparts were were placed in the river to prevent flooding.
3. Damdrif – Immediately upstream was a large waterhole that often deceived unwary strangers so their vehicle got bogged down in it.
4. Boesmandrif – Just beyond this drift are broad deep clefts in the rock formation where bushmen (the San) used to live.
5. Skelmkloofdrif – Just beyond this drift is a well-hidden ravine where water trickles down the rock-face into the Groot River and robbers (skelms) were suspected of hiding there at times .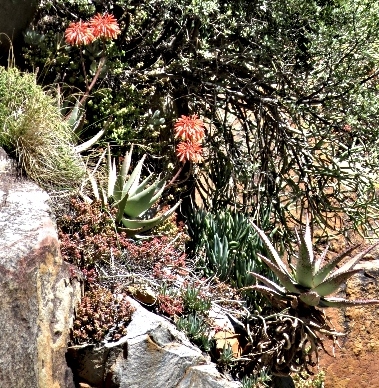 Mountain Aloes at Aalwyndrif
6. Aalwyndrif – beautiful mountain aloes are found on the northern face of the cliff overhanging this drift, the sap of which was highly sought after as medicine.
7. Nooiensboomdrif – originates from the presence of 2 kiepersol trees that used to grow on either side of the road, their branches entwined.
8.Steweldrif – is a legend in that Petrus Meirings' wagoner boots were washed away here forcing him to return home for another pair.
9.  Perskeboomdrif – a few peach trees grew here probably growing from pips discarded by passersby.
10. Sanddrif – Sandbanks regularly caused obstructions here until the first concrete causeway was built at this point in 1948.
11. Herrie se drif – First known as Nagas drif – the name was changed when the name "Herrie" was found chiselled into the rock.
12. Witperdedrif – here a Rabbi together with his horse and cart were swept away in a flash flood and never seen again.
13. Ou Toldrif – the place of the original toll-house although it is long gone.
14. Wadrif – a place where numerous unfortunate wagons were washed away.
15. Uitspandrif – the place where wagoners had enough space to outspan their teams of oxen and have a rest or overnight stop on their journey.
16. Watervaldrif – named after the nearby waterfall.
17. Ontploffindrif – was in the vicinity of a wagon loaded with dynamite that exploded spontaneously as the wagon was traveling at such speed along the old bumpy road.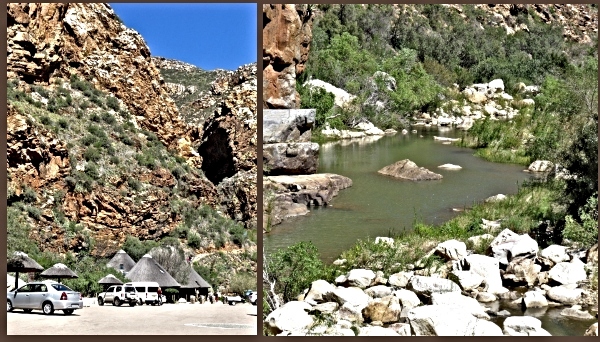 Meiringspoort Carpark and a pool below the Waterfall
18. The Bristish soldiers built a stone wall fort at this bend during the Anglo-Boer War of 1899 – 1902.
19. Derde Toldrif – a 2nd toll house was built west of this drift but only the ruins of two buildings remain.
20. Rooiuitspaning se drif – Several wagons at once could outspan here. The red colour of the soil here contributed to this name.
21. Pereboom se drif – a horseshoe bend with a large saffron tree nearby gave this drift its' name and made it a popular place to outspan.
22. Bloupuntdrif – Wagons frequently got stuck in loose gravel here where the drift was named after a nearby farm.
23. Wasgatdrif – here weary travellers coming from the north could wash off the Karoo dust in the really deep pools to be found here and fill their water barrels.
24. Opmetingsdrif – In 1912 a survey was done to decide whether to build a dam across the narrowed point in the gorge.
25.Laastedrif - depending on which way you're travelling either first southward or last if northwards. 

The dynamic interconnected Meiringspoort Aquatic System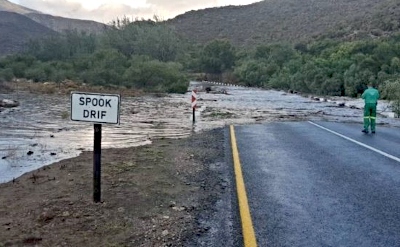 Meiringspoort road closed after flooding in Feb 2019
Most of the water of the Groot River arises from the small streams in the Swartberg Mountains that drain the Great Karoo in the Beauford West district.
Thunderstorms in the Karoo can cause torrential floods in Meiringspoort so that the level of the Groot River rises rapidly. This  periodically causes havoc for travelers but local plants and animals are used to it and have adapted to survive  these occurrences in their environment.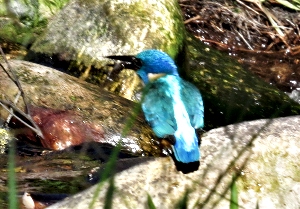 Malachite Kingfisher with its' catch
Young riverine plants like the Cape Willow have flexible stems when young but a well-developed root system and strong stems once mature.

The animals and plants of the riverine system interact closely. The Cape clawless otter feeds on crabs and fish.

The Kingfishers feed on insects, fish and frogs.

The local Cape Kurper and two redfin minnow species feed on algae and insects in the water.

The algae and aquatic plants feed on nutrients in the water provided to some extent by the periodic Karroo floods.

Flowering plants growing along the riverbank such as the wild geranium provide nectar for the bees and insects, like the Acraea Butterfly whose brood feed on local trees such as Wild Peach.

The Swartberg Mountains are a sustainable source of clean water for local communities as well so it is in everyone's interest to try to keep it that way.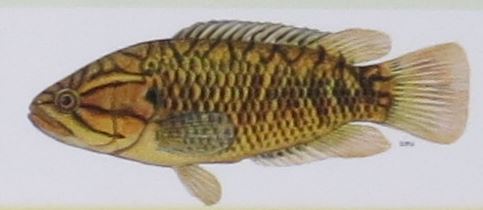 Cape Kurper
Stay Longer
There are many fascinating aspects of natural and historical interest in this region of the Karoo to be investigated and explored and the quaint little Victorian town of De Rust provides a perfect base for these purposes.
There are self-catering, B&B and camping options available. I always think it is worth researching a destination you want to visit to get the most value out of the experience and there is much to enjoy on  a Meiringspoort road trip.
Local Walks and Hikes.

Mountain biking.
Horse Trails.
Off-road motorcycling.

The Swartberg Hiking Trail. 
De Rust Historical Tour.
De Rust Heritage Eco-Festival  21-22 Sep 2019.
De Rust Heritage Festival - Mar-Apr 2020.
Meiringspoort Marathon-Oct annually.
https://www.meiringspoortchallenge.co.za/ 
offers MTB and Trail run options.




Other References
The SANParks Information Centre at the Meiringspoort Rest Stop