Search this Site
Garden Route Recreational Fishing
Garden Route Recreational Fishing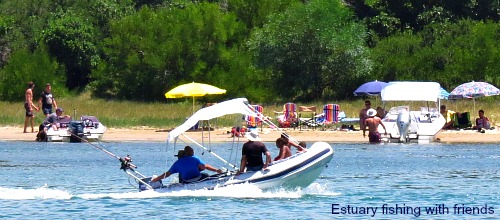 There are limitless opportunities in this water abundant area of lakes, rivers and ocean for Garden Route recreational fishing. There's surf and rock fishing to be enjoyed in many pristine and beautiful places along the coastline like Swartvlei and Cola  Beaches, Gerickes Point, Buffalo Bay,  Goukamma Nature Reserve (no bait collecting though), Knysna Lagoon, Wilderness Beach, Victoria Bay pier, and Kleinkrans.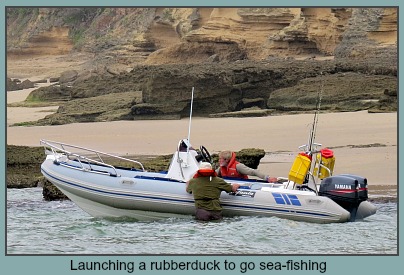 In from the shoreline at Sedgefield, there's Swartvlei Lake either fishing from the disused railway line or from a boat (launch at Pine Lake Marina). To fish in the estuary (depending on the tide) a boat can be launched from the Island at Fish Eagle Green or from the boat launch on Kingfisher Drive.
There's also Eilandvlei near Wilderness and then Groenvlei, east of Sedgefield–the latter is the only freshwater lake in the area where reputedly there's some of the best bass fishing in South Africa to be had.
Valid permits for Garden Route recreational fishing are necessary and can be obtained from SANParks offices in Wilderness at Ebb & Flow Rest Camp, and on Thesens Island in Knysna and also at Cape Nature Offices in Goukamma Nature Reserve outside Buffalo Bay.  In Sedgefield the Post Office supplies permits.


Fishing tackle can be purchased in Sedgefield from:

Hookers in the Pick 'n Pay Centre (Tel: 044 343 1365)
 M's Sports and Hobbies, (Tel: 074 772 1442)  2 Forest Lodge Centre on the north side of the N2 (turn left at the traffic lights).     
Both these shops can advise visitors on local hot-spots, current conditions and the do's and don'ts.
It is estimated that currently annual recreational fishing licences across all the sectors total about 300 000, with income generated from these licences amounting to R18 million. The actual annual catch is about 17 000 tons of high-value species.

However, in 1989, the Dept of Environmental Affairs issued a booklet for Marine Day titled "Oceans of Food" in which they state that the informal sector of the angling industry reflected about 288,000 beach and rock anglers, 50,000 in dinghies, 128,000 in deep-sea boats and 4,000 spear-fishermen. 37,492 licences were issued to the public to catch rock lobsters and 20,083 to dive for abalone.
This totals over ½ million recreational fishermen. Is there any likelihood that 30 odd years on, this number has reduced by 200 000? To all intents and purposes, it has multiplied and the government department's (DAFF) figures are woefully inaccurate and an indication of how poorly the industry (in this category at any rate) is being monitored.
This is in spite of a recent UN report, that more than two thirds of the world's fisheries have been overfished or are fully harvested, and more than one third is in a state of decline, due to the loss of fish habitats, soaring pollution levels in oceans and rivers and climate change.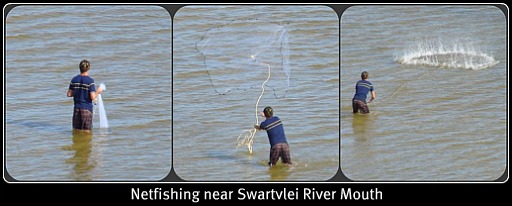 Besides this, the report advises that abalone stocks remain heavily depleted due to increasing levels of poaching and ecological factors and many line fish resources are also heavily depleted depending on species.
It is worth pointing out that many popular angling fish caught for eating are juveniles that have not yet reached maturity. Shallow sandy areas, estuaries and rocky pools are their nurseries where Garden Route recreational fishermen fish so their conservation ethics can have far reaching effects on many species.
   The Greatest threat to our planet is to think someone else will save it." - Robert Swan OBE 
Consequently, DAFF has instituted bag limits on these fish because of the demand made on them by inveterate fishing. This is to enable enough of them to reach maturity to form breeding stock that can propagate their species. Remember, they have to contend with other predators and dangers in their environment besides man.
Here is some relevant information regarding the life span of popular angling fish and their habitat in the Garden Route recreational fishing segment.
Spotted Grunter
Lifespan-15 yrs 90cm 10kg    
Mature at 3 yrs 33-40cm  
Shallow sandy areas & estuaries Juvenile habitat-only estuaries 
Blacktail
Lifespan-33 yrs 45cm 3kgs  
Matures at 3 yrs 25cm  
Everywhere in shallow habitat
Juvenile habitat- tidal pools & estuaries  
Cape Stumpnose
Lifespan-21 yrs 45cm 3kg  
Matures at 20cm  
Endemic sandy bays & inshore reefs Juvenile habitat-estuarine nursery  
Zebra 
Lifespan-33 yrs 60cm 6kgs
Matures at 6 yrs 30cm
Rocky areas down to 60m
Juvenile habitat-tidal pools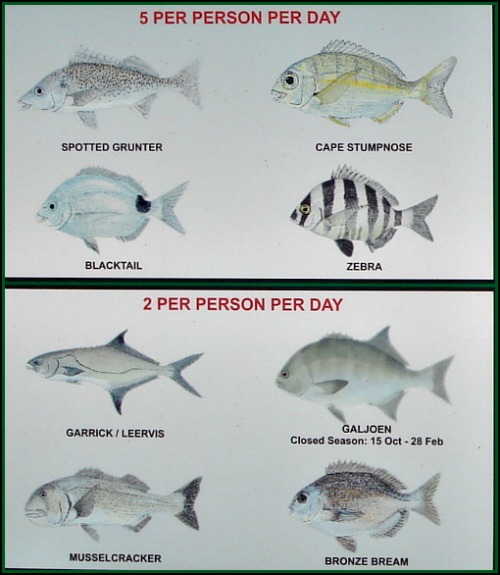 Garrick/Leervis       Lifespan-10 yrs 1.8m 32kg
Mature at 4yrs 85cm
Hunts in surf backline
Juveniles habitat-Cape estuaries
Bronze Bream
Lifespan-38 yrs 70cm 5kgs
Mature at 5 yrs 35cm
Rough shallow water along rocky shores Juvenile habitat - a/a   

White Steenbras     Lifespan- 30 yrs 1m 30kgs
Mature at 6 yrs 65cm  
Sandy beaches & estuaries  
Juvenile habitat-estuarine nursery (Spring)  (stock has collapsed)
Dusky Kob          Lifespan-42 yrs 1.9m 75kgs  
Mature at 5 yrs 1m  (stock depleted)
Estuaries & shallow soft sub-strate areas Juvenile habitat-estuaries     
Galjoen -our National fish   
Lifespan-exceeds 13y rs 80cm 6kgs
Mature at 6yrs 31-34cm
Turbulent waters off rocky & sandy shores  
Juvenile habitat - a/a  
Musselcracker
Lifespan-31 yrs 1.1m 23kgs
Mature at 5 yrs 35cm
Rocky shores & shallow reefs  
Juvenile habitat-tidal pools E. Cape
Poenskop   Lifespan-45 yrs 1.2m 40kg (at 70cm female changes to male)
Mature at 10yrs 55cm
Rocky reefs to 100m
Juvenile habitat-shallow weedy areas  (stock depleted)
For all recreational fishing enthusiasts  including Garden Route recreational fishermen, I recommend "Two Oceans" a reference book  that is a comprehensive photographic guide to the marine life of Southern Africa. It covers categories such as sponges, worms, arthropods (crustaceans, shrimps, crabs), shells and molluscs (snails, octopus, squid), fishes, mammals, seaweeds, birds, plants and more….
An introduction explains species, where they live, the effect of currents and tides and the importance of conservation. It also provides useful information to those who love, respect and enjoy the bounty and beauty of the marine fauna and flora that flourish along our coastline helping us all to appreciate the value of our rich marine heritage.
Here is an example from the book - Common Sandprawns –Pink, fragile and translucent…They are abundant in estuaries even those closed to the sea for years. They build deep burrows, sift sediment for food, ejecting particles from the burrows to create miniature volcanoes.  This bioturbation has a profound effect on other organisms by diminishing bacteria, depleting sediment, consolidating bacterial films of mucous, burying diatoms, reducing meiofauna, and inhibiting larval settlement of many species.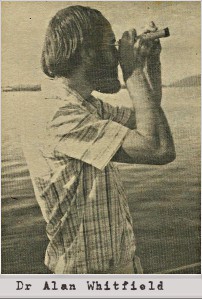 The result is these seemingly inconsequential ephemeral creatures are termed "ecosystem engineers". Unfortunately, trampling and pumping prawns for bait collapses their burrows harming the whole ecosystem. In most instances, this is an action of ignorance rather than deliberate intention.

In the 1980's Dr Whitfield from the Institute of Fresh Water Studies (IFWS) at Rhodes University was investigating the relationship between plants and fishes in the whole Swartvlei system.
He said that sand prawns are an important food source for species such as carnivorous Steenbras and Spotted Grunter that could be put at risk if their food source was depleted.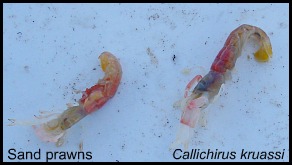 To minimise the effect of human interferance, I believe there ought to be closed areas along the Swartvlei estuary (as there are in other estuaries) where pumping of prawns is prohibited for determined periods so these prawn beds are given opportunity to recover and fulfill their environmental role for the benefit of the lagoon as a whole.
Dr Whitfield also unequivocally stated that the artificial opening of the river mouth was highly detrimental to the fish fauna as it could interfere with the natural cycle of migration of juveniles into their nursery areas and premature release into the sea.

Best practices - for Garden Route Recreational Fishing
I say Garden Route recreational fishing because this is the area I'm speaking about but it's common sense that these practices are pertinent to all, everywhere.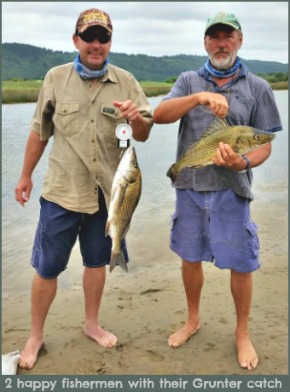 Limit your catch, don't catch your limit – leave something for tomorrow and for future generations.
Practise "Catch and Release" if you don't need or want the food. e.g. like sharks and rays. Don't just kill it because you caught it.
Apex predators are vital to the health of the oceans yet 100 million sharks are needlessly killed every year.
Don't target big fish (breeding stock) in their prime for the sake of landing a trophy specimen like a 30-75 kg Dusky Kob just to earn some serious bragging rights. They take 5 years to reach maturity i.e. breeding age and can live to 42 years.
Trophy specimens are generally not good for eating and if caught with inadequate tackle (e.g. 4 kg line catching a 20 kg fish) it would probably be half dead when landed with little chance of survival.
Recreational fishermen this is a "close to pristine" natural environment so please help to keep it that way. Behave responsibly and take your plastic bottles, polystyrene food containers, plastic bags and other refuse with you. Leave only footprints.

Be an example to others and don't endanger other shore life (and beach goers) Gather up broken lines, hooks, plastic bait containers, etc.
It seems that the rocky terrain of Gerickes Point is a popular area for Garden Route recreational fishing but the sinkers, hooks and fishing-line snagged and proving difficult to retrieve, are having a dramatic adverse affect on the area.
Frequently a number of locals go scuba diving at Gerickes Point specifically to remove lost fishing tackle from the rocks and rock pools. Every time they go there's another huge amount of fishing tackle to be removed again. Left to accumulate it is a death trap that goes on killing. See Mark's article on the right-hand column of this page.
High Risks of Garden Route Recreational Fishing
Fishing Competition at Gerickes Point 2019
I happened to walk to Gerickes Point on a day a fishing competition was underway. There could have been between 30 - 40 fishermen taking part. I witnessed a hammerhead shark being caught and the fisherman took quite a while to reel him in. The fish was dragged over the rocks, then weighed and measured before being photographed. This could have taken all of 15 minutes and then it was released, which I was happy to see.
When I spoke about it to a friend about it some time later, he told me,often a fish like that is caught on an undersized rod and the fight exhausts it to the extent it dies after being released, or being dragged over the rocks can damage it's eyes so that blinded it can't hunt for itself and will end up dying anyway or it is bloodied which attracts a larger predator, and weakened, it cannot escape. With so many odds against it I can only hope that beautiful young harmless Hammerhead Shark survived the day. 
References
http://www.gov.za/about-SA/fisheries#recreational
Two Oceans - A Guide to the Marine Life of Southern Africa
Oceans of Food -National Marine Day 1989 (pamphlet)
Pieter Naude -Wild News Issue 184 October 2010

Links to Related Sites

Sustainable Seas Trust is dedicated to harnessing the power of people at every level, from the poorest, remote communities, to top level decision makers, to promote conservation, sustainability and habitat restoration. Through the production of films, posters and educational booklets for teachers and students, SST raises environmental awareness to help preserve coastal areas from over-harvesting…
---