Invasive Carp in Groenvlei
A Groenvlei rescue involving the removal of invasive carp has been engineered by means of a 4 way partnership between Cape Nature, Knysna Municipality, Invasive Fish Species Management NGO and Gift of the Givers Foundation. A collaborative effort was necessary to find solutions for the successful implementation of a complicated project that, as it turned out, has many layers to it.
Aerial view of Groenvlei 17 December 2019 - Photo: Stuart Lidstone
Groenvlei is a unique freshwater lake and one of only eight such natural lakes in South Africa.  Its name derives from its attractive sparkling green colour, which not so long ago, had a pristine clarity. About 3.7km long and 0.9km wide, it covers an area of 359 ha, of which 245 ha is open water. 114 ha.(31.8%) consists of a reed collar of Phragmites, Typha and Cladium.
These reeds play an important role in the functioning of the lake's ecosystem. Groenvlei is only 2.2m above sea level with slightly saline waters that are rich in solutes and highly productive. Most of the water body is less than 3 m deep,

Examples of Groenvlei Reed Collar
Under the umbrella of the Garden Route Biosphere proclaimed in Paris on 14 June 2017, Groenvlei also falls within the Goukamma Nature Reserve pronounced a protected area in May 1994.
Adding valuable biodiversity to the reserve is a Marine Protected Area (MPA) proclaimed in July 1990. Groenvlei also lies within a UNESCO approved World Heritage Site pronounced in July 2015 to protect an area of the rare Cape Floral Kingdom.
Groenvlei Nature Reserve Fynbos
Sedgefield is very fortunate to have this beautiful understated reserve bordering the town. The reserve's multiple walking trails, wild and isolated beaches, calm lake waters, meandering Goukamma River, picnic facilities and chalet options supported by near-by caravan and camping facilities draw a good number of outdoor adventurers to the area throughout the year.

Introducing Invasive Carp and Other Species
Fish foreign to Groenvlei deliberately introduced to it.
The size and accessibility of Groenvlei and its clear waters makes it an attractive angling venue, and before 1960, its waters were stocked with several alien fishes by the then Cape Division of Inland Fisheries.
Largemouth Bass and Mozambique Tilapia were introduced for angling, Bluegill Sunfish as a fodder fish, and Mosquito fish to control mosquitos.
Unfortunately in the same year as the MPA was declared, eager anglers illegally introduced Common Carp to Groenvlei, a known invasive species.

One catch of Carp
As prolific breeders, the invasive Carp can spawn several times a year releasing 1000s of eggs into the ecosystem ranking them as one of the most invasive freshwater species in the world. 
They have exponentially increased their numbers in Groenvlei jeopardizing the relic Estuarine Round Herring and Cape Silverside that became freshwater species after surviving the natural closing of the lake to the sea thousands of years ago. 


Estuarine Round Herring
The unconscious act of those anglers has created an imbalance in a pristine ecosystem that has led to an ecological disaster in less than 20 years.
Initial Attempt to remove invasive Carp from Groenvlei
In January 2018 Sedgefield resident for over 20 years and keen fisherman, Johnny Snyman approached Cape Nature with a written proposal volunteering to use his skills with bow and arrow to bow-hunt the carp to launch a Groenvlei rescue. It was an unconventional method and no official permits were available for such a practice which seemed quite far-fetched.
Johnny Snyman(middle left) with some of his ISFM Volunteers and a Cape Nature Team (middle right)
Officials were skeptical of the proposal but with financial challenges (their previously used gill nets had been destroyed in the 2017 wildfires) and few alternatives, this option warranted consideration.
In the interim, while awaiting a decision, between January and May, a detailed study was undertaken of the layout of Groenvlei supported by numerous kayak field trips to observe the day and night habits of the invasive carp including trial runs to test and fine-tune the equipment to be used.
When permission was granted by the governing body by way of a 12 month permit containing an exemption letter to accommodate the bow-hunting methodology subject to strict conditions, Johnny assembled a small dedicated team of volunteers that were professional bow-hunters.  Committed to the Groenvlei rescue and the preservation of its ecology, they brought their archery skills and practical experience in marine and waterborne proficiencies to the challenging task.
Because of the alertness of the invasive carp it quickly became apparent that the best time to hunt them was at night. By mid-May these bow-hunters were having to endure many bitterly cold and windy rainy nights. They persevered although they often faced outrage from their wives over their all-night stints!

Another of the permit's conditions required a database be maintained of specific information:
 Weight of each fish   
 Sex of each fish  
 Total & fork length measurements 
 Total count of catch each night 
Information captured by the ISFM team for their own benefit:

Site geolocation of each catch
Water temperature monitoring
Time spent on the lake   
Noted weather and rain patterns of each outing.
Between 4 March and 31 December 2018 the bow-hunting team harvested 5.8 tons of invasive carp from the Groenvlei. The success of this venture resulted in a further 3 renewals of their permit and the removal of close to 14 tons of carp in total.
Cape Nature has provided the team with personnel resources, fuel for the boats, logistical assistance and other equipment for invasive species control. 
Aerial View of Groenvlei - Photo: Stuart Lidstone
However, towards the end of 2019, it was clear that the carp population was far from being under control as evidenced by the increase in the levels of turbidity reducing visibility to less than 10cms. Some members of the public raised concerns over the noticeable colour change of the lake's water from sparkling green to muddy brown. It turns out the carps' habits as omnivorous bottom feeders, disturbs aquatic shallow-rooted plants muddying the waters and creating the lake's brown appearance. They also release phosphorous creating an abundance of algae which can reduce levels of dissolved oxygen and increase algal toxicity.
By the end of 2019 this obstacle prevented the bow-hunters from being able to see their prey and so they met with Cape Nature to suggest adapting their strategy to combining netting methods with bow-hunting. This was agreed to and an amended permit was provided. However, the volunteers had reached the bottom of the barrel with regards to their funding as the overheads of their operation had grown beyond their personal financial capacity.
Ongoing Efforts to remove the Invasive Carp from Groenvlei 
Keith Spencer from Cape Nature addresses a public meeting in Sedgefield. Photo: The Edge
A public participation meeting took place in Sedgefield Town Hall in February 2020 to see if interested parties could come up with any other solutions to remedy the dire situation and effect a Groenvlei rescue.
Many folk felt the situation was beyond saving as worldwide it has been impossible to overcome the population explosion of invasive carp once this foreign species has been introduced to lakes and rivers.
However, after that meeting, a deeply concerned local lady, Gill Thomas approached Johnny and invited the team to lunch. Gill has a long history related to the conservation of Groenvlei and after the team explained their predicament, she offered to help them with funding to purchase more fishing nets.
Gill thereafter extended her support enabling the team to form a non-profit company, IFSM and Invasive Fish Species Management was born, dedicated to the "capture and waste disposal of invasive fish species for the purpose of conserving the ecology of freshwater wetlands and lakes." 
IFSM's continuing Groenvlei Rescue and a Larger Vision
This move has raised the ability of the 'now official' NGO to obtain funding and sponsorships to sustain their vision to restore Groenvlei to its pristine state. 
Furthermore IFSM plans to expand their operations of invasive carp management to cooperate with SANParks in the Wilderness wetlands system. Collaboration continues with Cape Nature in the form of combined netting operations and maintenance of equipment which is a vital part of the Groenvlei rescue operation.

Serpentine Meander to the Touws River at Wilderness
IFSM has been endorsed by Cape Nature, SANParks, South African Institute for Aquatic Biodiversity and Gift of the Givers Foundation.

Of necessity, IFSM had to find solutions to dispose of the large volume of fish extracted in an environmentally acceptable manner. They were able to put the invasive carp to good use in two ways with assistance from other willing role players:
1. Water to Table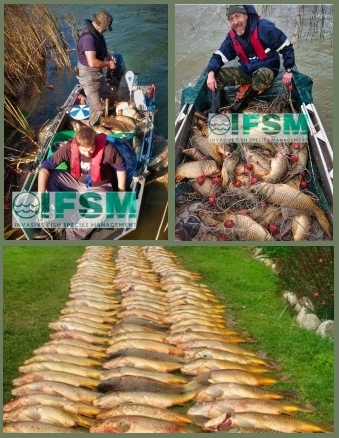 Team catching Carp for Local Distribution
Realising that the Covid 19 epidemic had increased poverty in low income communities leaving many without resources to feed their families, a memorandum of understanding was negotiated at length and eventually signed by two primary role players, Cape Nature and Knysna Municipality to approve a feeding program with KM providing personnel to regulate fish distribution to various communities.
IFSM meanwhile, volunteered to spearhead the operational and logistical aspects of capturing the invasive carp to provide them as a nutrient-rich food source to the program. However, the challenge they faced was lack of cold storage facilities and the ability to distribute the catch.
Fortunately, when they approached Gift of the Givers Foundation asking if they could provide the logistics for fish collection, cold storage and distribution to communities, local Regional Manager, Mario Ferreira immediately responded and within 2 weeks an 8-ton cold-storage truck was made available through their sponsorship channels.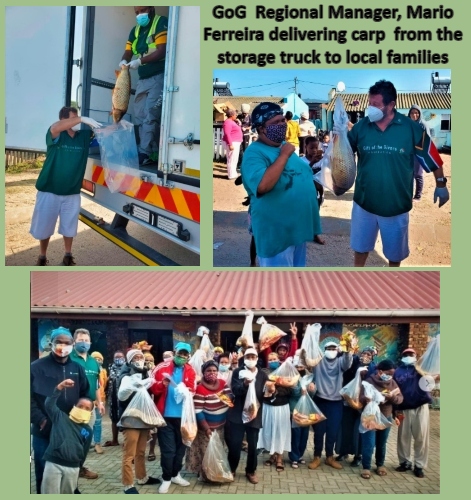 GoG also paid for the invasive carp catch to be microbiologically tested to certify they were fit for human consumption ensuring health regulation requirements were met. In late July 2020 GoG again assisted IFSM by procuring additional nets to expand IFSM's operational capacity and plans are afoot to provide further practical assistance.
Between 22 May and 29 December 2020, IFSM was able to provide GoG with 444 carp amounting to 1433 kgs that fed a number just short of 5500 people in local poor communities.
This includes a catch made of 122 carp during an approaching storm on 20 October 2020 weighing in at 424kgs.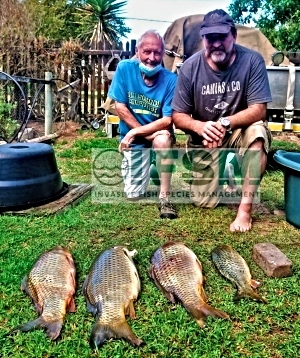 Jim receiving a carp donation from Johnny Snyman of IFSM
These carp were later distributed to existing soup kitchens in Smutsville where they were supplemented into stews and soups, or transformed into fish cakes and nuggets that collectively fed almost 2000 people. A single 3.2kg to 3.5kg carp can provide meals to as many as 10 people.
They are also providing fish to Jim Mitchell at Slow Town Mobile Meals. Jim passes on some of the excess carp to other soup kitchens and community feeding schemes. The meagre catch of carp in this picture will have contributed towards feeding 90 people.
2. Water to Soil
Another aspect to contend with is, fish are a highly perishable commodity and become unfit for human consumption very quickly so IFSM had to find workable solutions for instances such as spoiling, injury, lesions, ulcers, and parasitic decay among others.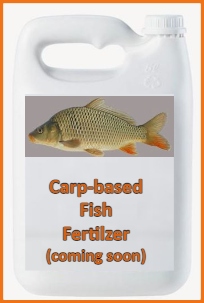 1st solution – Liquid Fertilizer

IFSM engaged with a farm certified organic in the Langkloof area outside Uniondale. The farm uses a cold fermentation process with beneficial microbes, by means of hydrolysate enzymes to anaerobically digest fish waste and by adding west coast kelp, converting it into liquid fertilizer.  This process yields readily absorbable quality nutrients in liquid form to plants.
2nd Solution – Maggot Farming

The same farm is preparing to use the guts and fish eggs of the invasive carp for maggot farming. The maggots will provide the farm's free-range chickens with a protein-enriched diet.
The chickens also produce hormone-free organic eggs, which are then provided to local rural communities at affordable prices.
Carp eggs for Free-range chickens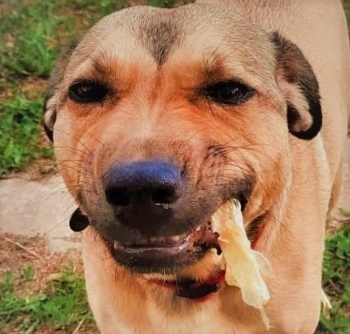 Healthy Dog Treats
3rd Solution  - Pet Treats

The farm is also cleaning the invasive carp air bladders in a mild saltwater solution followed by a rinse in fresh mountain water  before allowing them to dehydrate naturally under shade.
Besides being preservative free, they are high in protein and a rich source of Omega 3 so IFSM are purchasing them to sell as tasty and nutritional dog treats to help offset sundry operational costs.
The Groenvlei Rescue continues
As the efforts to return Groenvlei to its former pristine state continue, the battle is far from over and the IFSM team supported by volunteers will continue to strive for a satisfactory result there and in other Garden Route wetlands where carp invasions threaten their natural ecosystems.
Wetlands perform a vital role in riverine ecosystems. They slow down rivers in times of flood, store water in times of drought releasing it gradually to maintain equilibrium further down in the river channel. They also filter out toxins and impurities with natural biological processes so cleaner water is released.
The efforts of those who care enough about our overwhelmed and compromised ecosystems, to willingly put in countless hours at personal cost in attempt to mitigate them, are quiet heroes to be deeply appreciated.
Such counter-productive actions include the unsustainable demands of human presence and exploitation, air and water pollution and increasing waste disposal challenges that are increasingly bringing about thoughtless destruction of biodiversity to the Garden Route region. 
Keep up-to-date with their latest news on their Facebook page.
Acknowledgements and Grateful Thanks to the following:
Johnny Snyman (Director) for all the IFSM information and many of their photos for this story.
Stuart Lidstone for permission to use his aerial photos of Groenevlei.
Presentation by Cape Nature to Sedgefield Community in February 2020. 
The Edge for their photo. 

Heartwood Bows is a small one man operation, namely Johnny Snyman, a professional bowyer who specializes in the creation of quality and unique custom-made traditional bows. He first started making bows in 1997 as a hobby and pastime until he quit his 14 year long career as a professional diver in 2003 and became a full-time bowyer.  
---