Sydney Press

He made a difference when it counted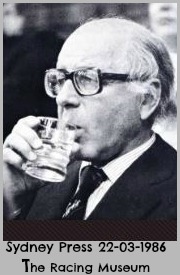 Once a part time resident of Sedgefield, the late Sydney Press is possibly only known to present day residents as the original owner of the lone house with the magnificent view at the river mouth. It was land zoned for a hotel but Sydney deregistered it to residential which most people consider was a great service to the ethos of Sedgefield. 
Sydney was born and raised on a struggling farm in Namaqualand. His Lithuanian father was first a travelling salesman, then he became a concession store owner, later on an inn keeper and finally a farmer.
Sydney loved books and was an exceptional rugby player at school but had to abandon his dream of attending Oxford University because the Wall Street crash in 1928 put paid to those ambitions. He forfeited a bursary to Cape Town University when he went to work at Edgars in Cape Town as an office boy over the Christmas holidays. He was 16.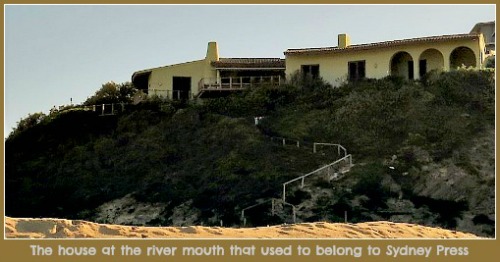 Sydney Press - a Captain of Industry
A year later in 1936, the company's owner Eli Ross sent him up to Johannesburg to open a branch there. On arrival from London, they had initially opened their business in the City of Gold so it was their second attempt, using young Sydney to prove his metal. No Contest!
By 1982, 46 years later, Sydney Press was a highly respected captain of industry who had masterminded the growth of Edgars Stores to 430 outlets while adding Sales House, Jet and Ackermans to the basket. His two brothers, Hubert and Basil had also joined the company in the early stages and made a considerable contribution to its growth. Hubert was later appointed to the Board of Directors. Both brothers retired in 1965. 
Reference - https://www.bizcommunity.com/Article/196/182/39790.html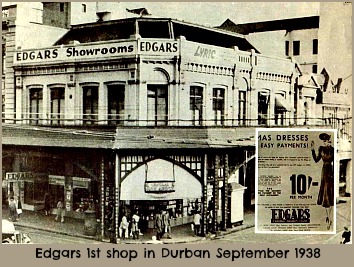 Sydney enjoyed many diverse interests.
They included photography, speed reading, theatre, travel and art. And, besides being CEO of Edgars, he was Trustee of the National Development and Management Foundation, a member of the National Productivity Council, Director of the National Productivity Institute, and he was President of the Dendrological Society for 27 years. In 1983 He persuaded Sandton Municipality to landscape the Ben Schoeman Highway with indigenous flora. 
Coromandel Estate
Perhaps one of his most notable of notable achievements was Coromandel Estate. The same Italian architect and designer, Marco Zanusco (1916-2001) whom he called upon as CEO to design Edgardale, designed his Manor house at Coromandel – an estate of 5800 hectares that was amassed from the gradual purchasing of 24 adjacent farms from 1968 onwards.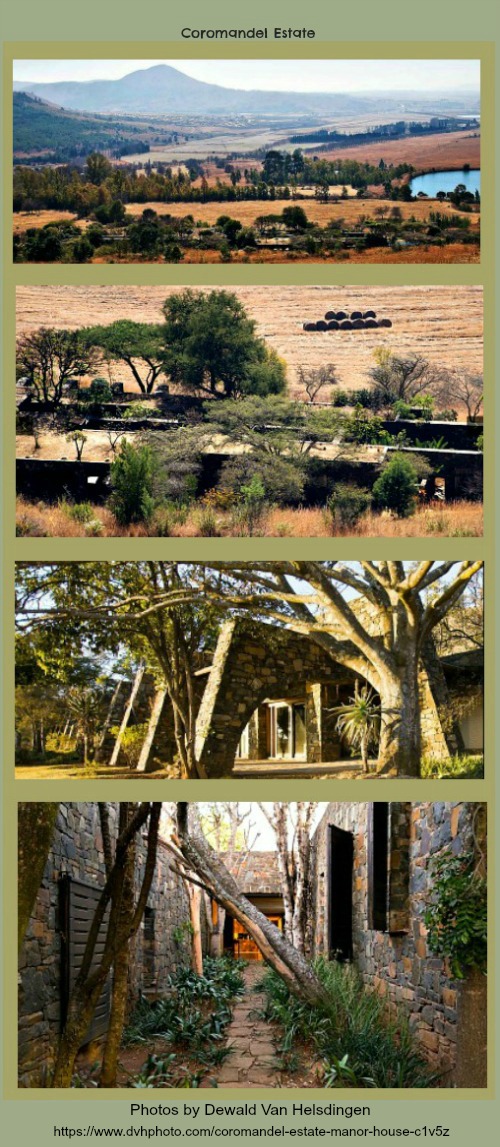 In a pristine and breath-taking area of veld, mountains, rivers and waterfalls between Lydenberg and Dullstroom, the manor house – Press House - had been built into the side of a mountain in such a way that it became one with its surroundings. In response to the harsh climate the building framework was made of sympathetic local materials – rock, stone pebbles and cross-cut timbers. 
It included roofs of indigenous plants, shaded windows and verandahs, planted atria and soothing water features - a pond and natural swimming pool. This deliberately created an interior with the ambience of shade, coolness, greenery and water. It had taken 6 ½ years to build and Zanusco brought his own craftsmen from Italy to do the work which was completed in 1975. 
Sydney's wife, Victoria gave landscape designer, Patrick Watson his first major commission when she chose him to design the layout of the gardens around the manor house. He hiked the length and breadth of the farm (on a few occasions with Zanusco) to collect indigenous plants for the Coromandel nursery.

The house had 4 wings - one for Sydney and Victoria, the girls' wing for their 3 daughters, Caroline, Jane and Suzanne, the boys' wing for his four sons, Clifford, Rodger, Gregory and William and a guest wing – all had protected outside spaces and all opened up to the living areas in the middle of the house.
Victoria presided over the interior decor. She was a Manhattan-born fashion designer that he had married in December 1952. It was her 2nd marriage, her 1st one to Leonard B. Gordon lasting only 5 years.


She educated herself, in-between bearing Sydney 7 children, by reading design books, visiting museums, engaging with antique dealers and enrolling in art classes. She would later be described as "a true aesthete with a taste for imperfection!"

She appointed industrial designer, Achille Castiglioni to make a number of customised pieces and Franco Albini and Gio Ponti to design the rest of the furnishings. 
The 80's-A Turning Point for Sydney Press and his Family
In 1982, Sydney's career in the retail industry ended abruptly when he was dethroned in a boardroom takeover by South African Breweries while he was in the USA undergoing heart bypass surgery for the 2nd time. It sparked a longstanding family feud.
Nevertheless, he was a multi-millionaire, a man of means who deeply appreciated the finer things in life. His Coromandel Estate that had been his weekend passion became his new career.  It would appear that his wife and children were not happy with his decision to sell his shares to S.A.B. and spend most of his time at Coromandel.  
Sydney Press turned his astute business acumen in a new direction and engaged in his enthusiasm for horse racing when he entered the world of racehorse breeding. Zanusco had already designed and built a magnificent stable block with stone walls, Yellow-wood doors and slate tiled roof. There was a separate yearling barn.  Sydney had Charlotte Stubs, the doyenne of horse knowledge in South Africa, bring back from Ireland, Germany and Sweden, Warmbloods to his stables for breeding purposes.
In 1983 expert Bloodstock Agent, Robin Bruss bought the stallion, Northfields from the Coolmore Stud in Kentucky, USA. It made headlines as the most expensive horse in the world because Sydney paid R3.1 million for him. Robin also purchased the filly, Tecla Bluff from Argentina for him. She was the first filly to win the Durban July in 21 years. The mating of these two horses produced Teclafields, another race winner, who over time also produced race winners.
Other aspects of Coramandel were just as astounding. 
Sydney Press set his own standards when he aimed to make his farm the best farm in the country. He pretty much achieved his goal many times over as he regularly won SA Farm of the Year awards. Time would reveal he made some mistakes but he followed his own compass and didn't easily take advice from anyone. He tried everything!
However, he did employ people who were experts in their field. There were 25 managers' houses dotted throughout the farms in areas adjacent to the projects allocated to them.
He had orchards of nectarines, peaches and olive trees. He successfully grew the first export quality blueberries and also supplied them to Woolworths. He grew fields of maize, wheat, beans, sunflowers, sugar cane and potatoes. He had the biggest herd of Holstein-Friesian dairy cattle in South Africa that were milked in a pristine state-of-the-art milking facility. He had beef cattle and did wool farming with sheep. 
Besides the dry and irrigated agricultural lands there were natural areas of open fields, beautiful waterfalls, pockets of indigenous forest, trout dams and in the higher reaches, a well-stocked game reserve. 
Along with maintenance gear, 24 tractors and a grader, the important and necessary Workshop Complex contained large fertilizer stores, a butchery and a fruit packaging area containing 3 cold rooms and a freezer.  An airfield had a hangar for the aerial crop sprayer. 
However to cap it all, in the 80's, Sydney Press had constructed a staff village that consisted of 140 houses in groups opening into a town square at its heart and a junior school in close vicinity. The plan had been decided upon through dialogue with the farm workers who were going to live there. 
All 300 staff were engaged in some form of training and education. Besides the teachers Sydney had on his payroll, he provided a school bus to take his workers' older children to high school in Lydenburg. Everyone on the farm could read and write. A mobile clinic visited the farm monthly. Food parcels were provided to the staff village monthly. Every house had free electricity, running water and a geyser. Free firewood was delivered to each household throughout the icy winters.
Sydney and Victoria part ways
By 1984 the path of two equally extraordinary people had become a rocky road and it diverged when they divorced and Victoria moved to London. In 1982, she had bought a 3-storie Queen Anne style house in historic Cheyne Walk where other notable greats like Mick Jagger and Lawrence Olivier had owned homes.
A plaque on her own house stated the duration of George Elliot's life. She had only briefly lived there. (Mary Ann Evans, daughter of a farm manager wrote under the male pen name of George Elliot. She suffered a recurrent kidney ailment and died a mere 3 weeks after moving in to her house on Cheyne Walk.)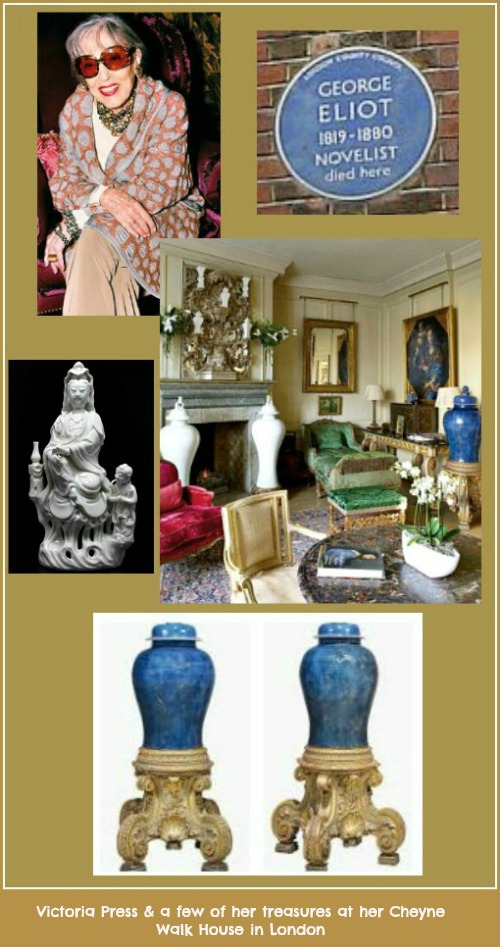 Victoria acquired a second house, a palazzo, on the Grand Canal in Venice.  Among her considerable talents, she had become a recognised expert in a particular style of Chinese porcelain and in her Venetian home she reputedly displayed the best Blanc de Chine collection in the world. 
In 1985, Sydney Press bowled over the business world when he listed his stud farm Oakfields (part of the Coramandel Estate) on the Stock Exchange. 
Sydney had short break-away periods to his house at Sedgefield. Through his friendship with Tim Balchin of the Sedgefield Ratepayers he was kept updated with all the controversy surrounding the proposed development on the Swartvlei Peninsula. He didn't like the idea of the development any more than they did. As a result he gave them a considerable financial contribution that made it possible to employ good attorneys and take the fight to court. 
In 1988, a protracted court case began between Sydney Press and 5 of his children fighting for control over the fortune in the Lincolnian Family Trust. They believed he was wasting their potential inheritance on hair-brained schemes like his racehorse stud farm and his extravagant gardens at his historic Inanda house in Johannesburg. 
Towards the end of his personal court case battle Sydney Press was neglecting the Coromandel Estate and when he lost the case in 1996, he was no longer allowed to live there and had to get permission to visit. The loss impacted his health and he had a heart attack and died on 28 May 1997. 
The Coromandel Legacy of Sydney Press
As all of Sydney's immediate family were living abroad with the exception of his son, Gregory, the farm languished after his death. There was little money coming in and the farm workers tried to manage the farm without any capital investment or any of the perks that Sydney had regularly provided for them. A few of the managers were caught pilfering the movable assets and ended up behind bars.
The family appointed curator, Future Perfect Corporation to auction the farm. When they didn't get the money they expected, the farm workers put in a bid. They obtained R11 million in the form of a government land reform grant they applied for from the Provincial Department of Land Affairs. The balance they borrowed from the Land Bank. There were 248 beneficiaries in the Farm Workers Trust that took over the farm in 2002.
Between the time of Sydney's death and the transfer of the farm to the workers, debts had accumulated and the farm had deteriorated into a state of disrepair. It was a difficult transition from workers to owners and to grasp the implications of what that meant. A Management Board was elected, composed of workers who had either grown up on the farm or been working on it for many years, to make informed decisions. The general workforce still needed on-going training, managing and discipline.
The Provincial Government stepped in to guide them with making business plans, implementing cost-cutting measures and establishing long term goals. They narrowly avoided having the farm stripped of all its movable assets, by liquidators of the operating company, by making a counter offer that was accepted. The Board  resolutely got to grips with what they were able to do but there are many challenges as they learn to manage the assets and to experience for themselves what works and what doesn't.
Surrounding farmers, at first dismayed by the turn of events, became supportive when they were asked by the Trust to give them advice on planting. Now they are pleased and proud to have in their midst, a land reform project that is working with regular input from DARDLA. (Dept. of Agriculture, Rural Development and Land Administration.)

The Blueberries and dairy farm are successful activities as are the maize, sunflowers, soya beans and winter wheat. Some of the managers' houses are rented out on long-term leases. 45 hectares were excised to the local council for R1.8 million to expand on the existing village compound so it could house 1500 people including farm workers and their families. Workers that had experienced evictions from other farms have also been accommodated. Access to housing subsidies enabled these people to own their fully serviced homes. 
Without deliberate intention, Sydney Press made it possible for his farmworkers to fall heir to a legacy that would be of generational benefit to them all.  Because of the initiatives he had introduced on his farm, the Farmworkers Trust was enabled to take its rightful place in the new South Africa. 
From humble beginnings Sydney Press became a man of consequence who had significant influence and impacted on many lives. He consciously continued to educate himself throughout his life. A private and solitary man he was nonetheless a humanist and philanthropist. 
REFERENCES

Family Tree - http://www.fisherfamily.za.net/1064.htm    http://fisherfamily.za.net/1694.htm 
Edgars History - http://www.fundinguniverse.com/company-histories/edgars-consolidated-stores-ltd-history/
Slides of Coromandel https://architizer.com/idea/933244/
Noseweek Issue 23 Article 334 dated 23-07-1998
Mail and Guardian article dated 2012-02-03 A Time of Transition
Mail and Guardian article dated 2012-02-03 A Beacon of Hope for Land Reform
Get It – Lowveld  dated 10-04-2012
http://www.christies.com/features/Old-Chelsea-The-Collection-of-Victoria-Press-6667-1.aspx 
Update Sept 2013: https://www.vukuzenzele.gov.za/workers-restore-farm-land-milk-and-honey
Foot Note: Victoria Press 1927-2015 Born Victoria Lurie in Cleveland, Ohio, USA. Died 7 April 2015. Buried on San Michele Isle, Venice, Italy.
---