Ensle Syphus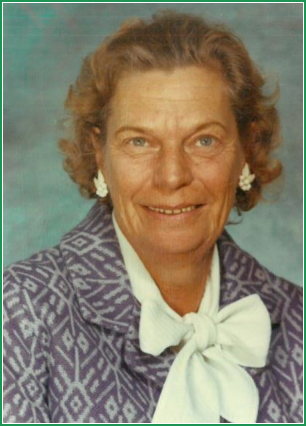 Ensle Syphus
I found out about Ensle Syphus by accident after I had contacted Louis Bischoff by email in 2014. He had already left Sedgefield and was living in Heidelberg, in the Western Cape. We made email contact twice again before he passed away in 2016. He had written "The Sedgefield Saga" published in 2004. His is the only book I know of that contains any intimate and relatable history of Sedgefield. In the first instance, Louis told me he had donated a conglomeration of boxed historical Sedgefield documents, to the local library before he left town and perhaps I would find something useful there.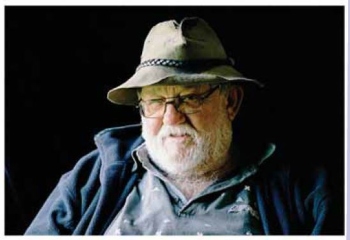 Local Legend, Louis Bischoff 1939-2016 Photo: The Edge 27-01-2016
Unfortunately by the time I inquired, the people working at the library were unaware of any historical material stored there but searching around, they found a small grocery type box with very little in it: a few copies of the defunct local rag, SedgeNews that made its first appearance in October 1988 and some newspaper cuttings containing objections and concerns about the development of the Swartvlei Peninsula.
I later found in the June 89 edition of SedgeNews, the Sedgefield Historical Guild is mentioned so at one stage Sedgefield had such a group. It must have dissolved by the time Louis left Sedgefield for him to resort to leaving that kind of information at the library.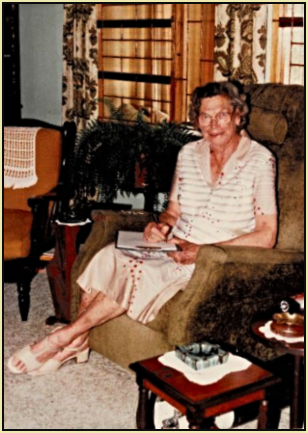 Ensle at her last school before she retired.
However, I found an obituary of an Ensle Syphus in the Easter edition (April 1990) of SedgeNews that caught my eye. It mentioned her death was a loss to more of Sedgefield's people than just those who knew her personally. It said she had been asked to research and document Sedgefield's history by ex Mayor Fred Hawkins, but ill-health had prevented her from completing the task.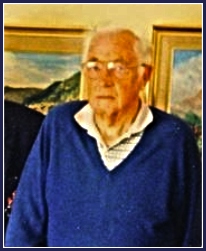 Fred Hawkins (Mayor) of Sedgefield before Rudi Raath.
Ensle's older son, Matthew a qualified librarian was also mentioned in the article. He had undertaken to complete his mother's project. I made several attempts to locate him using Google and Facebook but his name didn't come up in the search. I tried other media and finally got lucky and connected with Matthew on Linkedin.
Contrary to the newspaper information, he told me that all his mother's belongings were sitting with his sister, Bettie now called Liz, (Bettie being a derivative of Elizabeth) in Kwa-Zulu Natal and he gave me her email address to pursue the matter.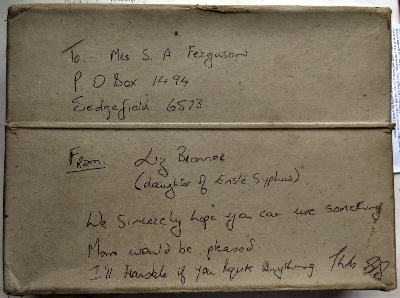 Ensle's box that I received from her Daughter, Liz Bronnor.
Liz responded to my email by saying all the information Ensle Syphus had gathered was sitting untouched in an unopened box, and having never visited Sedgefield, held no interest for her. She was very busy right then but was happy to send it to me as soon as she had a gap.
It took nearly a year but one day I was delighted to receive a cardboard box in the post. It contained a summary page of everything in the box. There were many A4 handwritten pages, several stapled together and assembled into various chapters, some correspondence from early settlers, a couple of tapes she had transcribed onto paper and a fair number of newspaper cuttings. Some of them have since been incorporated into my history pages and some are yet to be…. unfortunately, there were no photos.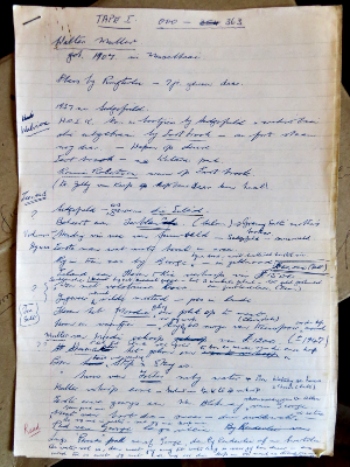 Tape 1 -Transcript of Walter Muller interview
However in the box, was a cutting from a Knysna/Plett Herald (date part missing) giving some background to Ensle and why she had been prevailed upon to write "The Early History of Sedgefield". The article ended with asking for people to come forward and assist her with their stories, old maps and photos.
The article introduced Ensle Syphus as a seasoned writer of textbooks who was born in Knysna in 1916. It was the year of the "big flood". Tragically this happened shortly after a new concrete bridge (Westford Bridge) had been built over the River Knysna, at a cost of £8,150. The bridge was opened in October 1915, but on 4th May 1916 torrential rain and record breaking floods washed the bridge away. There was no bridge over the river for seven years and pontoons had to be used to ferry traffic across until Westford iron Red Bridge was completed in 1923. NB. In 1955, the current White Bridge over the Knysna River was completed as part of the expansion of the National N2 road from George to Port Elizabeth and the Red Bridge became redundant. It can still be seen upstream from the current road bridge.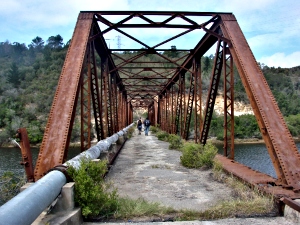 Red Bridge built in 1923 now redundant
Ensle Syphus lived in Knysna until she was 15 years old. She believed that her love for history arose from spending her early years in an historical spot, Edinburgh near Brackenhill, about 6kms east of Knysna. It's in the vicinity of the road now known as the Prince Albert Pass and it was there Queen Victoria's son, Prince Albert, Duke of Edinburgh, while on a visit in 1867, engaged in an elephant hunt resulting in several animals being shot but escaping wounded into the forest (to maybe die later of their injuries) and two elephants being killed in a hail of bullets.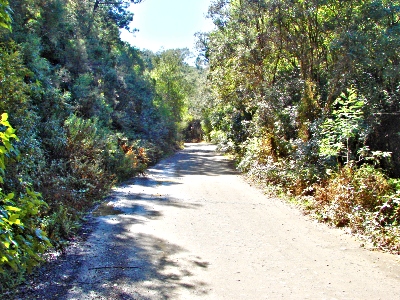 Prince Alfred Pass Road through the forest where herds of elephants previously roamed freely.
Fifty years later in 1917, a trade school where students were taught woodwork was started in the vicinity and Enslé's father, Hendrik Veen was appointed as the second Principal. He knew the Kleyts, Jonkers, Fechters and Kloppers - all the Knysna craftsmen who worked with the indigneous forest wood.
After the school was moved into Knysna, the Veens also moved into town to live in a stately house with a beautiful view overlooking the lagoon. The house was demolished when the Knysna Provincial Hospital was built on this site in 1970.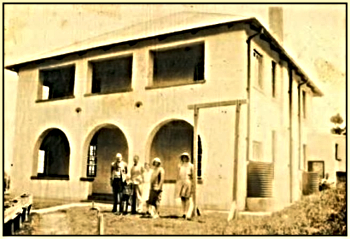 The Veens' Knysna House
The Old Passes Road  (now called the Seven Passes Road) was the route that Ensle's family took in those days, when they went south for the summer holidays  travelling in their 6-cylinder Buick motorcar along the bumpy gravel road to George.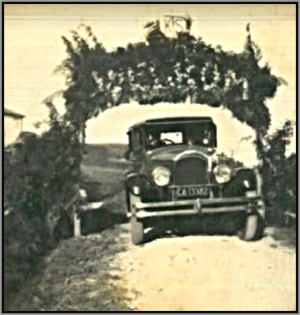 Ensle's Dad's Buick
Built between 1867-1863 by master road builder, Thomas Bain, it was a distance of roughly 50 miles (80.5 kms) that took between 2-2⅟2 hours passing through places like Barrington and Karatara, because the lower road via Sedgefield was a mere sandy track in many places that further deteriorated at impassable drifts through rivers and so it was seldom used.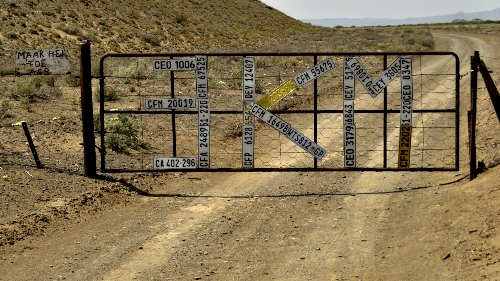 Typical Farmgate on a Public Road
Nevertheless, their journey to Cape Town took between 2-2⅟2 days and the passes road in the "Garden Route" region alone, crossed ten rivers. There were also countless number of farm gates that had to be opened and closed along the route, sometimes one every mile!
Sedgefield was therefore unknown to Ensle Syphus. She remembered seeing the name for the first time when the family travelled by train to George after the railway line between George and Knysna had been completed in 1928.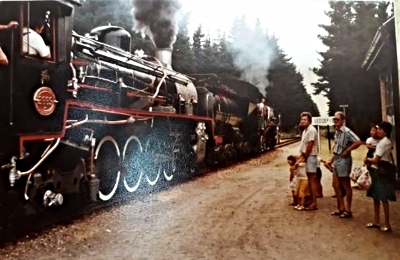 Sedgefield Train Station early days before it had a platform.
As a teenager, she saw the siding appear with the name Sedgefield on it along the way and it struck her as odd back then, this English name among Hottentot and Afrikaans names such as Goukamma, Ruigtevlei, Bleshoender, Swartvlei and Rondevlei.

It would be more than half a century before she found the answer to that question because in 1931, Ensle's father was transferred to Bloemfontein and it would be more than 30 years before she visited the Garden Route again.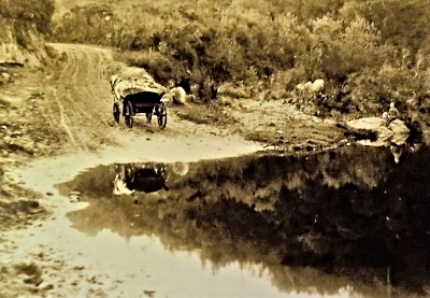 Swart River drift on the Old Passes Road in the early 1900s.
By then she was married, a teacher by profession and had three children, two sons, Matthew and Joel and a daughter, Bettie.  She had majored in history and Afrikaans to be a high school teacher. However, from 1938 until she retired in 1975, she had also taught every high school subject except wood-work and science. She had taught in all 4 provinces, then called the Transvaal, Free State, Natal and Cape and made her mark as both a senior history teacher and as an author of a number of school text books.  At one stage she taught relatively close by in Oudtshoorn but her longest stretch was in Pietermaritzburg. 
In i963, the family decided to travel with a caravan from Pietermaritzburg to Cape Town along the Garden Route. By then it was a comfortable journey on the national tarred road, the N2, but they had almost passed Sedgefield before they recognized they were going through a small village. At that time never in her wildest dreams did Ensle Syphus think that they would one day retire to Sedgefield but in 1979, they did!
Ensle Syphus retires to Sedgefield

The Quail Street stand and the family outside the house once it was built - Joel, Liz, Matthew (father), Matthew (son) and Ensle(sitting).
Ensle and husband Matthew bought a stand in Quail Street and stayed at the Landfall Caravan Park until it was built. They quickly settled in to village life and became stalwarts of the community. Matt was elected to the Town Council where his wide experience as a trigonometrical land surveyor helped him to make significant contributions.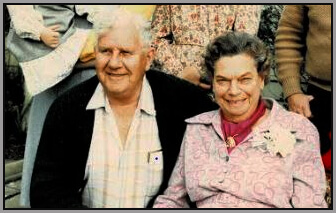 Matthew and Ensle
In 1982 the ex-Sedgefield mayor, Fred Hawkins prevailed upon Ensle to research and document "The History of Sedgefield". He told her that all their records prior to 1968 had been destroyed in a fire. It was to be a real challenge because Sedgefield was seldom mentioned with any detail in any South African historical narrative. (except for the Nepaul Shipwreck in 1850 but the place was barely inhabited, mostly farmland and a primitive camping ground near the Swartlvei). Sedgefield  wasn't named anywhere on the map back then!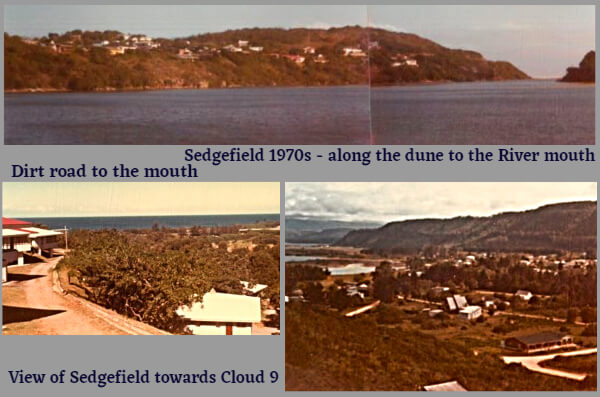 1970s Sedgefield Views
Ensle got cracking and accomplished quite a bit. She visited local libraries, the archives in George and wrote to the Reference Department of the SA Library at Queen Victoria Street in Cape Town asking for information like early exploratory excursions, diaries, letters and photographs.
She interviewed members from some of the old families such as the Barnards, Hoopers, Morris's and Robertsons, made copious hand-written notes, had given headings to a fair number of chapters and roughly fleshed out a number of them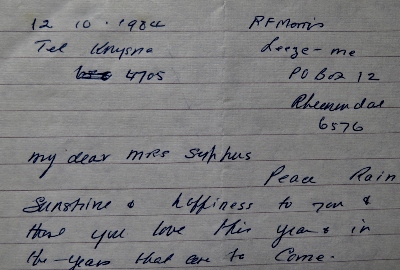 The Start of a handwritten letter from Bob Morris to Ensle
The box had included a few handwritten letters by Robert Frank Morris aka Uncle Bob, who states that he was a descendant of the Meedings. Catherine Hooper, daughter of Dorothea (nee Meeding) and Henry Hooper, had married Francis Morris, Bob's father. Bob says he grew up in Blanco near George. His sister was Ethel Morris, better known as Sedgefield's much loved Eppie Hooper. She had married Humphrey Hooper who also descended from the Meedings so they were like second cousins. (see the family tree)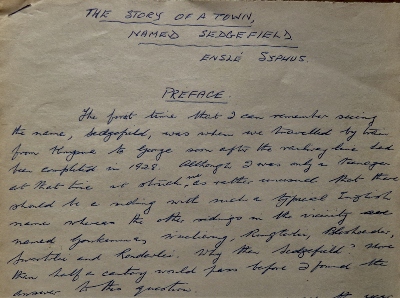 A few lines of the preface to the book that Ensle Syphus was going to call "A Town named Sedgefield".
Bob was 84 years old when he corresponded with Ensle Syphus in October 1984 and was by then living on a farm called Leeze me on the Old Passes Road.
He mentions that Eppie inherited from the Meedings, a sideboard from the wreck of the Nepaul given to the family for their kindness shown to the ship-wrecked sailors. At the time of writing, it was residing in the Millwood Museum in Knysna where Margaret Parkes was one of the custodians.
Ensle had done a lot of leg work for her manuscript. She had named 22 chapters and had roughly hand drafted the preface and the first seven chapters but sadly, before she could complete it and really put it all together in the semblance of a book, she succumbed to lung cancer passing away before the task was completed in April 1990.
If anyone has photos or more information about Ensle and Matthew, I'd be pleased to add it to this story.
---
References
Ensle Syphus boxed notes for her Book received from her daughter, Liz Bronnor
Sedge News – Easter Edition April 1990. Obituary Ensle Syphus
Knysna /Plett Herald (no date on article) Interview with Ensle Syphus
The Edge - Issue 480, Page 7,  27 January 2016 - Obituary Louis Bischoff.
https://www.n2rs.com/knysna/knysna-history-timeline.html Floods and the Red Bridge
Additional family photos from Joel and Liz received August 2022.
---