Sedge Mobile Meals
Sedge Mobile Meals began in Sedgefield in April 2007. It was the vision and brainchild of Gilda Scammel. But the story doesn't start there! It began with a dream and as with so many things in life, as Gilda walked in faith, opportunities presented themselves that gradually revealed the direction she should take......
Around 2001 a quietly spoken unassuming woman was searching for a way to contribute to the needy in the Sedgefield community. She knew what she was capable of and felt a compelling desire to do something useful. She took it upon herself to assist some senior citizens with their shopping, one of them being an elderly lady. When this lady died some time later, Gilda and the woman's son, found the old lady's fridge and freezer full of old and rotten food. The old Dear had bought food, but either didn't or couldn't, cook meals for herself. This grim discovery gave Gilda cause for thoughtful reflection.
Not long after that, Gilda succumbed to a back injury and was bed-ridden for six months. The forced bedrest allowed her plenty of time for contemplation. Once she was well again, a random statement made by someone she barely knew, motivated her to start a project Gilda called Anchusa - it is the botanical name for the flowers we better know as "Forget-me-nots"!

Anchusa
"When you are kind to others, it not only changes you, it changes the world." - Harold Kushner"

In April 2003, Anchusa began with a Friday morning tea for the elderly (over 70's). It was held in the United Church Hall in Swallow Street. From the initial 5 people, the gathering has grown purely by word of mouth to +/- 50 people. It is a morning where lonely or housebound folks can enjoy a social get-together around a scrumptious tea.
Besides tea and cake and chatting, some of the men keep themselves busy with French knitting while the ladies knit various items such as squares for blankets, scarves, bed socks, beanies and toys. These articles are then handed out to where it is needed in the community or sold to raise funds for the outings.

Three times a year, Anchusa folk are treated to various activities and outings. Transport is always provided for those who need it to be able to attend the gatherings.
Some of these folk don't have family near by and don't get out much, so the outings arranged are a great hit. So far they have included a boat trip on the John Benn on the Knysna Lagoon, a visit to Monkey Land, the Bird Sanctuary, Red Berry Farm, and a train trip to Mossel Bay.

Anchusa does not have an predetermined income but is run by faith, prayer, volunteers and a small voluntary donation the attendees themselves give towards the teas and outings. 
"Unexpectedly great things can come of seemingly small consistent actions." - Anonymous

Anchusa was not Gilda's complete vision however. She knew it was just a part of her journey. The distress she experienced over her encounter with the old lady's rotten food in her kitchen had not yet been addressed.
The natural and inevitable progression of Anchusa was the creation of a project that would get to the heart of Gilda's concerns. The time was right for Gilda's vision to be born!
Once again, through word of mouth, Gilda already knew that there were people in our community, who for one reason or another desperately needed help in getting proper cooked meals so on 1 April 2007, Sedge Mobile Meals began....
SMM -Sedge Mobile Meals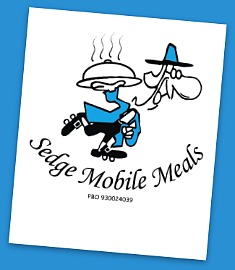 The people in need of assistance were numbered among the elderly, those suffering from ill-health, the frail, disabled and those without an income. Lyn Van Der Walt made her home kitchen available and 83 meals were supplied from there that first month.
By October the meals approached the 150 mark, and more space was necessary, Gilda asked around and with the assistance of the Sedgefield Councillor, Doris Naylor, the Knysna Municipality allowed her to use the Sedgefield Municipal kitchen, free of charge. 
The project galloped away. The word got out and the number of meals being supplied steadily increased. By August 2011, 1163 meals were cooked and delivered in the month.
This figure, Gilda says, varies from month to month because people's needs change – some people's circumstances improve whilst other people's situations deteriorate.
No-one though takes undue advantage of the meals but the economic downturn severely impacted on many families and elderly people who were already struggling before it happened.

Sedge Mobile Meals has become a life-line to some 80 people in the community. However Sedge Mobile Meals is not a soup kitchen. The recipients receive a balanced meal consisting of a protein, starch and two vegetables 3 times a week. i.e. on Monday, Wednesday and Friday (but if needs demand it, some receive 6 meals.
They are repeats of Monday, Wednesday and Friday and given at the same time to provide food for Tuesday, Thursday and Saturday). On Fridays everyone gets a pudding. The menu is varied and not repeated for many weeks. 

Volunteers deliver meals in and around Sedgefield. About half the meals go to Smutsville and Sizamile and are taken to Masithandane, whose care-givers deliver the meals from there.The sister in charge of this organisation, assesses the requests for meals in those areas.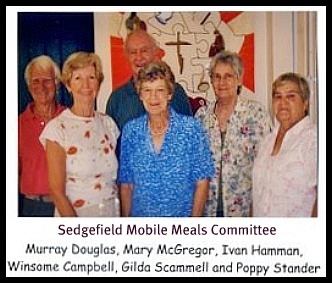 Sedge Mobile Meals is now a registered Public Benefit organisation that is run by a dedicated committee consisting of a Chairperson, Secretary, Treasurer, Fundraiser and 2 other committee members. They meet once a month and more frequently when necessary. 


The meals are prepared by four hard-working kitchen staff, Lolita Petersen, supervisor, Marie Bronkhorst, the cook, assisted by Russell and Gladys. They all receive a small monthly remuneration.

Sedge Mobile Meals runs daily on faith and prayer and relies heavily on sponsorship, donations and fund-raising such as an Annual Dinner, a Ladies' Lunch and collection tins presented at Wild Oats, Scarab, etc. Although recipients are not charged for meals they are asked for affordable donations.
Both Anchusa and SMM are run on faith and prayer and Gilda says she doesn't have sleepless nights over it. She says that somehow, miraculously, there always seems to be enough money to meet each month's commitments.
And I know that Gilda's dream does not end with Sedge Mobile Meals, it is just another section of her journey. An expansion of her dream is yet to unfold......
Raising Funds
Once a year in March to raise funds, Sedge Mobile Meals holds a Musical Quiz evening. They have attracted a good many sponsors who provide great prizes and who also supply the ingredients for a three course evening meal.
There are raffles that contribute to the funds and guests are asked to bring tinned and non-perishable items that can be of use in creating the "mobile" meals. Each table sits 8 people and has a hostess who has volunteered to dress the table and bring the crockery, cutlery and glasses for her guests. Everyone brings his/her own drinks.
With much singing and dancing and hilarity, tables compete against each other for points by answering music related questions until at the end of the fun evening a winning table is declared with prizes down to even the 4th placing. There are spot prizes for all kinds of nonsensical reasons so things get riotous but all in good spirit!
Thanks to lots of hard work by the Sedge Mobile Meals Committee, Gilda's great ability to persuade diverse businesses to sponsor wonderful prizes and the hard work of kitchen staff and sundry volunteers, the entertaining evening raises thousands of rands for this charity.
Musical Quiz Evening
"A kind deed a day, like little drops of rain, Makes a mighty ocean and a gracious nation." - Lin Hsiu Nei
On 20 August 2012 Sedgefield Slow Food Convivium was able to hand over a cheque for R1070 to Sedge Mobile Meals as a result of funds raised at their Christmas in July function.
UPDATE: Guilda has moved on and now is involved with TLC - The Living Cornerstone - homes for people suffering primarily from Alzheimer's. Sedge Mobile meals has a new committee so find this revitalised charity Slow Town Mobile Meals under Charitable Organisations on this website.
---