Anuska Viljoen - Sedgefield's Simply Natural Vet
We are fortunate to have Dr Anuska Viljoen in Sedgefield. She is a vet who has studied under, and worked with, some international leading lights in the field of integrated veterinary health care.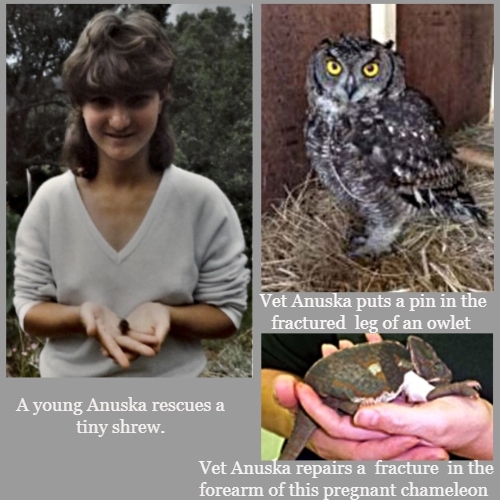 She had no idea when she began her journey, of the personal and professional difficulties she would face at times and the controversy that would often dog her steps.

However, this diminutive young woman has the heart of a lion when it comes to her love for animals and her patients seem to sense it. It is amazing to watch how she intuitively communicates with them. The first thing she does for stressed animals is, holds their face and quietly looks into their eyes. As she gets their attention, they respond by calming down and the examination procedure  is accepted with little resistance.
People come from far and wide, booking in advance, especially during the Christmas holidays, to have consultations with her and treatments for their pets and frequently benefit from her advice themselves as many of the homeopathic remedies are completely suitable for humans.
As a child, Anuska Viljoen was shy and reserved, but she always had a natural affinity with animals. From a young age she was regularly trying to rescue and fix injured creatures she came across. By the time she was 13, she knew she wanted to be a vet. 

Anuska Viljoen doggedly pursues her Veterinary Ambitions
With the end in mind Anuska applied herself to her school work and achieved an "A" aggregate at Higher Grade Matric but still didn't manage to make the cut for veterinary studies at Onderstepoort.
Devastated, she decided to begin a Marine Biology Degree at The University of Cape Town (UCT) and then try again. However, she was advised by a professor in the know, that students in the Transvaal were given preference so she changed her mind and decided to do an Agricultural degree at the University of Pretoria (Tukkies).
It worked! Her second application for Onderstepoort was accepted at the end of her first year. As it turned out, she had to do the same subjects for the 1st year veterinary degree that she had already done and passed for the 1st year agricultural degree with the exception of anatomy, so she decided to do a 2nd year Agriculture degree specialising in genetics and 1st year anatomy concurrently.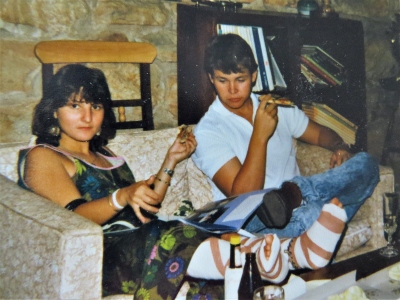 Anuska at Haish Cookie Commune. She is wearing casts after having an operation on both feet.
From her 2nd year she moved into a commune called Haish Cookie on a game farm near Onderstepoort on the Hammanskraal road. She was the youngest one there, the other members all being 3rd year students.
They uncompromisingly, dragged the newest member out of her shell, so that she joined in all the high-jinx that students indulge in although she still applied herself to her studies with equal enthusiasm.
Anuska Viljoen completed her degree and graduated in the top 10 of her class in June 1993. She most enjoyed and excelled in the practical application of theoretical knowledge. 
Dr Anuska Viljoen's Baptism of Fire in Soweto
Three days after her graduation Dr Anuska Viljoen started her first job at the PDSA (Peoples' Dispensary for Sick Animals), at their Pimville branch in Soweto. 
There she was immediately thrown into the deep end and just had to get on with things. Her first operation was on a 12 week old, long-haired, dachshund puppy, to repair a Salter Harris II fracture in the growth plate of the tibia. When she asked for assistance from the out-going vet, he told her to "just do it"! He had never had to do such an operation himself. She said she did the tricky operation reading the "how to" from her text book with her assistant turning the pages for her when required!
She also had a few scary experiences as the PDSA was robbed at gunpoint and she was made to lie down in the middle of an operation with AK47's pointing at the heads of her and her staff.
This was also the time of the big referendum in 1994 and on occasion she had teenage boys throwing stones at her car or preventing her from leaving the premises for indefinite periods. Every morning this courageous young graduate, scarcely 5 foot tall, would enter Soweto through a military roadblock, sometimes with the heavy stench of burning tyres in the air. The news made her aware of many reports of necklacings and  she often felt quite nervous and vulnerable but she never considered not going to work.
Of necessity, Dr Anuska Viljoen's 2 years there gave her volumes of experience!  During the same period she enrolled for a Post-graduate Honours Degree covering Small Animal Medicine, Anesthesiology and Clinical Pathology in order to be a better vet.
Dr Anuska Viljoen explores Alternative Therapies Overseas
In 1995, to help pay off her student loans and gain exposure to international veterinary practices, the young vet, now with loads of hard-won practical experience and more qualifications under her belt, headed overseas on an ancestral visa, to work initially, at the PDSA in London for 2 weeks. She found the hasty 10 minute consultations resulting in the dispensing of mostly antibiotics and cortisone disheartening and unsatisfying.  
She was a locum for some time in Langley, Slough not far from Windsor Castle and Eton College, before deciding to join a friend on her travels to Australia and New Zealand for 3 months. When she returned to England she went to work at a new practice in a rural setting, Underwood and Croxson on Grey Friars Farm, Hogs Back, south of Guildford in Surrey.
There, a chance phone call resulted in Anuska attending an open day of the Homeopathic Physicians Teaching Group (HPTG) in Oxford that was to change her life as a veterinary practitioner. She was blown away by the calibre and enthusiasm of the GP's and vets she met, discovering that their treatments and medicines offered a far greater range of options than conventional veterinary practices. They were also less invasive and had virtually no side effects serving only to support the body to heal itself.
By repeatedly extending her ancestral visa, Dr Anuska Viljoen worked and studied in the UK for 10 years. The HPTG had planted a seed that encouraged her to overcome her restricted and conventional training and become willing to investigate alternative therapies, for both animals and humans. (In a future time this resolve would save her life!) She came to the informed decision that "this stuff really works" and was able to extend her treatment methods to include homeopathy, acupuncture, nutritional therapy and crystal healing for animals.
She also qualified to offer people crystal healing through the International College of Crystal Healers. Anuska said that Stephanie Harrison, the Principal, was very strict and the course really challenged her orthodox thinking. It took her 8 years to reconcile and balance her alternative studies with her conventional mind. She also completed the course of "The Journey" method created by Brandon Bays after she had healed herself of a malignant tumor by resolving and letting go of memories stored in her body at a cellular level.
Being a practical person, Dr Anuska Viljoen is passionate about anything she personally observes working. Even if current limited science can't explain how it works it does not dissuade her that it doesn't. (Newtonian physics has to all intents and purposes been proved to be an incomplete rendition of science in similar manner as past proponents of the "earth is flat" and the "sun circles the earth" presumptions. Since powerful microscopes have lead to the discovery of quantum physics revealing minute particles are more energy than matter, and beyond what is visible to the eye, that everything is connected, a new paradigm for life and its' meaning is inevitable.)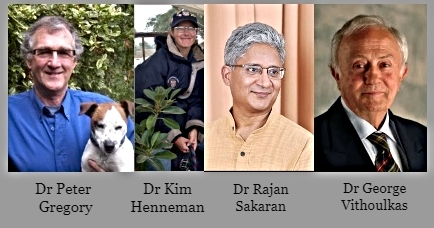 Not being content to just conform to conventional practice's rigid rules and some ploys used to increase practice income, she started to look for practices where she could gain holistic experience and feel ethically comfortable while being mentored.
She's had the good fortune to work with some of the best holistic vets and holistic pioneers in the UK between 1996 and 2003, including Mark Elliott and Nick Thompson in Chichester and Sue Armstrong and John Saxton in Yorkshire.
She has also shadowed other holistic vets including Peter Gregory in the UK, Dr. Maria Glinski DVM in South Carolina, USA - one of the pioneers in veterinary rehabilitation medicine, and Dr. Kim Henneman the first USA Vet to be board certified in both canine and equine sports medicine, thus gaining new skills and experience from them.
Choosing to take her holidays in places where she could learn from world renowned homeopaths, she attended several master classes by Rajan Sankaran in India, and George Vithoulkas in Greece, and attended the American Holistic Veterinary Medicine Association Congresses, where she herself gave a master class on crystal healing in 2005.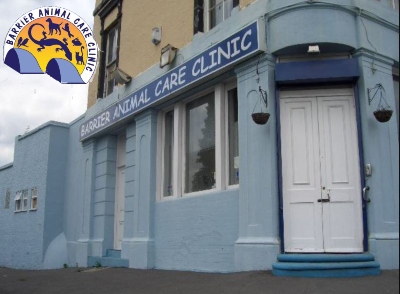 Charlton Barrier Animal Care Clinic
Her sole intention has become to promote forms of "natural" or "holistic" healing that enhance health and well-being by supporting or kick-starting the body's vital force and immune system. This enables the body's natural ability to restore balance from "dis"-ease. 

In contrast, Dr Anuska Viljoen found many conventional studies have been done where one paper discounts the pharmacological action of a particular drug and another promotes the same drug.
This contradictory information is disconcerting and likely to contribute to the reason that so many people die from drug prescribed medicines every year. 

From her home in Warrington, Cheshire, Dr Anuska Viljoen provided holistic therapies directed at people and at the Barrier Animal Care Clinic in Charlton, London she held a monthly holistic veterinary clinic.
How Anuska Viljoen discovered Sedgefield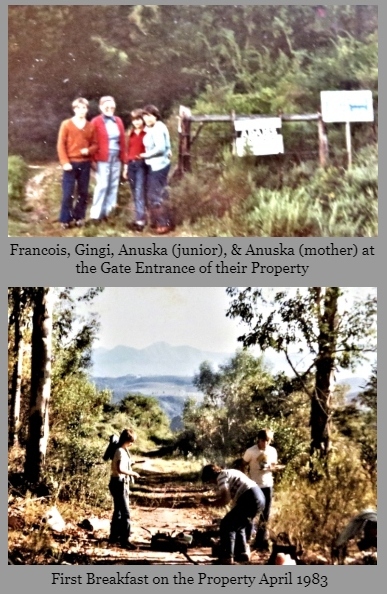 Anuska's family consisted of her grandmother, Gingi, Mom-Anuska, brother-Francois and herself. Because her father had died when she was very young, the three of them lived with her grandmother in Northcliff.
One Easter the family visited friends at Ruigtevlei. They fell in love with the area and in 1983 Anuska's mother bought a beautiful piece of land along the Karatara Road for the family.
Goukamma Nature Reserve was 3 kms away as the crow flies and its remote location in those days, made them feel, that at the shoreline, was their own private beach!
Towards the end of 1984, with great excitement, they began the trek with numerous household goods and supplies to set up "base camp" for the first time on their own property.
A caravan they called Buckingham Palace, was towed in over the rough terrain by Rodney Hahn on his tractor.

Most of the back breaking work that year went into carving a road out of the bush from the public road to their camp. It followed an old elephant path that transected the whole length of the property.
This led eventually to their land being named Big Foot Farm although it was initially called Welverdiend (meaning "Well Deserved").
Another successful task was assembling an outdoor shower so they didn't have to trek to the campsite at Swartvlei beach for cold showers!
During the next year and including their time spent there the following December a wash-room/storeroom rondavel was built and a septic tank and soak-away installed.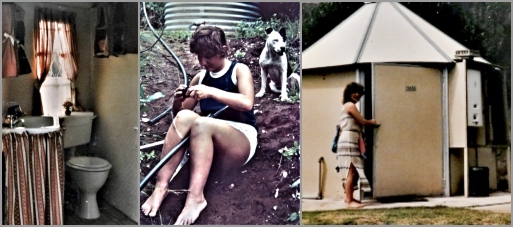 Anuska connecting the pipes from the water tank to the washroom/store-room rondavel.
Trees were planted and gradually an indigenous garden emerged around the homestead.

Year by year the threesome or foursome with some local workmen (and friends from time to time), engaged in hard physical labour to wrestle with alien vegetation, moles, sandy soil, and rain that continually rutted their dirt road.
Painstakingly, with sheer determination and consistent effort, a modest livable homestead was carved out of the demanding natural environment.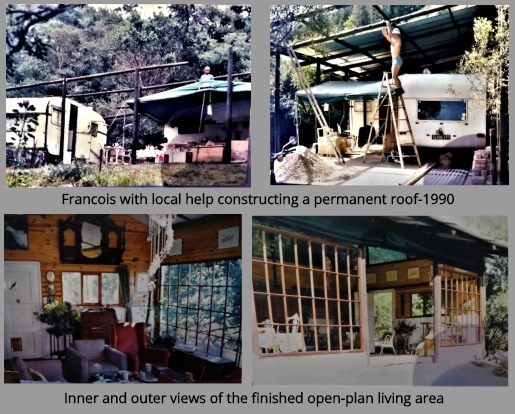 A more permanent structure, wonderfully private and surrounded by nature was assembled, over a period of time, when in November 1990, Anuska's mother decided it was time to move to Sedgefield permanently. Her daughter, still had 3 years to go at Onderstepoort before she qualified.
Anuska had already determined however, that the day would dawn when she would establish a veterinary practice in Sedgefield.
She had set her sights on the "house with the horse fence" along the main road and her mother kept her eye on it for her. 
Anuska  Viljoen buys the Horse Fence House
In December 2003 both Anuska and her brother, Francois were home at Ruigtevlei for Christmas. Perchance they went into Sedgefield and Anuska asked  Francois to drive past the horse fence house. It had a warning sign up  but she resolutely walked through the standing horses archway to knock on the front door.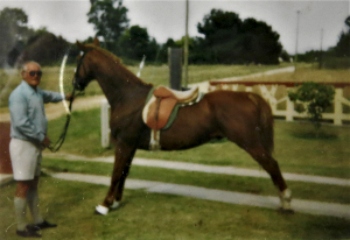 Petrus Neethling with the beautiful horse that was the model for the famous Sedgefield horse fence.
Fanie Neethling opened the door and when Anuska began to inquire about the possible sale of the property, he called his sister, Annetjie to the door. Annetjie's father, Petrus had built the house while in partnership with Casper Schmidt. Petrus had only recently died and a surprised Annetjie advised Anuska that "sale boards" were going up the next day.
Anuska immediately asked for first refusal and put in an offer. After some negotiations because the agents' boards attracted other offers, she was advised on Christmas Day, that her offer had been accepted.

Her mother and brother contributed to the deposit and she went back to the UK to earn money in GBP to pay them back. When she moved back to South Africa in 2005 she had to have the house rewired and re-plumbed because nothing was to code. Furthermore, a post had to be built into the house to support the roof and stop it collapsing. She said it was the most expensive fence anyone could have bought! 
Dr Anuska Viljoen sets up her Sedgefield Practice
After 10 years in the UK, Dr Anuska Viljoen returned to South Africa. She determined that the time had come to start up her own practice in the growing town of Sedgefield! Since 1996 then, Dr Anuska has been continually integrating complementary therapies into her conventional practice.
Her open minded approach enabled her to apply all her acquired knowledge and skills to treat a health problem appropriately; her conventional training when a surgical or life-saving medical procedure was necessary, or a more subtle and gentle approach when that would be most beneficial.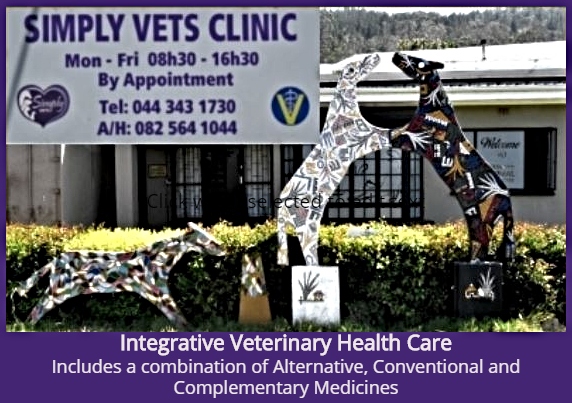 In other words, she does not believe in using a sledge hammer to drive a small nail into a wall i.e. prescribe strong drugs with potential side effects if an alternative natural treatment would work more efficiently. 
Knowing she was going to create her own range of products she had already registered her brand, Simply Natural cc. trading as Mandala Health in 2002 when she was still in the UK.
She had planned to have a combination of human and animal treatments under the same roof but legislation at that time did not allow it so in the meantime she registered Simply Vets and Simply Pets under the Simply Natural umbrella.
Simply Vets
Dr Anuska often gets to see animals after conventional treatments of cortisone and antibiotics have failed to help a specific illness. Owners of beloved pets then reach a stage when they are prepared to try anything.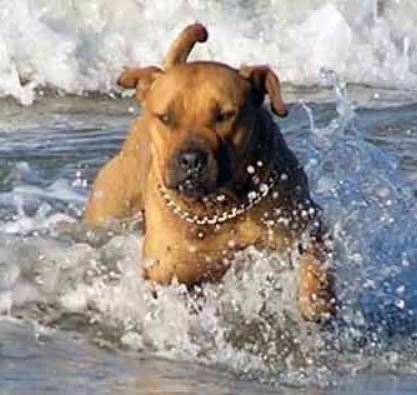 At 6 years old, Bluff was diagnosed with inoperable melanoma cancer & given 3 months to live. With alternative therapies, he lived a full and happy life until he died at 13 years old. http://www.simplyvets.co.za/case-studies/
In a great number of cases, her cornucopia of some 2000 homeopathic remedies and acupuncture treatments have cured the likes of skin problems, asthma, paralysis, organ failure, cystitus, over 40 snake bite cases and helped speed up the healing of injuries, and even extending the life of pets (by years) with melanoma cancer.
Cats with kidney failure respond well when treated with a combination of acupuncture, Chinese medicine and sub-cutaneous drips which can safely be given by the owner.
Gold bead implants are used as a permanent form of acupuncture for dogs requiring continuous treatment for pain relief and in serious instances like hip dysplasia, spondylosis and epilepsy.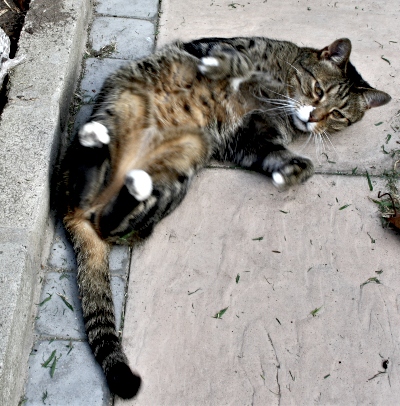 Playful 14-year-old Timmy living comfortably with chronic kidney failure on raw food and acupuncture treatments, Chinese herbs, sub-cutaneous drips and homeopathic medicine.
Dr Anuska Viljoen also makes herself available for telephone and skype consultations if people live in another province and cannot come to her practice. She has a number of international clients that consult with her in this way.

The secret to success is always to treat the patient holistically, working with its' life force and supporting it's immune system to restore health.
Dr Anuska can also gauge for herself whether the animal has a strong will to live. This is a vital component of the animal's restoration to health.
Her extensive theoretical knowledge and practical experience with homeopathy has allowed her to formulate her own successful range of homeopathic products that she has tried and tested in the field.
She has a small shop at her practice where the products can be purchased and they are also available on-line.
Dr Anuska Viljoen - about Revised Views on Vaccinations
In 2002, The Royal College of Veterinary Surgeons was asked by some "Quack Busters" to remove dissenters of vaccinations from the register. However, in 2006, the Royal College Council advised its members that core vaccines should be administered no more frequently than every 3 years. Dr Anuska  herself has seen many negative effects of vaccinations, but they continue to be a bone of contention among many vets.

Referring to a leading researcher of vaccines, Ronald Schultz, Professor and Founding Chair at the Department of Pathobiological Sciences at the University of Wisconson-Madison School of Veterinary Science, Dr Anuska states he has absolute scientific reasoning as to why vaccinations should not be given too early(before 8 weeks) or too often. Vaccine doses are also administered as one size (amount) fits all – it doesn't matter whether it's for a Chihuahua or a Great Dane.
Veterinarian Immunization Experts, Laurie Larson and Ronald Schultz https://www.vetmed.wisc.edu/vaccination-guidelines-2016/ Photo: Nik Hawkins
Immunization Experts, Schultz and co-worker Laurie Larson, recommended individual antibody testing. Antibodies are proteins made by the immune system that bind to and destroy foreign substances like bacteria and viruses. Therefore testing, can verify the presence of certain antibodies in an animal's bloodstream ensuring that the core vaccines have provided protection against the targeted diseases.
So over the course of the last decade, many veterinarians have undergone a major shift in their approach to canine and feline vaccination. They have evolved from a standard procedure of vaccinating dogs and cats for everything each year to a more balanced approach of analyzing risks and benefits of vaccines for each individual animal. (For some reason this protocol has not been adopted by most vets in South Africa!) 
The Titer Test as it is called, can be done on dogs and cats at Dr Anuska Viljoen's practice so the blood sample does not have to be sent away for analysis, making it a quick, easy and cost effective procedure. 
Simply Pets
One of the cornerstones of Dr Anuska's therapies is nutrition and for four legged pets that means a diet of raw food that is appropriate to their genetic make-up.
Having already studied medical nutrition part-time through Nutrimed International, she wanted to produce her own raw food right at the outset of her practice but current legislation then forbade her to make and supply it commercially.
She could only prescribe it as part of the treatment for her "patients" until the law was changed and she was able to register her products through the Department of Agriculture.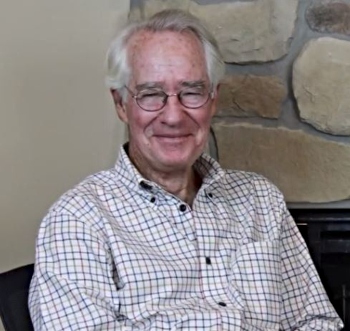 International Animal Nutritionist Dr Richard Patton
In October 2017, Dr Richard Patton was interviewed by Pippa Hudson on Cape Talk. He has a PhD in Animal Nutrition, with 40 years in the field, working as a consultant to government bodies, agricultural organisations, pet food companies, and zoos, formulating food formulas for animals from aardvarks to zebras where he explained very succinctly why kibble i.e. dry pellets comprising excessive cereals and grains bulked up with soluble carbohydrate, was a totally inadequate diet for cats and dogs.
It does not match their genetic machinery, the gut micro-flora that educates their immune system. (Although it may seem they are thriving on this unnatural diet) in the long term it is responsible for liver and kidney problems, cancers, sugar diabetes, arthritis and heart problems and in spite of all the hype about it being a balanced nutritional meal, domestic animals are not living as long as they used to, when they were fed pap and gravy and the left-overs from family meals. So much better nowadays there's...
Simply Pets Raw Foods that are low GI, with no artificial flavours, no colourants  and no artificial preservatives.  It's the optimal life affirming food pet owners can use for:

Allergies
Anal Gland Issues
Any Inflammatory Conditions
Arthritis
Auto-immune Conditions
Cancer
Constipation
Chronic Diarrhoea

Diabetes

Metabolic Conditions
Seizures
Weight Loss
Dr Anuska Viljoen Today
Dr Anuska Viljoen
Today Dr Anuska's Simply Vets is mainly a consultative practice. When an illness requires that an animal be assessed holistically, an in-depth investigation results that is intrinsically more demanding on the practitioner than applying  a quick solution to an obvious symptom.
Besides consultations, there are still operations and emergencies sometimes requiring all-night vigils beside a seriously sick animal. She is also mother to a young daughter with the responsibilities that entails. It is a challenging life for any vet and a strenuous one for this dedicated woman.
There is no such thing as an ordinary day. None-the-less her deep love for all living creatures keeps her committed to alleviating their suffering as best she can.

Since 2017, Dr Anuska Viljoen has been Chairperson of CVMG (Complementary Veterinary Medicines Group).  Inaugurated in July 2000, it falls under the auspices of the South African Veterinary Association and has a membership  of 50-60 interested and qualified persons.
References
Thanks to Dr Anuska Viljoen for her story and access to her personal family photographs.
Supporting information gleaned from websites as indicated and linked to on this page.
---