The Knysna Literary Festival
Discover a new slant on the world of books at the Knysna Literary Festival.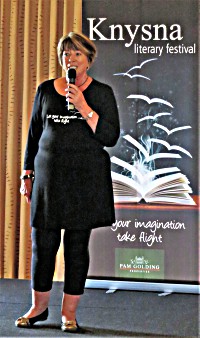 Ling Dobson - Founder of Knysna Literary Festival
You get to meet the writers and hear their stories. Attend a writer's or poetry workshop to be inspired perhaps, to write  something of your own.
Ling Dobson is a well-known, much-loved member of the Knysna community.  She is also the founder of the lauded Literary Festival and her business is its main sponsor.
Since its small beginnings in 2010, the literature promoting fair has grown exponentially into a festival of stature and influence that is a sought-after event on the Knysna calendar.
It has evolved its own niche among popular literary festivals in the country for writers (who enjoy the laid back and intimate environment of beautiful Knysna) and book-worms (who lap up the amazing program offered by this unique multi-faceted festival on the Garden Route).
As dynamic and diverse as its founder, The Knysna Literary Festival successfully attracts and engages people of all ages, languages and interests.
It facilitates debate and discussion between writers themselves and between writers and their readers. It is a stimulating environment for lovers of literature across the spectrum.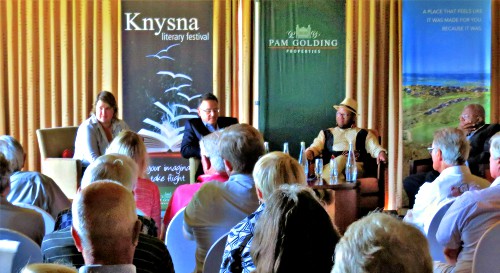 Discussion with former DA Leader and SA Politician, Tony Leon, Senior Marketing Manager at Cocoa Cola, Khaya Dlanga and Vice Chancellor and Dean of the Free State University, Professor Jonathan Jansen, chaired by dynamic Investigative Journalist, Mandy Wiener at Conrad Pezula Resort and Spa.
It educates the locals on current happenings far beyond their neck of the woods, It brings them face to face with exposès on many topical subjects and with writers passionate about their craft. It opens minds young and old to fresh thinking and doing, right where we live!  How great is that?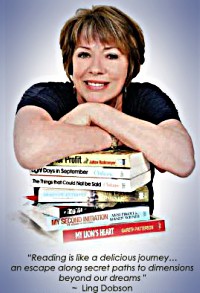 Without a doubt, Ling as successful owner and agent of the Pam Golding franchises in Knysna and Plett, has a winning way with people that is reflected in her creation of this award winning Festival. She is assisted in no small part by her competent and enthusiastic PR lady, Sasha Campbell.
Numerous individual events at various Knysna locations, running over a three day period incorporating a weekend in March each year, are sold out within days, sometimes hours, after the program is disclosed to the public.
Each Year, the Knysna Literary Festival showcases many current publications in all genres both fiction and non-fiction, that contributes to giving healthy exposure to South African authors, local ones included.  Subjects as diverse as;

Mandy with Ling at Savannah Cafe "Killing Kebble" - Mandy with Khaya, book signing - Mandy at Pezula "Behind the Door"
Mandy returned  in 2015 with her book "Behind the Door" to give us her personal review on the shooting of Reeva Steenkamp.

Food

- "The Real Meal Revolution" by Tim Noakes, Professor of Exercise and Sports Science at Cape Town University who faced controversy when promoting the paleo diet  or "banting" as it's also known, back into the forefront of healthy eating

Nature Conservation

- "The Rhino Revolution" by Clive Walker long-time Rhino conservationist and Founder of the Endangered Wildlife Trust.

Current South African Politics

– "Zuma Unplugged" by Jaque Pauw, inveterate investigative journalist and author, contributing to the slippery slope to ignominy and disgrace of our country's president. 

History

– "Churchhill and Smuts - The Friendship" an unlikely friendship and an intriguing one,  by Richard Steyn who was previously a lawyer, then Editor of the Natal Witness, later Editor in Chief of The Star,  after that Director of Corporate Affairs and Communication at Standard Bank, finally self-employed - writing, reviewing and publishing.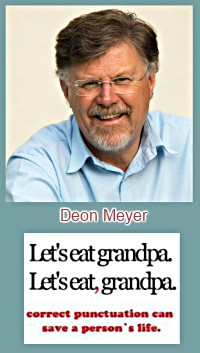 A likeable, down-to-earth speaker in 2013 was Crime Fiction author and screen writer, Deon Meyer. He was self-effacing, almost shy and taken by surprise by the international demand for his books. He has had to acclimatise to the public appearances such popularity requires saying his family at home have no problem keeping  his feet on the ground!
He was both amusing and beguiling as he related how he disciplines himself to research, write and create stories centred mostly in the Cape Town area because he is intimately familiar with the environment and can be 100% authentic with his characters and their complex situations.
Benny Griessel, the unlikely heroic detective appearing in several of his books, has become a favourite character of readers. Writing in his native Afrikaans, Deon's fast paced, heart-stopping, unput-downable novels have been translated into 27 languages world-wide.
Verbal Story Tellers
"Verbal Story Tellers" add a valuable age-old dimension to the Knysna Literary Festival. Word of mouth was the traditional way people's history and culture was kept alive before the birth of writing. Verbal story telling is now an art form used in theatre and in other less formal settings.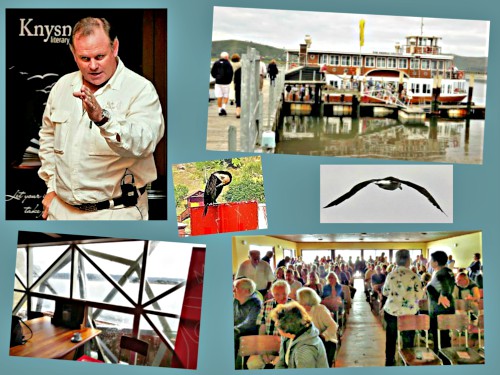 Given this platform, Rob Caskie vividly reconstructs historical scenes like the battlefield of the Zulu Wars as if he was there at the time.
Another occasion, to listen to this speaker, required a magic boat trip across the Knynsa Lagoon, in Knysna's unique Paddle Cruiser to Featherbed Nature Reserve. Rob was riveting as his words dramatised the life and death race between Shackleton and Scott, each man intent on being the first to reach the South Pole and the misfortunes and tragedies that beset them both.

Team Painted Wolf - Mark Collins, Andre Gie, Robyn Owen and John Collins. They came an AMAZING 4th out of 94 teams at the Expedition Race Final of 2016 that took place in Australia,
In similar fashion, local adventure addict, Mark Collins explained the months of training it takes a team of 4 (Team Painted Wolf) to  prepare for participation in the extreme sport of Expedition Racing.
Mental discipline and physical fitness is paramount to navigate and endure the hardships of a race that lasts for days, with minimal sleep and food, in wilderness environments, running, mountain biking, and kayaking. One surprise activity is thrown in like caving, rock climbing or abseiling.
This race challenges teams to call upon all their resources mental, emotional and physical, including their ability to work together and help each other to finish the race. All team members must finish together, staying within 100 meters of each other, or the team is disqualified.
The Delicious Word Journey at the Knysna Literary Festival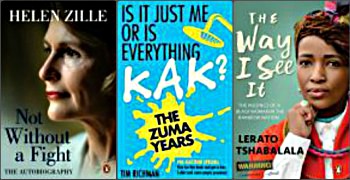 An unforgettable highlight of the yearly Knysna Literary Festival is the Delicious Word Journey. The enthusiastically applauded event takes place at various prestigious locations giving lucky ticket holders the chance to interact up close and personal with illustrious authors, while partaking of good food and fine wines organised especially for the occasion.
e.g. In 2017 the authors were; fiesty Helen Zille, discussing issues relating to her complex and conflicted life journey as detailed in her frank and fascinating autobiography "Not without a Fight", humourist, Tim Richman, chronicling all the headline-hitting characters that have dominated South Africa's bad news stories in his book. "Is it just me or is everything Kak?" and quirky columnist and supermodel, Lerato Tshabalala, "The Way I See It" offering entertainment and laughs second to none!

Children's Participation at the Knysna Literary Festival
Wonderful Children's Theatre has frequently been part of the Knysna Literary Festival. To mention a few plays, Betti and the Yeti was fast-paced, feet-tapping fun. There was the old fairy tale, Red Riding Hood with rock and roll Granny and a wolf that was more a buffoon-like pussy cat. In 2016, a traditional Xhosa tale was told through the medium of puppet theatre by the Masiphumelele Community Theatre group.
The festival has also involved local school children across the region giving them an opportunity to participate in Short Story writing and Poetry Competitions. Age, (9-12, 13-15, 16-19) and language categories, (English, Afrikaans and Xhosa) enable them to compete with each other on equal terms. Some wonderful talent has come to light.  
In the future, Ling hopes to facilitate more workshops, in conjunction with school teachers and parents, to support the literary aspirations of young students by inviting willing authors to coach them. This will encourage ambitious young writers to practice and hone their skills and to develop their own unique voices in the medium of their choice. Entering competitions, like those offered by the Knysna Literary Festival, will allow them to receive recognition from their peers.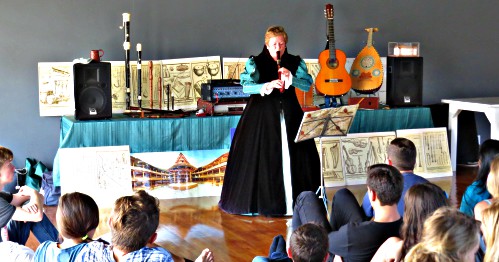 To add depth to their knowledge, Oakhill Matric Students are introduced to the instruments and music of Shakespeare's time by teacher and musician, Sue Fawcett
Addendum
I have been an obsessive book reader all my life, insisting on my mother helping me to learn to read, before I started school. Pestering her constantly as I struggled through the words of Enid Blyton's "Magic Faraway Tree" just made me increasingly impatient to go to school so I could to learn to read unassisted.
Reading has remained the great love of my life. I am never alone or bored as there is always a book to reach for when I have time to read.
Instant book company
And, I always take my kindle or tablet with me when I leave home because there might be a gap when I get a chance to read.
Books have been my life-long companions widening my horizons, teaching me new skills, providing spiritual insight and inspiration and relaxation on holidays. The Knysna Literary Festival is the epitome of a perfect experience for me.
This page is just a tiny tempting slice of what the festival offers. Click on the link below for the detailed programs presented each year.


Related Links


The Knysna Literary Festival is presented by Pam Golding Properties Knysna to promote South Africa's rich literary heritage. Over the years it has attracted many well-known literary celebrities with the aim of exposing locals and visitors to established authors who then have a platform to connect directly with their readers and their target audience.
NB. This Festival is directly involved with a book drive to replenish book collections lost in the Jun 2017 wild fires.
---
Discover Sedgefield Homepage> Garden Route Festivals> Knysna Literary Festival