The Knysna Literary Festival
Approaching its' 11th year in 2020 the Knysna Literary Festival has grown exponentially since its small beginnings in 2010. There some exciting events going down this year. See the full program details on their website.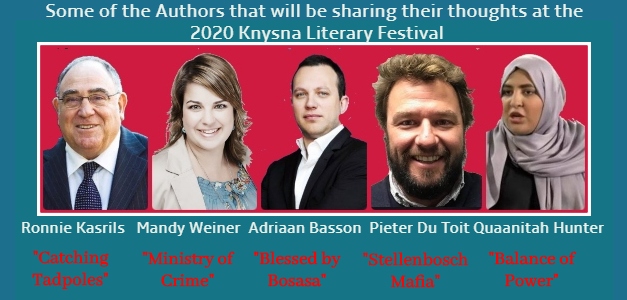 Without a doubt, Ling Dobson as successful owner and agent of the Pam Golding franchises in Knysna and Plettenberg Bay, has a winning way with people that is reflected in her creation of this award winning Festival. Her business is its main sponsor. She is assisted in no small way by her competent and enthusiastic PR lady, Sasha Campbell.
As dynamic and diverse as its founder, the Knysna Literary Festival successfully attracts and engages people of all ages, languages and interests. The Festival's program includes subjects relating to current affairs and politics, history, adventure, conservation, cuisine and storytelling.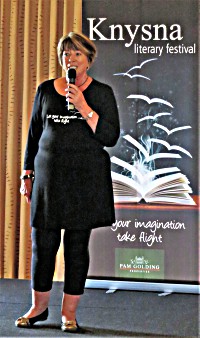 Ling Dobson - Founder of Knysna Literary Festival
It is Ling's aim is to expose locals and visitors to the literary talents of best-selling authors who are either local or have close ties to South Africa. Those known for their skills in entertaining and delighting audiences with readings, conversations, debates and workshops have opportunity to connect directly with their readers and target audience.

As part of the Festival in 2018, Knysna chef, Liezie Mulder and joint owner with her husband, Markus Farbinger (also a chef), of the popular île de paÏn Restaurant on Thesen Island, celebrated the launch of her 2nd cookbook "Anytime" a collection of travel stories and recipes covering every time of day, at a sunset soiree that also provided a gastronomical evening of delicious and sumptuous surprises for the diners.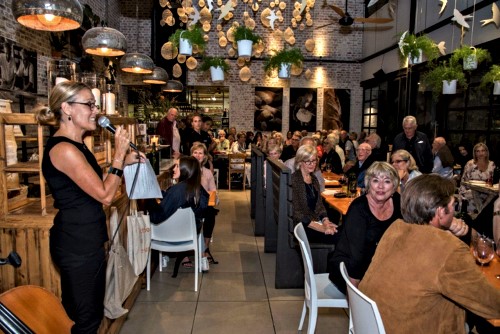 Liezie Mulder speaking about her cookery book, "Anytime" at her restaurant, île de paÏn on Thesen Island.
Also in 2018, top political commentators Rangeni Manusamy, Adriaan Basson,  Pieter Du Toit and Prof Jonathan Jansen participated in the popular "Fate of the Nation" event that takes place every year on Thesen Island.
Ranjeni Manusamy is Associate Editor: Analysis for Tiso Blackstar. Prior to this she worked as Associate Editor of Daily Maverick.
She is a prominent writer and commentator on South African politics who has more than 20 years experience in journalism and communications.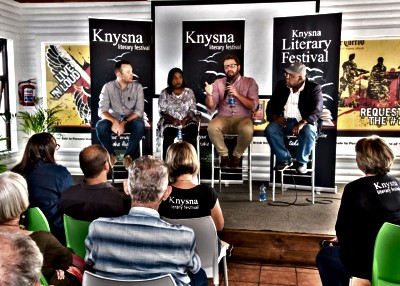 Adriaan Basson, Rangeni Manusamy, Pieter Du Toit and Prof. Jonathan Jansen - Photo by Elle Photo
Prof. Jonathan Jansen former vice-chancellor of the University of the Free State is an A-rated scientist with the National Research Foundation. Since 2017 he has been distinguished professor in the Faculty of Education at Stellenbosch University where he is teaching and conducting research on school governance, management, leadership and policy and also serving as a mentor to postgraduate students.

Since 2016, Adriaan Basson has been the editor of News24, South Africa's biggest on-line news platform. He is an award-winning investigative journalist,  author of "Zuma Exposed" and "Enemy of the People"(Basson with Du Toit).
Pieter du Toit is an award-winning editor, journalist and political commentator and one of South Africa's leading political analysts. He was appointed Editor-in-Chief of HuffPost South Africa in 2017, the South African edition of the influential international news brand.
So, the Knysna Literary Festival gives one the opportunity to listen to people whose career paths have allowed them to witness critical moments in history and to be in position to report on dramatic events of our times.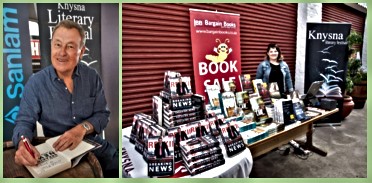 Jeremy Thompson book-signing at Mitchells Brewery - photos by Elle Photo
Jeremy Thompson is also one such person who has had some incredible experiences and is able to tell the story behind the published stories. And you... get to have your book signed! 
As one of the longest serving journalists and popular news anchors in the UK, by the end of his 40 year career in television news, Jeremy had gained a reputation as a consummate broadcaster. His biography "Breaking News" covers his extraordinary career.
The Knysna Literary Festival provides a thought-provoking environment that invites debate and discussion between writers themselves as well as between writers and their audience.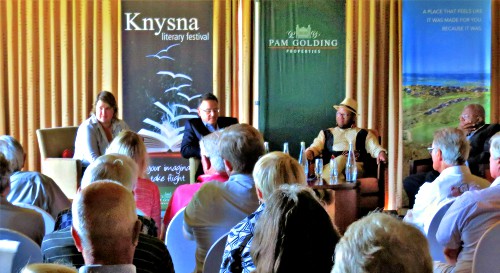 Discussion with former DA Leader and SA Politician, Tony Leon, Senior Marketing Manager at Cocoa Cola, Khaya Dlanga and Vice Chancellor and Dean of the Free State University, Professor Jonathan Jansen, chaired by dynamic Investigative Journalist, Mandy Wiener at Conrad Pezula Resort and Spa.
The festival draws crowds to events that feature current topics that have attracted intense public attention in the news. Over a three day period incorporating a weekend in March each year, such events are sold out within days, sometimes hours, after the program is disclosed to the public.

For example sell out events in the past include.... 
 Murder and meyhem – In 2012, living dangerously, lively investigative radio journalist, Mandy Weiner's talk was an instant sell out. Everyone wanted to hear all the ins and outs of the Kebble story directly from the writer of the book, "Killing Kebble", herself. Mandy admitted that  she had to be extremely careful with her investigation. She was walking on very thin ice, delving into the dark, ruthless underbelly of the drug and money laundering world and engaging with suspects partaking in shady deals with questionable allies.

Mandy with Ling at Savannah Cafe "Killing Kebble" - Mandy with Khaya, book signing - Mandy at Pezula "Behind the Door"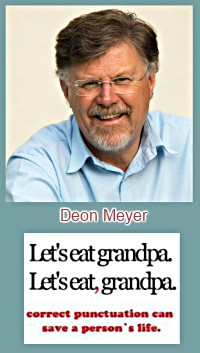 A likeable, down-to-earth speaker in 2013 was Crime Fiction author and screen writer, Deon Meyer. He was self-effacing, almost shy and taken by surprise by the international demand for his books. He has had to acclimatise to the public appearances such popularity requires, saying, his family at home have no problem keeping his feet on the ground!
He was both amusing and beguiling as he related how he disciplines himself to research, write and create stories centred mostly in the Cape Town area because he is intimately familiar with the environment and can be 100% authentic with his characters and their complex situations.
Benny Griessel, the unlikely heroic detective appearing in several of his books, has become a favourite character of readers. Writing in his native Afrikaans, Deon's fast paced, heart-stopping, unput-downable novels have been translated into 27 languages world-wide.
Verbal Story Tellers
"Verbal Story Tellers" add a valuable age-old dimension to the Knysna Literary Festival. Word of mouth was the traditional way people's history and culture was kept alive before the birth of writing. Verbal story telling is now an art form used in theatre and in other less formal settings.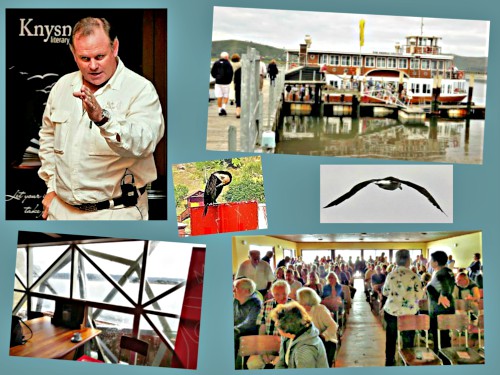 Given this platform, Rob Caskie vividly reconstructs historical scenes like the battlefield of the Zulu Wars as if he was there at the time.
Another occasion, to listen to this speaker, required a magic boat trip across the Knynsa Lagoon, in Knysna's unique Paddle Cruiser to Featherbed Nature Reserve. 
Rob was riveting as his words dramatised the life and death race between Shackleton and Scott, each man intent on being the first to reach the South Pole and the misfortunes and tragedies that beset them both.

Team Painted Wolf - Mark Collins, Andre Gie, Robyn Owen and John Collins. They came an AMAZING 4th out of 94 teams at the Expedition Race Final of 2016 that took place in Australia,
In similar fashion, local adventure addict, Mark Collins explained the months of training it takes a team of 4 (Team Painted Wolf) to  prepare for participation in the extreme sport of Expedition Racing.
Mental discipline and physical fitness is paramount to navigate and endure the hardships of a race that lasts for days, with minimal sleep and food, in wilderness environments, running, mountain biking, and kayaking. One surprise activity is thrown in like caving, rock climbing or abseiling.
This race challenges teams to call upon all their resources mental, emotional and physical, including their ability to work together and help each other to finish the race. All team members must finish together, staying within 100 meters of each other, or the team is disqualified.
The Delicious Word Journey at the Knysna Literary Festival
An unforgettable highlight of the yearly Knysna Literary Festival is the Delicious Word Journey.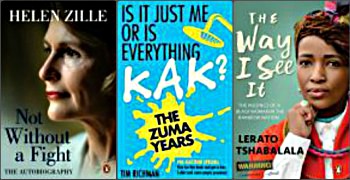 The enthusiastically applauded event takes place at various prestigious locations giving lucky ticket holders the chance to interact up close and personal with illustrious authors, while partaking of good food and fine wines organised especially for the occasion.
In 2017 the authors were; feisty Helen Zille, discussing issues relating to her complex and conflicted life journey as detailed in her frank and fascinating autobiography "Not without a Fight", humourist, Tim Richman, chronicling all the headline-hitting characters that have dominated South Africa's bad news stories in his book. "Is it just me or is everything Kak?" and quirky columnist and supermodel, Lerato Tshabalala, "The Way I See It" offering entertainment and laughs second to none!

Children's Participation at the Knysna Literary Festival
Wonderful Children's Theatre has frequently been part of the Knysna Literary Festival. To mention a few plays, Betti and the Yeti was fast-paced, feet-tapping fun. There was the old fairy tale, Red Riding Hood with rock and roll Granny and a wolf that was more a buffoon-like pussy cat. In 2016, a traditional Xhosa tale was told through the medium of puppet theatre by the Masiphumelele Community Theatre group.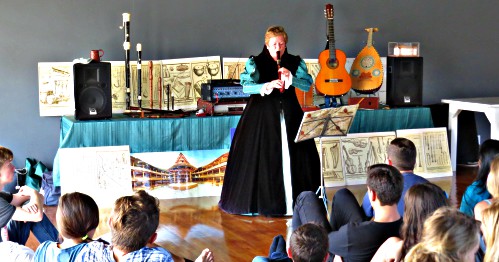 To add depth to their set books of Shakespeare's works, Oakhill Matric Students are introduced to the dress, instruments and music of his time by teacher and musician, Sue Fawcett
The festival has also involved local school children across the region giving them an opportunity to participate in Short Story writing and Poetry Competitions. Age, (9-12, 13-15, 16-19) and language categories, (English, Afrikaans and Xhosa) enable them to compete with each other on equal terms. Some wonderful talent has come to light.  
In the future, Ling hopes to facilitate more workshops, in conjunction with school teachers and parents, to support the literary aspirations of young students by inviting willing authors to coach them. This will encourage ambitious young writers to practice and hone their skills and to develop their own unique voices in the medium of their choice. Entering competitions, like those offered by the Knysna Literary Festival, will allow them to receive recognition from their peers.

Related Links


The Knysna Literary Festival is presented by Pam Golding Properties Knysna to promote South Africa's rich literary heritage. Over the years it has attracted many well-known literary celebrities with the aim of exposing locals and visitors to established authors who then have a platform to connect directly with their readers and their target audience.
NB. This Festival is directly involved with a book drive to replenish book collections lost in the June 2017 wild fires.
---