The Parrotts
The Parrotts story in Sedgefield began with a fortuitous social gathering in George that led Noel Parrott to meet Pauline, daughter of Sidney and Marjorie Ballenden.
Sidney and Marjorie (affectionately known as "Mamie") Ballenden, came to George in 1940 where Sidney held the post of Conservator of the indigenous forests in the Forestry Department. They had three children, Pauline, Peter and Marcia.
Pauline, the couple's eldest daughter, was by then, teaching at Ixopo, a town lying on a tributary of the Mkhomazi River in the beautiful rolling green countryside of Natal.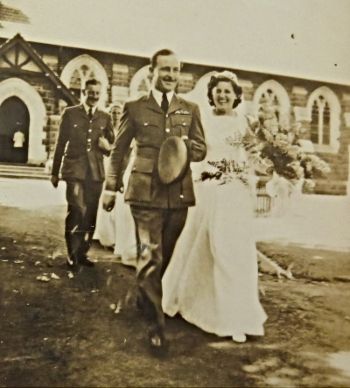 Noel and Pauline's Wedding Day
She came home for the holidays with a friend called Jane. The girls were invited to a social evening in town where the school teacher met an English RAF fighter pilot who had been posted to the George Airforce Training School to train fighter pilots. A courtship ensued and the happy couple tied the knot in Knysna in January 1942.

Pauline and Noel
Not long afterwards, the Parrotts were separated when Noel was posted to Aden, a strategic British Crown colony in the south of the Arabian Peninsula. It would be 2 years before Pauline was able to see him again but when he returned to England, she travelled there to join him in 1944. When World War II ended, Noel was demobilised.

The Parrotts' first daughter, Susan was born in March 1945. She was 2½ years old when they made the decision to return to South Africa in November 1947. They felt there were more opportunities for them there as Europe had slumped into a post-war depression. Noel Parrott was a qualified engineer having received his training at Armstrong Siddley in the UK before the war.  
Ballendens at Ruigtevlei 
Back in South Africa in 1945, 57 year old Sidney Ballenden decided to take early retirement from the Forestry Dept. An opportunity arose for him to purchase 413 morgen of the Uxmere farm at Ruigtevlei from Rolf Thesen.
Rolf Frederick Thesen had served with his brothers, Leonard, Harry (who was awarded the Military Cross) and (Charles) Eric, in the armed forces during World War I. Rolf served with the Royal Flying Corps (RFC) overseas from 1917. All of the boys came home safely.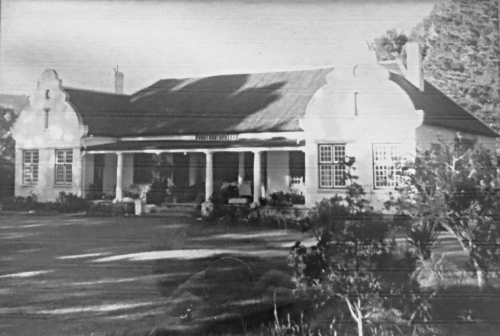 Uxmere House was changed to Broughton House after Sidney Ballenden bought the farm.
Having returned to South Africa the brothers farmed on a portion of the Ruigtevlei farm on what was then Ruigtevlei Lot H which formed part of the Thesen forest plantations some distance outside of Sedgefield. Rolf Thesen built his family home, Uxmere there in 1922.
He decided to sell it 23 years later to move to Knysna in order to join the family business as a director of Thesen & Company (Pty) Ltd.
Pauline's father, Sidney was then in a position to buy the farm, and he agreed to take on the management of the Thesen's plantations at Ruigtevlei for a fee. He also decided to plant thousands of proteas on his part of the farm and changed its name to Broughton. 
The Parrotts in the Sedgefield Area 1947-1963
A devastating drought in 1947 destroying all the proteas coincided with the Parrotts' return to South Africa.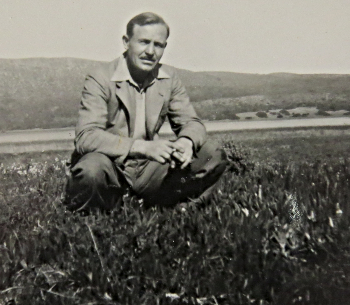 Noel at the Lakeside property
Pauline's parents at Broughton were happy to have the Parrott family back in South Africa and Sidney decided to give his daughter a portion of the Broughton property, down to where it crossed over the Knysna/Sedgefield dirt road and onto the banks of the inland freshwater lake, Groenvlei.
He also set about replacing the lost proteas with pines (Pinus radiata) while Noel was busy designing and building a comfortable thatch cottage near the banks of the Groenvlei with the help of a handlanger (labourer) only employing an expert with the necessary skills to thatch the roof.

Collage of the Lakeside Cottage at Groenvlei.
In the rural surroundings and small hamlet of Sedgefield, the Ballendens had quickly made friends and the Parrotts were easily introduced to the locals and became, like the parents, an integral part of the community.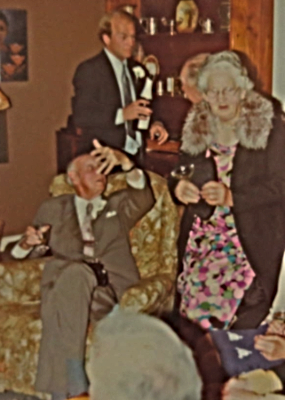 Sidney (sitting) and Eppie at a house party
Among their acquaintances and friends were the Thesens, Watneys, the Euston-Brownes, Miss Hart, the Hampsons, Miss Rouillard, the Hoopers and the Humphries. Marjorie's cheerfulness, good humour and willingness to get involved with charitable activities endeared her to all who got to know her.

At Broughton Marjorie spent some time creating a vegetable garden and Sedgefield librarian and artist, Germaine Rouillard (an ex-Mauritian) enthusiastically painted a picture of an array of boxed plants she had been growing from seeds. 

Painting of Marjorie's seedlings in her kitchen garden at Broughton by Germaine Rouillard.
Noel opened a small shop at Lakeside but by 1950 he had bought property in Sedgefield where he built a general dealers store because nothing of its kind existed for the locals, a garage which he rented, and later, a small house near the shop for the family. The Lakeside house was rented out.
At a later stage, not sure when, this land was appropriated by Cape Nature and the house was knocked down. Don't know who owned it at the time but it was long after the Parrotts had left Sedgefield.
In those days there was no direct road over the Swartvlei between George and Knysna so all supplies came by train to the Sedgefield Station but the train stopped at other sidings in the near-by vicinity when necessary – Bleshoender, Swartvlei, Groenvlei and Mielierug.
This last stop, derived its name from the land on the far side of Groenvlei, tiered by the farmer for the purpose of planting mielies. The evidence can still be seen today.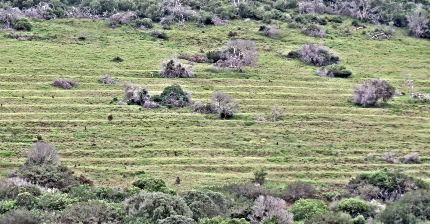 Hillside terraced near Groenvlei for mielie planting.
The train delivered a vast array of goods for the Parrotts shop from clothing to groceries like sugar, mealie-meal, flour, coffee, bottled cooldrinks, etc. tobacco – this came in large rolls that had to be cut into strips, a laborious and tedious procedure - the post, tools, paint, cement and other household goods required at different times by the small local population. Even Vicks and Grand-pa powders could be found on a shelf there. Many items received in bulk were repackaged into smaller sized brown paper bags.


The Garage (on the left) and General Dealer's Store(on the right) the Parrotts owned.
It was also a great social gathering place where news - births, deaths, relationships and views political or ethical were exchanged. At some point, they employed an assistant, Sophie Philander. She was a fat dumpling of a girl, very agreeable and always smiling. Everybody loved her. When she got married to a railway employee everyone in the village was invited to the 'big do" in the town hall. Dressed in a large beautiful white satin dress, it was said, the bride looked like an angel!

Parrotts' General Dealer's Store
Each morning, Noel sent someone around the village with an order book and in the evening, he would deliver all the orders received earlier in the day, in his bakkie. Milk was delivered to houses in wine bottles every day.
With electricity still many years away, residents resorted to primus or gas stoves, paraffin fridges and lanterns. The shop had a borehole connected to a hand pump in order to draw water from it.
The Post Office Section
Noel Parrott also had the Sedgefield Postal Agency and the Post Office rented a small section at the side of his store. It was separated from the main shop by a thin plywood partition so that conversation across the counter was easily audible to the folk waiting to be served by the sole post office attendant,  known to officialdom as the sub-postmistress, the young Miss Kenna Terblanche.
She had to cope with telegrams, phoned to Knysna for further dispatch, messages to and from other locals, stamps, parcels, the telephone switchboard, as well as fetching and collecting post bags from the station and over the counter chit-chat.
Counter space was minimal and when it rained, the roof leaked so that space had to be sacrificed for buckets to catch the drips (never in the same place twice!)
Nevertheless, the store and post office thrived and when Miss Kenna was later transferred, Miss Juliana van der Westhuizen became the new sub-postmistress. The fact that her qualifications were higher than those of her immediate superiors posed quite a problem in establishing her rank and salary. By then, there were no fewer than 50 P.O. boxes and at least 25 telephones. (still "Nommer asseblief"). An assistant, Miss Meyer was appointed and later a messenger who delivered telegrams and fetched and delivered post bags. If he did not arrive for work, the postmistress had to do those chores herself.
By now, Miss Hart was the Station Mistress acting as the official Railway Agent, and she was on duty at the station at train times and at any other time only by special arrangement.
Schooling for the Parotts' Girls
With the Parrotts move into Sedgefield in 1950, Susan started school at the Convent in George. For a year, before she was 6 years old, she had to be a boarder because the direct road between George and Knysna was only completed in 1951.
The  existing laborious route of the 7 passes road was not feasible on a daily basis. For 2 years, from 1951 Sue attended the village school in Sedgefield, situated pretty much where the school is now but a much simplified version of it. In a single room, 25 children of all ages were taught by one teacher.
Sue recalls she loved it, being able to go to school bare-foot and in shorts besides a lot of their learning was practical, taking place outdoors, teaching the children about their environment – she had a wonderful time. She then did Standard 3 in Knysna boarding with Lucy Duthie, Standard 4 at the Collegiate in P.E. before returning to the Convent in George as a boarder, to do from Standard 5 to Matric. 
Miss Hart with her nephew, Ken and her dog.
Sue loved visiting Miss Agnes Hart, who was the first Station mistress. She would always wear a white coat and brown stockings when going to and from the station and she met every train regardless of the weather.  

Living at Sedgefield Cottage, Miss Hart taught Susan how to grow daffodils and how to plant an avocado-pear tree from a pip. Sue remembers Miss Hart had two dogs at her house that used to sit on top of their boxes at the fence intimidating passers-by. Meanwhile, the Parrotts' tabby cat sat in a box in their store keeping an eye on things and woe betide any dog attempting to enter there! 
Sue's sisters, Janet and Carol were 6 years and 9 years respectively younger than her, so their schooling was less disjointed when Noel sold his shop in 1963 and the family moved to East London. Janet did from her 2nd year at high school to her final year in East London and Carol did almost all of her schooling there. 
The Parrotts and Ballendens Involvement in the Community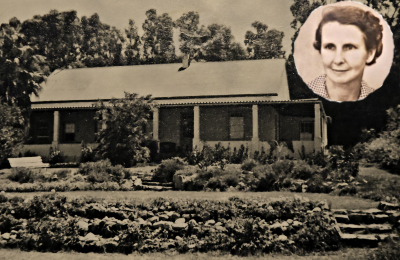 Elaine Watney's house, Sandgate late 1950s
The Women's Work Party was a successful philanthropic group begun on 20 June 1957 and carried through into the 1970s. Their first meeting was at Elaine Watney's house. Their purpose was to work for local charities and to have a social get-together over an afternoon cup of tea.
They decided to hold 10 meetings a year by excluding December and January and to meet at different venues. There were 11 members present and they agreed to knit squares to eventually make a blanket. Pauline Parrott offered to supply the wool at cost from their shop. At the next meeting at Germaine Rouillard's house it was decided to work on raising funds for the Knysna Provincial Hospital which was badly in need of equipment. 
Before long the group had opened a post office savings account to hold the monies collected, until a sum achieved, allowed them to be donated to a specific needy cause. Over time, three blankets were completed and successfully raffled.

Then, by Feb 1961, the group decided to address other causes such as raising funds for the Ruigtevlei School feeding scheme and for a Sedgefield Library. From time to time, they had willing speakers address the group on various interesting topics. A memorable one was a professional cake icing demonstration.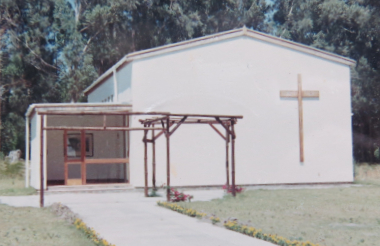 The Christian Community Church 1967
By 28 May 1971 the group had grown to 20 +/- members and had held 140 meetings. By means of raffling products made, plants sold, cakes baked, things knitted and sewn, all their original goals had been met and they had made donations to numerous charities among them, Flood Relief, SANTA, The Chris Barnard Heart Foundation, equipped qualifying students from disadvantaged communities with uniforms for High School and had participated in raising funds for a community church.
Discussions for the building of a community church for Sedgefield began in 1962 and the Women's Work Party along with Marjorie Ballenden and both Parrotts were involved in the planning and fund raising for the project.
After the Parrotts sold their Sedgefield shop to Hilton Naude it became known as the Village Supply Store. He later sold it to the Smalls but it remained essentially a friendly family business. Noel sold the garage to Juliana van der Westhuizen's brother.
References:
My thanks to Sue McIver (nee Parrott) who now lives in Knysna with her husband for giving me enough information to write this page.
Enslie Syphus interviews with locals and her notes
2 Photos from Jane Broster, Elaine Watney's daughter.
Sedgefield News March 1989