Thomas Dunbar Moodie
Of Scottish descent, Thomas Dunbar Moodie was known to Sedgefield for his pivotal role in the planning and laying out the town. His family originated from Orkney, an archipelago belonging to Scotland off the north coast of the British Isles. Circumstance brought them to Cape shores before the arrival of the 1820 settlers.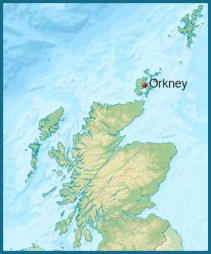 The Orkney Islands
After returning from the Napoleonic wars in 1815, Thomas Dunbar Moodie's ancestor, Captain Benjamin Moodie the 10th and last Laird of the family Estate, Melsetter, was forced to sell it, to pay off his father's debts. His first prospects for a new start had been New South Wales or the West Indies, but he eventually chose the Cape colony at the tip of southern Africa.
As one of the forerunners of organized immigration to the Cape, Benjamin arrived at the Cape colony on 14 June 1817 on the first of 3 ships carrying over 200 Scottish immigrants in all. They had undertaken to work for Moodie, in return for the passage.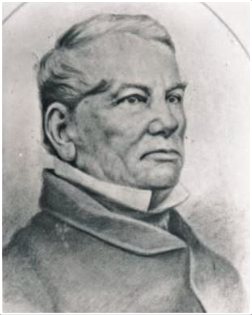 Captain Benjamin Moodie 1789 - 1856
The obligated artisans consisted of smiths, carpenters, cabinetmakers, turners, coopers*, masons, tanners, stonecutters, ploughmen, gardeners and the like, he proposed hiring out for such periods as agreed upon by those requiring their skills in the young under-resourced settlement.

*artisans who make wooden casks, barrels and other shaped storage containers from timber.
The project was not entirely successful because it was not enforced by the authorities. The indentured immigrants were dissatisfied with their conditions of service, and some ran away to become outlaws in the Knysna forests.
Fortunately, Benjamin still had enough money to buy a farm at Groot Vaders Bosch near Swellendam. The family lived in ox-wagons until a rudimentary house was built.  He had 9 children in all. A daughter from his first wife, May Donaldson was born in Scotland and a son, James Benjamin from his second wife, Margaret Malcohmson. The other 7 children were born in the Cape, 5 at Groot Vaders Bosch, one at Westfield and 1 at Suurbrak. 
In 1831 Sir Lowry Cole (Governor of the Cape) granted Benjamin a farm of 5250 morgen at the mouth of the Breede River. He immediately built a homestead there and moved into it in 1832. He named it Westfield after the ancestral home of his mother. His 3rd eldest son, Donald took over the farm at Grootvadersbosch and Thomas Dunbar Moodie would, in time, inherit it.
After Benjamin's wife Margaret died in 1838, he returned to Britain where he married Susan Barnett, coming back to the Cape in 1841.  In 1856 he died and was buried at Westfield. His youngest son, Malcolm took over the farm. The area slowly attracted settlers and by 1909 it was proclaimed the town of Witsand because of its' moving white sand dunes.
Here is a downloadable pdf of a simplified family tree to better understand Thomas's ancestry because family names are repeated through generations making it difficult to follow the lineage of one person.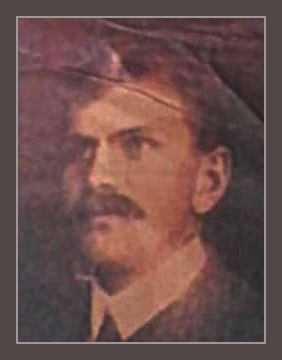 Surveyor TD Moodie
Donald and his wife, Helen repaired the house on the Grootvadersbosch farm. It came to be called Strawberry Hill because of the wild strawberries found growing along its' hilltops. They had 11 children. Their 5th child, a son, Thomas Dunbar Moodie was born on 6 June 1880. He would complete high school in George and study further to qualify as a Land Surveyor. 
By the time Thomas Dunbar Moodie married Isabella Norah English he was not living full-time in the Strawberry Hill house. The couple stayed with his mother who had moved into Swellendam while Thomas had an office in town, although he also did some work from the farm.
They had 6 children, Benjamin, Graham, Aileen, Derrick, Keith and Elizabeth (aka Bettie). Tragically, Keith died while still very young when he pulled a pot of boiling water off the stove onto himself and died several hours later from shock.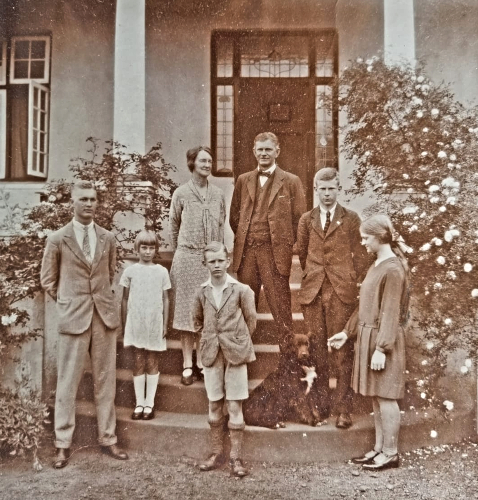 Moodie's Family - Benjamin, Bettie, Norah - mother, Derrick, Thomas-father, Graham, Aileen.
Working as a Government Land Surveyor, Thomas Dunbar Moodie travelled the length and breadth of the Cape region doing various surveying jobs and laying out designs for new townships. 

Thomas and Norah and their first child, Ben were living in an ox-wagon where he was laying out Klein Brak when his second son, Graham was born. All of the children's births ended up being registered at Mossel Bay.
When her grandchildren needed to go to school, his mother (Helen) organised for a Scottish tutor to teach all the children their primary school subjects, on Thomas's brother, Eric's farm. The children would take the train from George and Uncle Eric would pick them up at the station junction in a horse drawn cart. Fortunately, Thomas and his family were living in George when Ben started high school at Outeniqua High and the rest of the children completed their school education there.
Thomas Dunbar Moodie also laid out the plans for Voorbaai, Grootbrak and Hartenbos. However, he didn't only lay out towns.  He also put up many of the beacons on the Langeberg which were used to map out properties below. One such beacon was used by his brother, Graham to survey the route to get water to their farm.
In later years when beacons were superseded by GPS, many of the beacons were found to have been inaccurately placed.  Moodie's grandson said that a fellow doing the electronic checking asked his father if he was related to "Thomas Dunbar Moodie".  When Graham acknowledged he was his brother, the fellow said, "Many of the original beacons were incorrectly positioned, but never those surveyed by Moodie." Graham said, 'His brother would have been proud!"

Thomas Dunbar Moodie lays out the plan for Sedgefield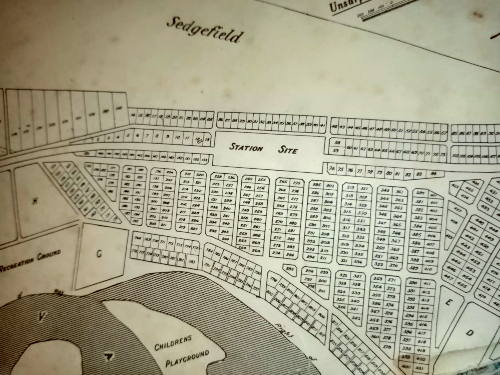 A station site was included in Moodie's Plan but there was no suggestion of a road route between George and Knysna.
In 1911, Salmon Terblans had bought and consolidated the farmland between Groenvlei and the Swartvlei (west to east) and the dune (on the north side known now as Cloud 9) to the ocean on the south side, for £2500.
He seemed to have no plan for it until it was made known in 1922 that an engineer, Mr Dempster had surveyed a coastal route for a railway line from George to Knysna that would pass through the property.
Construction commenced on the 76 km railway line in 1924. In 1926, Terblans  consulted with Thomas Dunbar Moodie who agreed to survey the area and lay out a township plan. Terblans suggested that Moodie could be given the option to purchase the township. 

Moodie out surveying in Sedgefield
Moodie set up his office camp in the area where the Watney library stands today. He moved to a rough farmhouse for a while with no other house in sight and open field all around him but in spitting distance (almost)of the lagoon.

Painting of Uli Barnard's farmhouse, the first house built in the Sedgefield area.
 (This was originally Uli Barnard's farmhouse that later became the Salts home. The Salts first rented it until eventually buying it from Harry Thesen.)
As the Moodie family had already been living in George for some time, the youngest daughter, Bettie an adventurer, eagerly came to stay with him for a while during her school holidays. She remembered running barefoot over the 'dubbeltjies" - flattish thorny plants - to get to the vlei and the sea. (They are still a hazard today!)
Within 18 months Thomas Dunbar Moodie had completed his layout and had a sales plan. I have an original plan of his layout of Sedgefield. It has an insert showing the railway line from George to Knynsa with the Sedgefield station site demarcated on the township plan. It is signed by Thomas Dunbar Moodie.

TD Moodie's Sedgefield Town Plan
There was no projected road plan shown between George and Knysna, it was still more than 20 years away. Apart from the indication of roads within the town plan layout, all other roads were incidental and shown as existing dotted tracks used by sleighs, donkeys, ox-wagons and horses. Without a bridge across the Swartvlei, Sedgefield was a dead-end and virtually inaccessible by a motor vehicle because of the depth and softness of the sand.
Nevertheless, in February 1927 a full-page advertisement was placed in the George/Knysna Herald,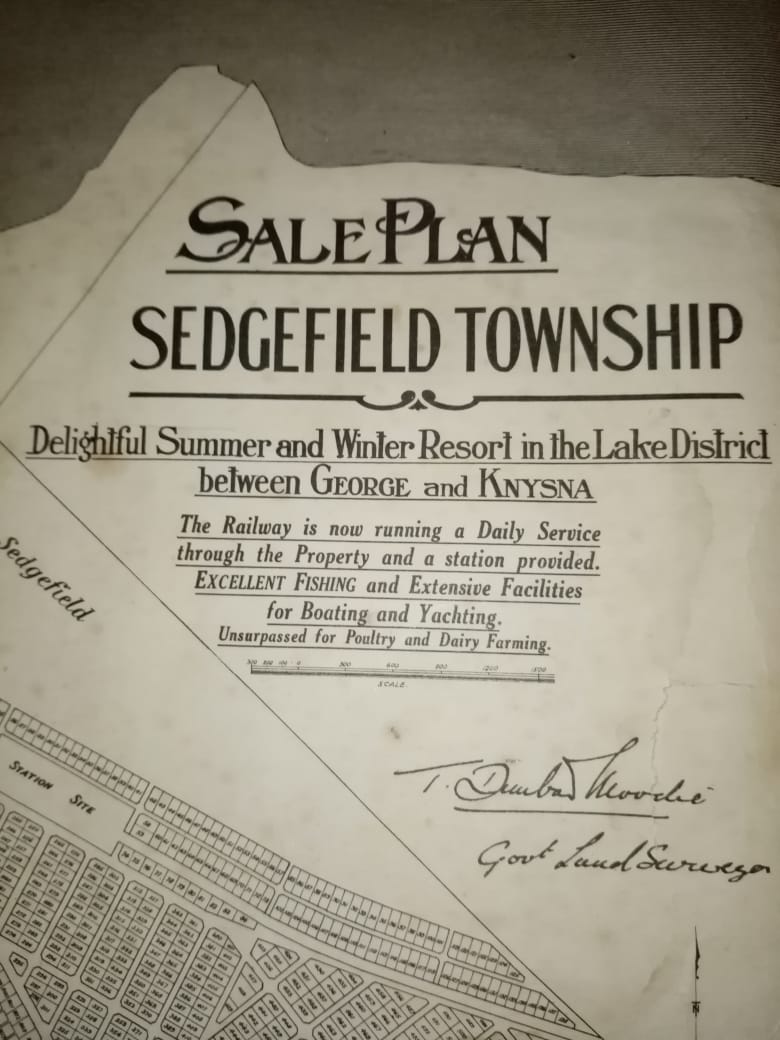 Moodie's sale pitch on his plan of the layout of Sedgefield.
Plots for sale in the new winter resort between George and Knysna. A station site provided. Ideal for poultry, fruit and dairy farming. Excellent fishing and yachting. For prices and full particulars apply to Borchards and Borchards or to TD Moodie, Government Land Surveyor, George.
Not only was J. Borchards Moodie's brother-in-law, but he was also his legal advisor and partner in the Sedgefield deal. It never occurred to either of them to take legal steps to secure Moodie's option to purchase in a written document. They didn't know Terblans had subsequently bonded the property to the Thesens to secure a loan. 
Unfortunately, Terblans defaulted on the loan and in 1928, Charlie Thesen being the main bond holder, took over Terblans's land in his reclamation process. It was a major blow and disappointment for Thomas Dunbar Moodie.

Original Farmhouse renovated by Thomas Dunbar Moodie once he had retired there.
However, Charlie Thesen held Thomas in high regard and besides payment for his plan, rewarded him for his work giving him Cloverdale i.e. land that later became a camping site next to Montmere and the point, (not sure where this was but possibly the area where Outward Bound is situated - see the point at the top of the map). The two men became life-long friends.

Thomas Dunbar Moodie eventually retired to the old family farm and renovated the homestead. He died there in 1963.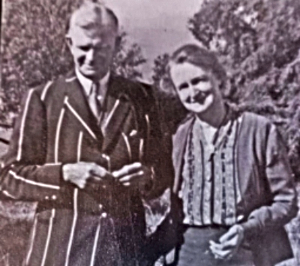 Thomas and Norah Moodie

A Moodie generation still owns it and have kept parts of the house's original internal architecture modernising it sympathetically.
They have put it to good use as self-catering holiday accommodation. Today, it is part of the Grootvadersbosch Conservancy.

Thomas Dunbar Moodie's Daughter returns to Sedgefield
Bettie taught for a time at the primary school on Robben Island established in 1894 when more than 1000 people lived there. She returned to Sedgefield in December 1977 to stay with her brother, Ben for a while after his wife had died. They lived in Cormorant Street in the little house that hasn't changed much by the look of it today. It is a small stand-alone cottage compared with all the other mansions teetering side by side on the edge of the dune and the enormous flying saucer at the end of the road.
Bettie recalled a childhood experience when she was bathing under the railway bridge and found herself in one of the holes gouged out by the action of the water as it surged through the narrowed opening towards the estuary. The pressure of the water above her head made it difficult for her to get out and she was terrified she was going to drown before she found a foothold on the side of the hole and forced herself out. 
Through Ben, Bettie found out the library was looking for a librarian to take over from Mandi Stigling who was leaving at the end of the month. Mandi had held the post for 9 years under the jurisdiction of the Village Management Board. It was the Christmas rush time and Bettie had just two weeks to learn the ropes. She eventually held the post until February 1982.  
A restless soul, Bettie then moved to the Rheenendal area for a while and later, the Wither's farm and then onto the Island before moving to Carlitzdorp on Route 62, a wine farming area of the Little Karoo.  Bettie never married and sadly, in 1999 she was murdered. She was stabbed to death from behind one evening while doing her washing-up at her kitchen sink.  It was rumoured that a drunk in a pub had bragged about doing the deed but this did not constitute evidence in legal terms. No one was ever convicted and it remains an unsolved mystery to this day. 
Moodies trek to Rhodesia
Captain Benjamin's 3rd son, Thomas known as "Big Tom" was farming at Bethlehem in the Free State when he persuaded 52 of the clan to trek on to a distant place now called Zimbabwe. They left Bethlehem in May 1892. Along the way at Fort Victoria, dissension occurred and they split into 2 groups, one heading off in the known direction of Enkeldoorn and Salisbury to settle there.
Melsetter area of Zimbabwe https://www.geni.com/projects/Melsetter-Southern-Rhodesia-Zimbabwe/23169
The other, consisting of only 7 wagons with 14 men, 4 women and 3 small children made it to the area called Gazaland. They arrived on 4 January 1893, 9 months after leaving the Free State. There they settled in the foothills of what came to be called the Chimanimani Mountains. It was a scenic spot with a mild climate between mountains and valleys with flowing rivers. The intrepid pioneers named it Melsetter after their ancestral home on the Orkneys. "Groot Tom", chose a prime spot calling his place, Waterfall Farm.
Sadly, they all suffered incredible ongoing hardships and most of all, many were smitten with the deadly Blackwater Fever which decimated their clan, including "Groot Tom" who died before the end of the year. By the end of the century there were no Moodies left in Melsetter.
About Steenbok Island

Thomas Dunbar Moodie excluded the Island then called Steenbok Island from his plan, because it was low-lying and considered unsuitable for housing as it was an area of floodplain. e.g. He knew what he was talking about because Flooding  occurred in 1932, 1952, 1953, 1981, 2003, 2006 and 2007. In the 1950s,  after it was bought by a Rhodesian entrepreneur, Ferdi Van Niekerk from Elaine Watney, it was called Extension 1. 
Without proper building controls in place, it was foolishly divided into plots and laid out as a residential area. Subsequently, areas of the Island have been flooded several times and In recent times, parts have been flooded more than once now affecting people's homes and possessions to the point of jeopardising their insurance cover. With global warming low lying areas will remain an ongoing concern.
Before Kingfisher Drive was raised considerably in order for it to be tarred, the land the sand road occupied next to the village green area would often be under water so people would frequently find themselves cut off from the town. On such occasions, provisions were supplied to them by some willing person rowing them over by boat.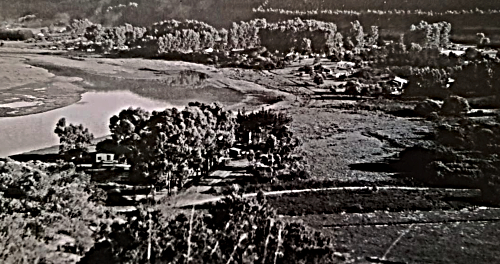 Sedgefield view from the Makou Street dune before the street existed and all the roads that did were merely sandy tracks.
Areas adjacent to the estuary on the Island are noticeably being scoured away with one road in particular often under water in several places. All the houses' effluent is managed with soak-a-ways and septic tanks increasing the danger of polluting the Swartvlei's vitally important eco-system especially in times of flooding.  Ill-considered increasing demands are being made on the area with buildings being enlarged and building lines being relaxed, large stands being sub-divided and more and more buildings being added to single stands.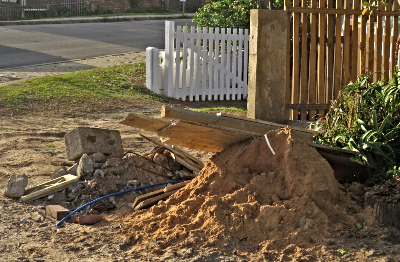 Builder's rubble left on a verge for weeks while a panhandle is being made into a driveway, dangerous for walkers & vehicles. No consideration was shown for adjacent neighbours needing to access their own driveway.
Panhandles are another issue. They were included in Thomas Dunbar Moodie's plan as walk ways solely to give people easy access to the lagoon for themselves, to go fishing or to carry a canoe to the water, not to be used as driveways.( Cars had no presence in Sedgefield.) When the Island was developed later, they were positioned for the same purpose. They were natural sandy grassy areas that had to be looked after by their owners.
They also provided feeding areas for tortoises, nesting places for birds like dikkops  (now called Thick-knees) and guinea-fowl, etc. Now they are being incorporated into people's property so they can enlarge their houses. i.e. more concrete jungle and less nature.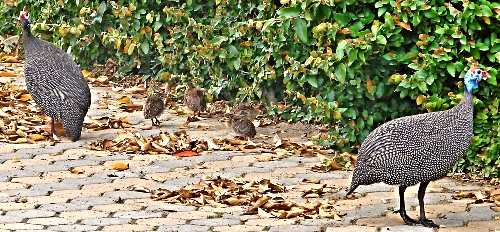 Island Guinea-fowl Family
On the Island, tortoises are being more frequently runover, owls poisoned, nesting birds are being harassed by free-roaming dogs, the only estuarine seahorse in the world is being threatened by increasing human activity and contamination from run-off, but somehow this is called progress.
There is little attempt by conservation officials  or the Knysna Municipal Planning Department to inform residents (documented constraints) or holidaymakers (by signage) of their responsibilities when entering an ecologically sensitive area, which Sedgefield as a town is part of, as it falls under the area demarcated as The Garden Route Biosphere Reserve.  
The slogan "Conservation without Boundaries" is a misnomer. To people it seems to mean there are no boundaries to what they are allowed to do in the abominable name of "progress".

Municipal document of Spatial Strategies with regard to Sedgefield Densification.
F-Strategic-Synthesis-2017-ANNEXURE-B_1.pdf Page 33 5.2 Spatial Strategies states "The Environment is the Economy." Page 39 – "The environmental and ground water pollution risk. The Knysna-SDs associated with further development in Sedgefield constrain viable densification as areas such as the Island would need full service reticulation to densify without polluting the groundwater and river system. In addition, its unique character as a quiet, slow town should be protected suggesting that it remain largely a holiday and retirement town. However, there are opportunities for infill and densification close to the N2 that should be pursued to establish a town centre "heart" for Sedgefield.

References, acknowledgements and my grateful thanks to the following:

Ensle Syphus' notes and interview with Bettie Moodie
Aileen Anderson for family photos and information
http://rhodesianheritage.blogspot.com/2013/03/melsetter-and-story-of-moodie-pioneers.html
https://www.grahamstown.co.za/news/moodie_family_letters_go_to_auction
https://en.wikipedia.org/wiki/Benjamin_Moodie
Guy Moodie for additional information
Geni.com - Moodie Family