Sedgefield Floods
Severe Sedgefield floods affected the local community and the environment when they occurred 3 times within 5 years between 2003 and 2007.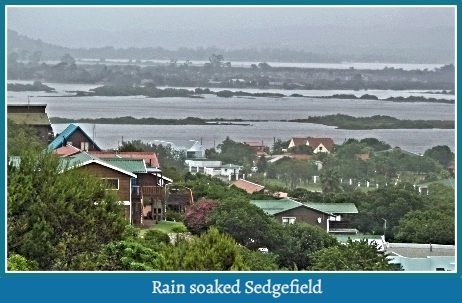 Sedgefield Floods 2003
The Sedgefield floods of 2003 caught the local authorities and residents unprepared.
In the early hours of Monday morning, 24 March 2003 gale force winds blew over trees and flattened street lights. Gracelands the home of the Kossar family and subsequent headquarters of Masithandane, a non profit, public benefit organisation had its roof blown off exposing the family to the mercy of the elements and damaging some Smutsville shanties on which it landed. A number of houses in Smutsville and Sizamile were blown down. Emergency teams and volunteers speedily assisted in cleaning up the destruction and providing relief for those affected.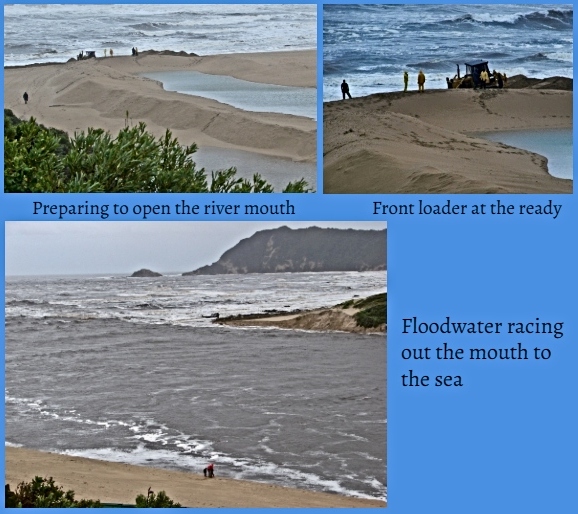 Sedgefield floods caused more high drama when another 150 mm of rain fell on Monday night.  Montmere stables were flooded and 33 horses and foals in danger of drowning needed immediate rescue. The Horse Rescue Unit, SPCA, SAPS and volunteers swam the horses to safety just in time. 50% of small homes in low-lying areas were flooded and people were hastily rescued by canoe and boat in a "grab and go" exercise.
In many instances extensive damage was done to furniture, personal belongings, motor vehicles and the buildings themselves. 
However, the Sedgefield floods brought phenomenal community spirit to the fore and help poured in. A soup kitchen was set up for the homeless and local businesses donated food, clothing and blankets. 
In retrospect, the water damage caused by the Sedgefield floods was attributed to the damming effect of the railway bridge as debris blocked the openings underneath and the river spread wide, and the late opening of the river mouth. At 8 am on Monday morning the water level in the estuary measured 1.2 meters.


Sedgefield Fire and Rescue, and Municipal and Parks Board workers applied themselves around the clock to cope with the disaster.
When rain continued to fall and the earth moving equipment couldn't access the mouth, workers had to laboriously open it by spade working into Tuesday night and by then the level had reached 3.2 meters!
This catastrophe resulted in the creation of a Sedgefield Flood Committee with the aim of ensuring procedures were in place for floods threats in the future.

Sedgefield Floods 2006
In August 2006 at a critical time for us, as our house was being built and the foundations were about to be poured, the Garden Route experienced torrential rainfall for 2-3 days and between 1-3 August, 273 mls were measured at Karatara, Sedgefield's catchment area.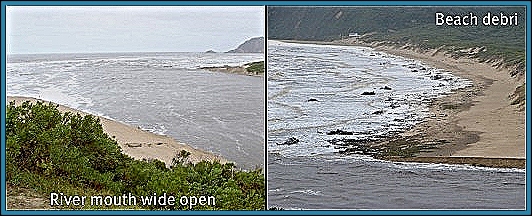 This time the mouth was open so minimal damage was done to property. However, our already inadequate purification plant situated in the river, was submerged by the Sedgefield floods and pumping ceased for 3 days.
This time the authorities had been prepared and the most expensive equipment had already been removed.
Once again Montmere, the riding centre needed assistance moving their horses to safety. Unfortunately one 20 year old horse died from his exertions shortly after being guided to higher ground.
Municipal staff and Fire and Rescue worked tirelessly to restore order where natural forces had brought down trees and blocked roads with storm debris.
The beaches were strewn with uprooted trees, branches, railway sleepers, and man-made goods as a result of the Sedgefield floods. A huge clean-up operation followed with volunteers pitching in.
Damage caused by Flooding beyond Sedgefield
This time places outside of Sedgefield suffered more.
The Goukamma River washed away the entire picnic site at the Cape Nature Reserve and the river broke its bank to the point of flooding over the tar road to Buffalo Bay so that the road was a "no go" area for several days.
The N2 highway from George to Knysna was damaged in several places and no place worse than Kaaimans Pass between George and Wilderness where mudslides and rock falls threatened to push the N2 highway into the sea.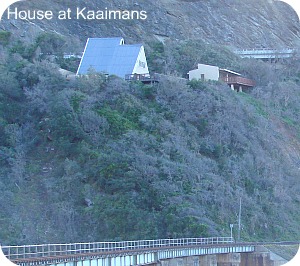 Closed for 3 weeks as a result of all the damage done, light traffic (under 5 tons) had to be rerouted via the old Seven Passes road to Knysna.
This road past Saasveld Forestry College was overwhelmed by the increased traffic. And it had to be closed between 8 pm and 6 am so that maintenance crews could repair it.
Heavier trucks faced an arduous journey, detouring 400 kms over the Outeniqua and Langkloof Passes to get to Knysna and other towns along the Garden Route. This single calamity showed signs of having serious consequences for local tourism.
It was a relief for everyone when one of Kaaimans lanes was opened to traffic on 29 August. Once the authorities deemed that the area had stabilised and important repairs had been completed, cars were  directed in convoy with a lead car determining a low speed so that the road was not unsettled. It was October before the situation returned to normal and both lanes were open again.
Not so fortunate was an A-frame house at Dolphins Point that had belonged to a family for generations. Waterlogged ground destablised and the house started sliding towards the sea. The foundations were damaged and cracks appeared and it was judged unsafe to inhabit. It now appears dilapidated and abandoned. Sadly a family have lost a beautiful home in a spectacular spot.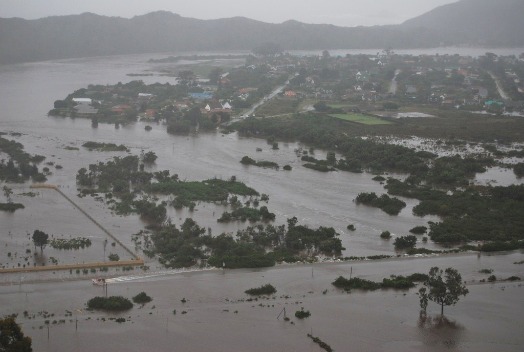 Sedgefield under water
The railway line of the much loved Outeniqua Choo Tjoe fared little better. It was covered with mudslides in several places and in other places rain washed away the ground support for the tracks.
Despite several rumours of a rescue by various authorities and private investors it remains, unrestored. Initially the insurance claim was quoted in the region of 20 million Rand but this has escalated as nothing has been done and the line has continued to deteriorate.

Sedgefield Floods 2007
In November 2007 we were here to witness the effect of rivers in flood and for land-lubbers like ourselves living alongside the estuary, it was quite an experience. This time the Sedgefield floods were more devastating. The Montage Complex of some 200 hundred houses next to the Perdespruit were all flooded in the middle of Thursday night 22 Nov.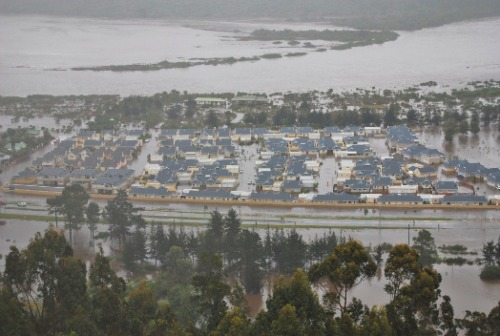 Montage Village flooded and the N2 highway under water
People woke up to find their beds floating around in their rooms – even cars in garages! Sounds bizarre but its true! 
A substantial number of houses in another complex, Island Village on the other side of the Perdespruit, were flooded when the walls around the complex pressurised by rising water, collapsed on the Engen Garage side (alongside the N2).
Reporting on the dire circumstances of some people in the event of the Sedgefield floods, Michael Wilbraham stated "We took a rubber duck from the N2 along the road past the Engen garage, Scarab Market, up Paul Kruger Street to the Island village entrance & then rescued a number of people from their homes inside Island village. They were climbing out of their windows onto the duck and we were wading mid-chest deep in some places!" 
Over 260 mm of rain fell between 10:45 am on Wednesday Nov 21 and 8 am on Saturday 24 Nov.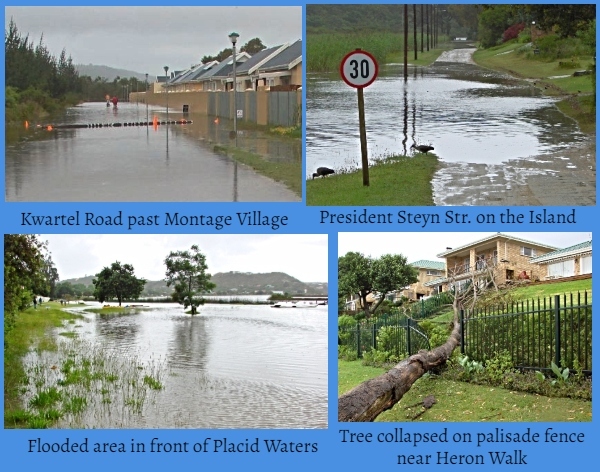 In a relatively short space of time – 2003 firstly, then 2006 and to date, 2007 the 100 year flood line has been exceeded 3 times. The Sedgefield floods have damaged property and endangered the lives of humans and animals.

Many people argue that the relevant authorities did not put adequate measures in place after the first floods to avoid the second and third disasters. They did not take the threat of future floods seriously enough and the 2003 floods were treated as an exceptional occurrence.
Compounding the problem is that river courses run through areas that are the responsibility of different government departments such as Environmental Affairs and Tourism, Water Affairs and Forestry, Transnet (railways) falls under Public Enterprises, Sanrail (responsible for national roads as is the N2) and different municipalities e.g. Eden (George) and Knysna.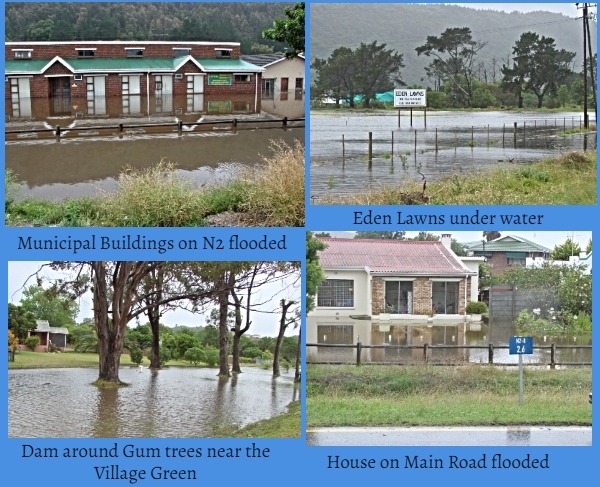 If each role player only takes responsibility for their own section or areas they cannot bring about all-embracing long-term solutions.
Municipalities who are closest to the calamity are pressurised to institute emergency measures that bypass Environmental Impact Assessments (EIA's) and are inevitably destructive to the one participant that has no say – our environment.
Lengthy deliberations and financial constraints also enter the equation and decisions seem to take an unconscionable time and in the meanwhile floods continue to incur millions of rands in financial losses through damage done to homes, businesses and infra-structure.
In the detail, much has been lost that cannot be recovered. One resident lost a whole library of precious books – a lifetime's collection. A local worker lost his private car while driving the municipality's vehicle to safety. The Outeniqua Choo–Tjoe to all intents and purposes is lost to us – an historical train ride that people came from around the world to experience, is no more.

The Steam Whistle Stop Shop on the Sedgefield station derived 50% of its trade from the Tchoo-Tjoe so that family has also suffered loss of income as have the people running the quaint restaurant and shop at Goukamma station on the way to Buffalo Bay.
The natural environment has suffered too. The island and the frontal dune has been seriously eroded by floodwater. Many waterbirds lost their nests and their young (we personally saw a coot stalwartly sitting on her nest as the turbulent river took her out to sea).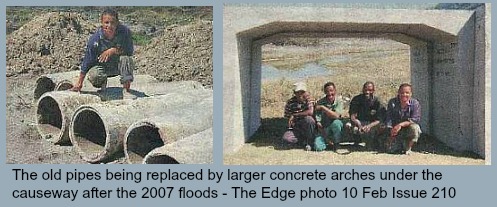 Water traveling from the Swartvlei Lake via the Perdespruit into the estuary, backed up because the small pipes running under the causeway did not allow the water through fast enough.
This resulted in all the houses in Montage Village being flooded. The much larger culverts now in place should hopefully prevent this happening again.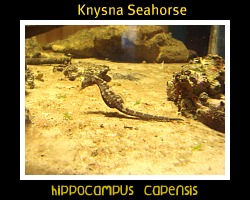 Tortoises were drowned. Hundreds of fish were trapped in pockets of water as the waters receded. Sediment from upstream was swept down and deposited in the lake.
This is likely to have caused destruction of natural habitats including that of the rare Knysna seahorse that used to be found in our lagoon among the eel grass.
The beginnings of Climate Change?
Reports indicate that our weather is going to become more erratic and extreme. In other words it's going to rain less but when we do get it we could get abnormally heavy downpours. Everybody along the Swartvlei gets jittery now whenever significant rain is forecast. However, the wheel turned and in 2009 we had almost no rain – something that is uncommon for the Garden Route.
Sedgefield used to average around 750 mm of rain a year –spread out over the year with higher figures through the winter months. In 2008 we had good Spring rains in September but we had nothing after that and by January 2009 we were in trouble. The demands on our rivers agriculturally have contributed to their reduced flow. The Swartvlei has silted up and scouring that kept the main channel deep doesn't happen to the same extent anymore.


When the Karatara River dried up, water bowsers were delivering water to our storage reservoirs around the clock as we had no storage dam and we had to restrict our usage as a town to 1000 kilolitres a day. A six kilometer pipeline was installed from the Hoogekraal river to our pumps in the Karatara river and Knynsa Municipality then commissioned more boreholes to be dug in Sedgefield to supplement that supply.
A desalination pilot plant was installed on Myoli beach in time for the high season holidaymakers in December 2009-January 2010. We have nonetheless been declared a water stressed area up until this current point in time - 2021 along with other Garden Route towns such as George, Knysna, Buffalo Bay and Karatara.
We know that climates are changing worldwide and extremes such as tsunamis, floods, volcanic eruptions, earthquakes, hurricanes, and droughts have been causing havoc and suffering, physically and financially. Every time, all these disasters affect essential water supplies.
The bigger picture indicates that already, 700 million people in 43 countries face water shortages. At present, Ethiopia and Niger are estimated the worst stressed in Africa and they are too poor to borrow their way out of their water crises.
Being water-wise is not a short-term slogan but a critical long-term strategy that has to be factored in to how we humans use water on a daily basis and how we manage it in the future. It's not a commodity we can take for granted because it's found at the end of a tap.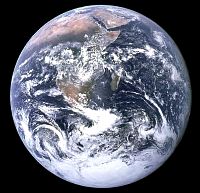 Our blue planet is being affected by climate change.
Many millions of people have to walk miles to fetch it, drawing it out of wells and rivers, carrying it on their heads, in buckets, on donkeys, by bicycle, or carts, to get it to their homes. It is the most fundamental element to the existence of life on earth and the lack of it is why life similar to ours, has not yet been found on any other planet in the universe.
As the earth population explodes to over 8 billion in 2021 the demand is only going to get greater for water so that nature is in the dire situation of running out of opportunities to replenish herself.
"No water no life. No Blue no Green." - Sylvia Earle
Consider this! Virtually every industrial and agricultural process needs water. Animals, plants and humans need water. All of us need to implement at least one way of saving water and using it wisely. It is a distinct possibility that water rationing could affect every single person in our global village within 20-30 years.
---