Sedgefield Slow Festival
Easter has become the time for the Sedgefield Slow Festival which has established a clearly defined niche for fabulous fun family activities.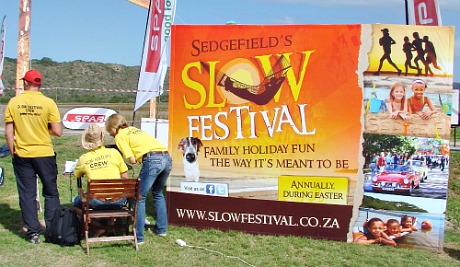 It has taken a big leap forward offering superb events for people of all ages to participate in together. Easter long weekend marks the dates for this special one-of-a-kind festival!
Jan 2018 Update: It's a great pity that despite the Festival's popularity, there will be no Slow Festival  over Easter 2018 due to the lack of a very necessary substantial PRIMARY Financial Sponsor. Efforts will continue to be made to find such a person/s/corporate/business willing to come forward for 2019.
"Being alive is not the same as having a life worth living!"
Sedgefield Slow Festival
3 Days & Nights of Fun for Everyone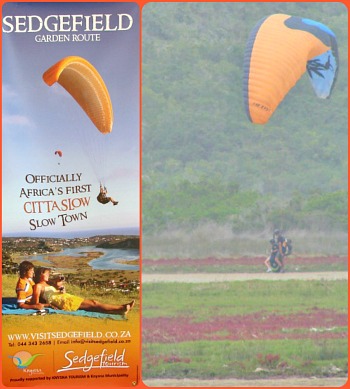 For the sporty types, the Sedgefield Slow Festival events range from the fun "Glow in the Dark" Golf Tournament to the Slow Tandem Paragliding and How-slow-can-you-go Biking competition.
Then there's the 5,5km Family Fun run and the more challenging 30 km Goukamma Trail Run, that's a race through the pristine paradise of the Goukamma  Nature Reserve.
Water sports include a Stand-up Paddle surfing competition on the lagoon and just along from Placid Waters is another family festival event - the "Anything that Floats" Competition.

This event sees spectators enjoying some hilarious moments with gusting winds finding the weak spots of many imaginative rafts that look good on land but experience serious design weaknesses once they are in the water – much to the horror of the energetic construction teams!
At the same time, in the same place there is a fierce Potjiekos Competition going on.
After the judges have judged the Potjies - just before the start of the - "See if your Boat Floats Race" – all the food is sold off in portions for Charity.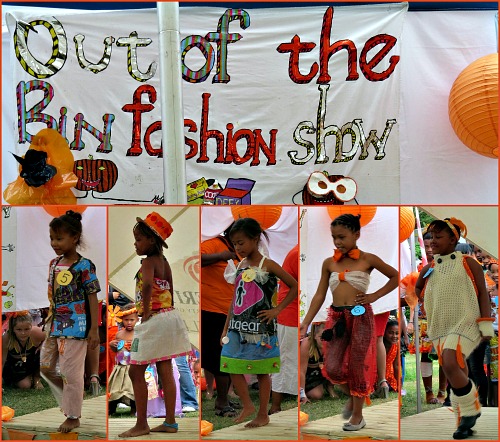 The "Out of the Bin" Fashion Show begun in 2013 was an immediate success. The Smutsville community came up trumps designing the most spectacular innovative and imaginative outfits from all kinds of recycled materials.

Children of all ages strut their stuff on the cat walk some with aplomb and others with less confidence but they all get supported with much cheering and clapping from the enthusiastic crowd.

Everybody that attends, loves it and it has become one of the most popular events of the festival.

The Sedgefield Slow Festival Committee has made a really good move in deciding to establish a central point - The Slow Coach Café - on the Village Green that creates the family festival atmosphere, where visitors can enjoy a delicious array of food and drink and where many happenings take place.
Many races conducted throughout the weekend, start and finish at the Village Green.
Visitors can also find out about other activities taking place in the vicinity or nearby. The HQ of the Organising Team is there too.
On one occasion I watched a baking demonstration I wouldn't have known about if I hadn't been at the Slow Coach Cafe when it began!
Retired international celebrity Chef, Colin Capon has demonstrated how to decorate a Gateau with lots of simple baking tips thrown in.
There are fun events like rhythmic routines by the young Smutsville Hip Hop Dancers.

The foot stomping Gumboot Guys drew rousing support from their audience and rap numbers by Holmes, a popular and talented local artist, song writer and rapper went down well too.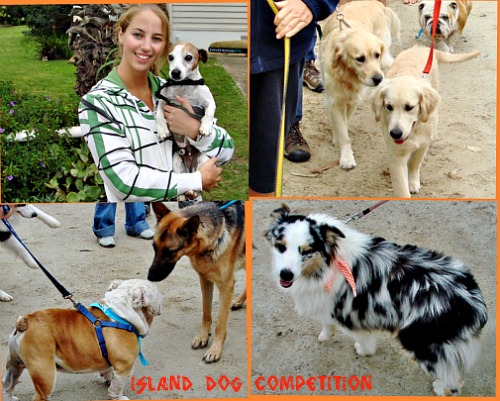 Dogs are a large part of village life so it draws a large crowd, individuals, families and friends gather to the Dog Walk exercise that used to be held on the Island at the Eagle Green Venue.
It has moved now to alongside the lagoon just off Kingfisher Drive, in front of Sedgemeer Park.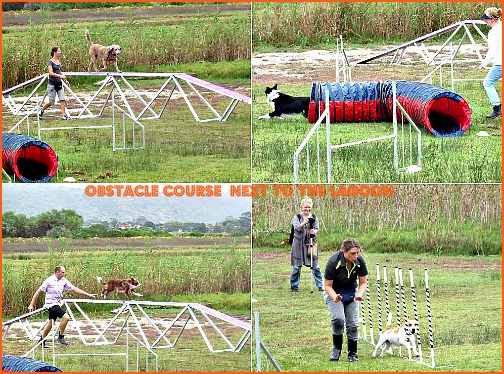 Even in intermittent rain and windy conditions, the weather never stops Sedgefield people turning out for the event and having fun with their dogs!
The obstacle course that follows is also very popular as well as drawing a good number of spectators to witness the event.
Sunday morning is time for the Easter Bunny Easter egg Beach Fling. Nowadays the Para-bunnies conduct the  Easter-egg Fling from quad-bikes that speed off along Myoli Beach flinging eggs as they race along while the children give chase scrambling to pick up as many eggs as they can.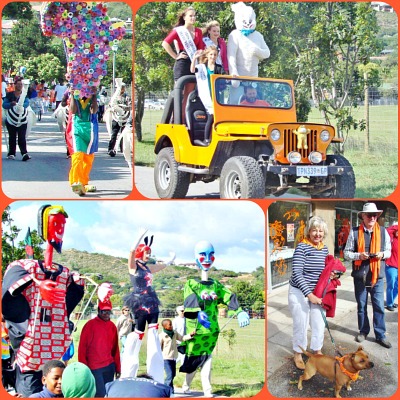 Although Easter often experiences rain over some part of the weekend it seems to hold off just long enough for the much-anticipated Easter Sunday Parade to take place which is colourful, joyful and well attended.
The Sedgefield Slow Festival allows families to participate in or enjoy watching many other activities that they will find nowhere else.
There's also the Trading Posts and Yard sale, Smutsville Funky Hair Challenge, Miss Sedgefield Slow Fest Beauty Pageant, and NEW is the Amazing Car Race lasting about +/- 3 hours held on Saturday afternoon.
It's gentle energy pervades our small town. It is vibey and yet laid-back, strong enough to get you going but not enough to stress you.
There are many great opportunities to enjoy a good time with family and friends the old fashioned way!
Mark the Easter weekend on next year's calendar to make sure you don't miss the best family Festival in South Africa!
See more photos on my Facebook page here!
You can see some of 2011's Slow Festival photos here!
---