Peppertree Cottage 
Self-catering Accommodation
Situated on a corner stand in central Sedgefield, Peppertree Cottage has its own private entrance and walled garden within the property. A carport adjacent to the cottage allows guests easy access to their front door and safe off-road parking. They will be given their own gate and security remote so they can have peace of mind and come and go as they please. 
Their hosts, Jenny Parker and husband Wilf, will be available to help them with any questions and to assist with any reasonable requests they may have.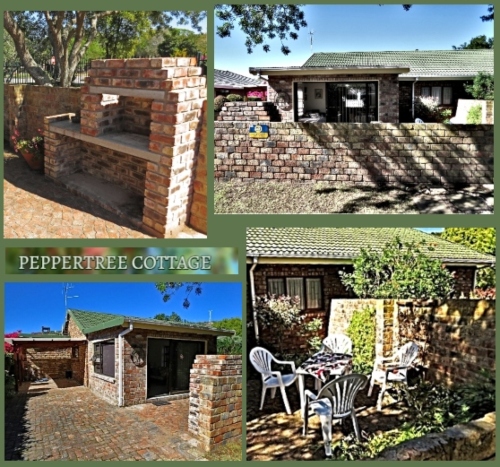 Peppertree Cottage can sleep up to 4 people, most suitably, a family of 2 adults and 1-2 children. It is attached to the main house but totally separate, compact but comfortable. Wilf has made a ramp allowing the cottage to be wheel-chair friendly.
The King size bed in one room can also be split into 2 single beds.  There are ample cupboards for personal effects.
The 2nd room has a single bed but can accommodate another with some of the furniture being shifted around without much effort.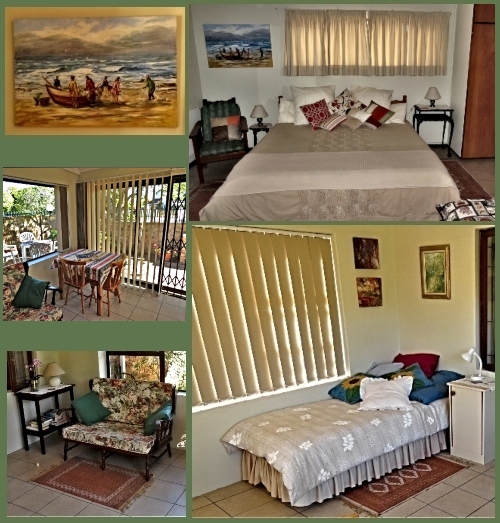 The kitchen area has a fridge/freezer, a two–plate table-top cooker, microwave oven, kettle and toaster and utensils for 4 people. This room also has an extractor fan. There are indoor and outdoor dining-tables. The full DSTV can be swiveled and has a modem so programs can be recorded.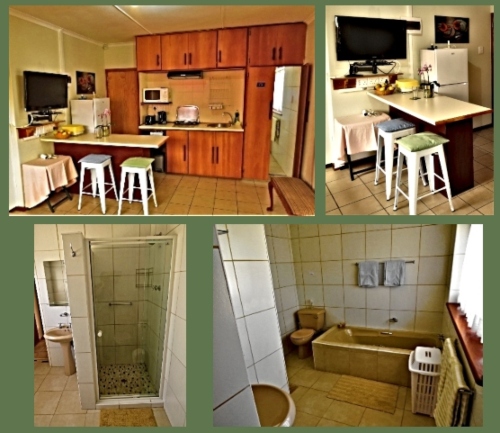 Out of the peak holiday period, Jenny is willing to rent out Peppertree Cottage for 3, 6 or 9 month periods of time.

Some Background to Peppertree Cottage 
Jenny and her husband bought their house in 1991 and in 1993 came to live in Sedgefield. Even then it had a peaceful pretty garden. They didn't realise they had bought a corner property at first because there was no road where holidaymakers can now access the cottage.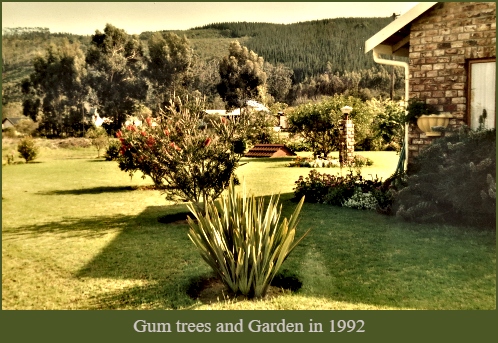 There was no fence and only a small house next door. The second year they came down, some of the garden and a number of large Gum trees were gone. Instead, a dirt road was running along the edge of what was left of the garden at the side of their house.
As a mathematics teacher, Jenny continued working intermittently at Knysna Primary and Oakhill Schools from 1994 until 2008 when she retired. She has since nurtured her interest in art and now specializes in banners!
They have made a few changes within the house itself since they first came to live in Sedgefield. Peppertree Cottage was added to the existing house in 2002 to accommodate the growing demand for holiday accommodation in Sedgefield. Initially it only slept two people but later the open verandah was closed in to form a sun porch which provided a sunny second room with more options for the guests as two more adults  or a small family could be accommodated.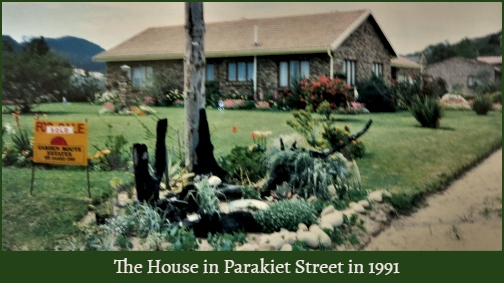 An interesting snippet is that Jenny had 3 guests staying in "Jen's Place" as it was called then, as an alternative local option when their planned trip to Thailand had to be cancelled due to unforeseen circumstances. 
They were still at the cottage on 26 December 2004, when the devastating Indian Ocean Tsunami  hit Thailand, India and Sri Lanka. A 1600 km rupture had occurred where the Indian and Burma tectonic plates meet.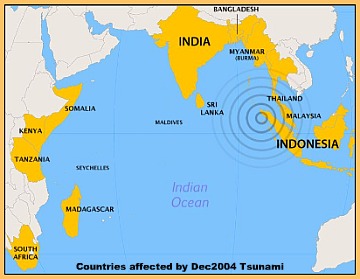 This caused the ocean bed to rise 40 metres triggering an earthquake measuring a  staggering 9.1 on the richter's scale off the coast off the Sumatra Island of Indonesia and resulting in the subsequent Tsunami.
Nearly 230 000 people died in this disaster and 8 hours after it first hit, it reached Africa killing a total of 300 people in Somalia, Tanzania and Kenya.
When extraordinary surges of water reached South Africa some 16 hours after that,  8 people died along our coastline and 32 had to be rescued. It was considered one of the worst natural disasters of recent times. (see more info here.)
Naturally Jenny's guests were indescribably thankful for having, providentially, escaped the tragedy. 
---