Joe-Stina se Corada

8 sleeper self-catering Holiday accommodation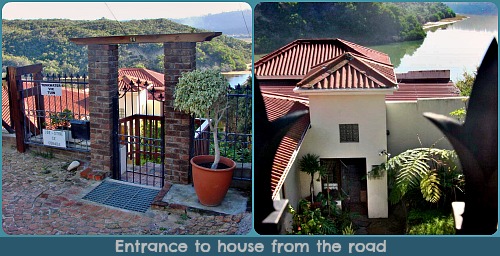 Tucked away on Bokmakerie Street is Adanna's house, Joe-Stina se Corada. The name came about like this. Adanna told us she inherited the house from her late mother, Christina which is the "Stina".
Her father was Joe Meintjes a Kimberley magistrate who retired to the area in 1971. Her grandfather had built the house in the early 1950's and his name was Cornelis. Her grandmother was Ada hence the "Corada".
Family History of Joe-stina se Corada
Adanna's family history is very interesting. She lives on a part of the farm at Elandskraal that was initially purchased by her great-grandfather, Sarel Marais. Her grandfather, Cornelis was one of 12 children. His father, gave each of his children including his daughters, a parcel of land.
Her grandfather, Cornelis however, pursued the trade of a woodcutter and let his wife, Ada do the farming. Ada Susanna Crowley had first been a teacher and was an enterprising woman who bought up pieces of land whenever she could. Cornelis would build houses on them and sell them fully furnished with yellowwood and stinkwood furniture – imagine that today!
His father, Sarel had told him, "You must buy up some land along the coast because people from all over the world will come to live in South Africa and one day you won't be able to put your foot on the beach because the land will all be privately owned."
He is not too far wrong and fortunately, the family have Joe-Stina se Corada.
It was difficult for Christina to manage the farming enterprise alone after her husband Joe passed away so about 6 years later, Adanna and Freek came to help her.
They decided to establish their home on the farm because Adanna's parents had lived at Joe-Stina se Corada and her Dad had driven out to the farm daily.
They came from Kroonstad where Adanna had taught hospitality services for 26 years and her husband had been a Gunsmith working in his own shop servicing and selling firearms.
Freek now raises beef cattle and Adanna has a thriving "proudly traditional" Rusks and Biscuit business, Homtini that is run from there. This energetic lady rises at 3am most mornings to start the baking of 13 different biscuit products.
They also supply firewood locally by chopping down troublesome alien Black Wattle an invasive tree throughout South Africa that is rampant in the area and on their farm.
This earns the farm some income and offsets to some extent the costs of treating the trees with herbicide to prevent their regrowth. Meanwhile the wood is put to good use and removes it from their lands and is how I met Adanna.
Holiday Accommodation on the lagoon
This warm-hearted "people person" will welcome you to Joe-Stina se Corada.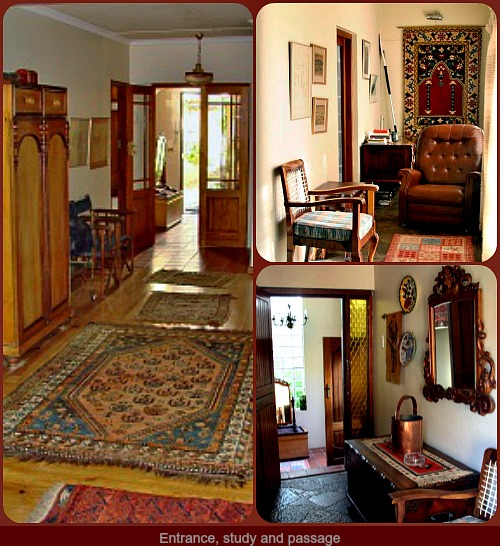 There is much of historical interest in this gracious and comfortable house that nurtures some fine pieces of furniture and family memorabilia of 4 generations.
The site is also on a piece of prime property with splendid views over the Swartvlei and has its own private beach – although how much beach there is depends on currents and the ebb and flow of the lagoon!
The house has off road parking and there are steps leading down to it behind the gate.
It is very private from Kingfisher Drive that goes to the beach at the river mouth and it is protected on the lagoon side by thick shrubbery.
Besides regular holidaymakers, this house would suit swallows that come from overseas for up to 6 months at a time. It has a comfortable lived-in feel because it was a cherished home.
There is a perfectly positioned study alcove that includes a comfortable reading chair when one wants to get away from the family and indulge in some quiet reading.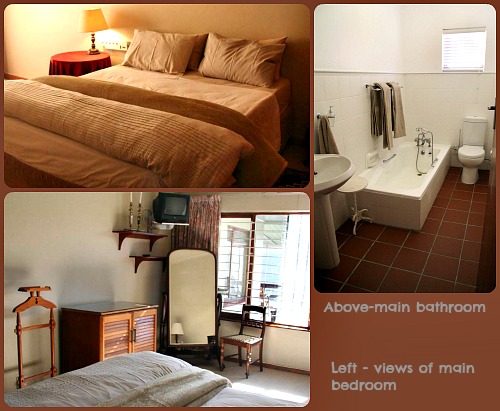 The large living area caters for a group of 8 and yet is not overwhelming for just 2 people.
The deck also has panoramic views of our wonderful Sedgefield sunsets and the Outeniqua Mountains.

Overlooking the lagoon visitors can luxuriate in peaceful hours of pleasure watching activities taking place in the water below them:  fishermen catching fish, canoes, boats,  holidaymakers in tubes surging on the ingoing/outgoing tide and the abundant bird life.
There is also a foot path leading down to the lagoon.
Depending on the flow of water in the lagoon and whether the river mouth is open or not, there might even be a small private beach!
The house can sleep up to 8 people in 4 bedrooms.


2 bedrooms have twin beds and one bedroom has an antique brass double-bed.


2 bathrooms supply the three upstairs bedrooms.
The totally separate downstairs bedroom also has twin beds and is very private. 


It has its own shower-room, toilet and basin. 

In many ways, this house is ideal for an extended family get-together.

The dining room, kitchen and scullery/laundry are well equipped and more than adequate to cater for 8 people.


The main appliances consist of a full size freezer and separate fridge, standalone stove and microwave oven etc.

To book this prime accommodation contact Adanna using the form below.
---