Slow Town Seaside Lodge
Only recently Delwyn and Michael Semple, an outdoorsy nature-loving couple found and bought their ideal place in Sedgefield, a mere 10-minute walk to the beach and a 15-minute walk into town. They've called it, Slow Town Seaside Lodge.
Originally, as a basic fisherman's cottage in Sedgefield's early days, it belonged to the Ritchie family. Some years on, the grandfather, an architect, demolished the old cottage, designing and building the two-storey house that sits on the property today. The grandchildren who inherited it, have decided it was finally time to sell, much to the delight of the Semples who had been searching for quite a while for a place of their own and quickly agreed it would be perfect for them!
Slow Town Paragliding
Sedgefielders know Cloud 9 is one of the best places along the Garden Route to experience the exhilarating sport of paragliding (and we all like to watch the action from the village!) For many years it was this attraction that drew Michael and his wife, to our seaside town where they happily rented a cosy place in Montage Village.

Canoeing Swartvlei Estuary
"There's so much to do here", enthuses Delwyn, "the options are limitless –beach walks, hiking the mountain and forest paths, cycling, canoeing or swimming in the lagoon and also walking the dogs." Of course, Michael can pursue his passion for paragliding where Sedgefield is central to all it's hot spots along the Garden Route. Some days they're in bed asleep before the sun has set, worn out by the day's activities (and copious amounts of fresh unpolluted air).

Having some amenable surplus space, the couple have decided they are more than willing to share it with some equally outdoorsy, nature loving, holidaymakers.
There are two options available. First up is…
Slow Town Seaside Lodge self-catering Accommodation

The Main Entrance on Patrys Street
The main access in Patrys Street provides secure off-road parking for 2 vehicles and a trailer and you will quickly notice there are a number of inviting shady spots throughout the garden for you to enjoy at your leisure.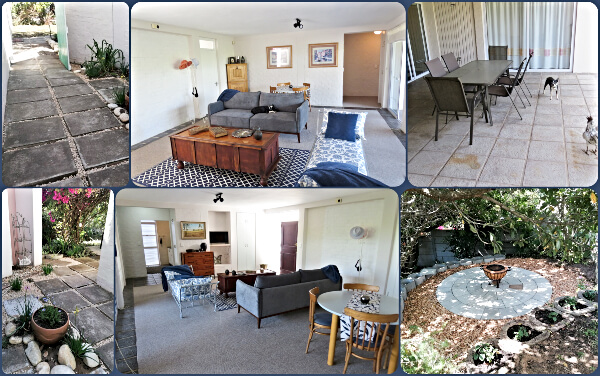 The Slow Town Seaside Lodge outdoor and open-plan Living Areas.
Slow Town Seaside Lodge has its own chic private gated entrance into a spacious, casually comfortable, open-plan living/dining room area with sliding doors out onto a covered patio overlooking a small sculptured garden. If it's raining, the Weber Braai can be used on the patio or on a perfect long summer evening you can enjoy a braai sitting out in the garden in your own private boma area.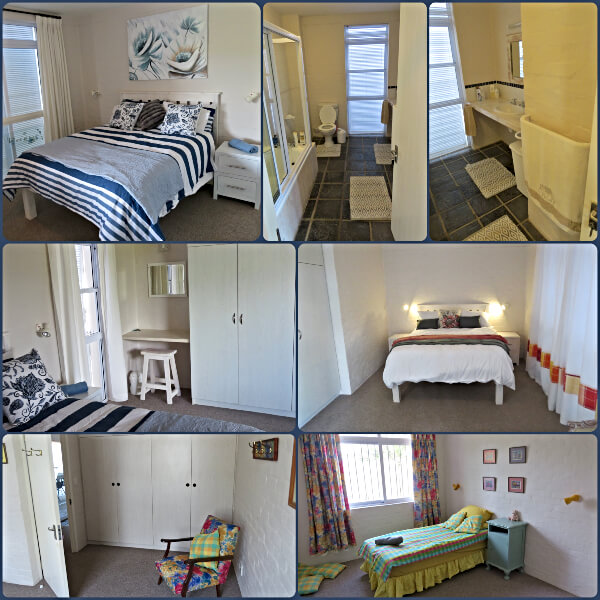 Bedrooms and Bathroom.
The unit has 3 bedrooms, one with 2 single beds (one is removed from time to time when necessary) and two bedrooms, each with queen-size beds. The latter two are on either side of the open-plan area so they also have sliding doors opening onto the patio – ideal for morning coffee out in the fresh sea air where one can hear the waves breaking on the beach and frequently, the call of a fish eagle, circling above in the sky... 
The sleeping quarters all have adequate built-in cupboards. There is 1 full bathroom for the unit.

The Kitchen
A small well-equipped kitchen, with fridge/freezer, 4-plate stove and oven, has all the necessary mod/cons. A portable weber braai can be used on the patio or in the private shady boma in the garden.
The Boathouse
The Boathouse (yes, in its previous life, it housed a boat) is a little gem of a hide-away, a quiet retreat with a gorgeous bougainvillea providing shade right at its entrance. This comfortable single room flat can be rented separately or included in the lodge rental if required.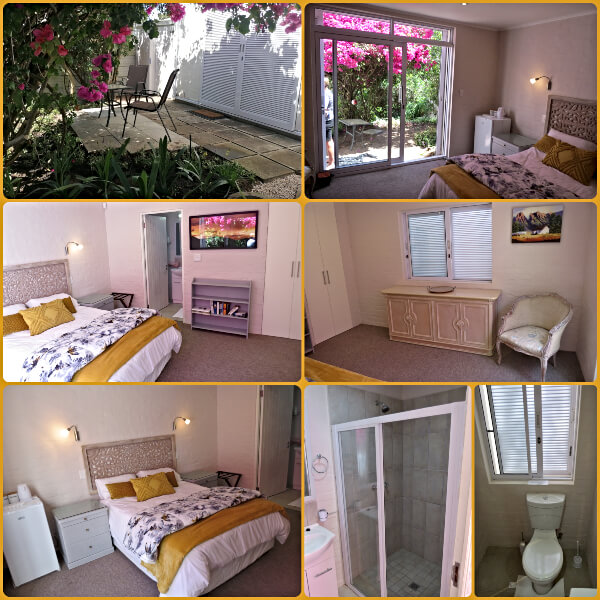 The Boathouse Flat
It has a double bed, armchair, 2 bedside tables, cupboard, sideboard and bookshelf. A small electric oven with a 2-plate stove can be included if necessary. There is a separate toilet, basin and shower room. It also has its own private outdoor space that includes a braaiing area. A bonus is a private outdoor heated shower.
NOTE PLEASE:
A minimum of 5 nights stay is necessary or there is a once off R700 service charge.
The units are serviced once a week.

Please bring your own beach towels.
Pet friendly with prior arrangement - R40 per day.
Wi-fi and Netflix are available.

For info on availability and rates, please complete the form below.