Feb 19, 2017
Historic Swartvlei Peninsula Court Case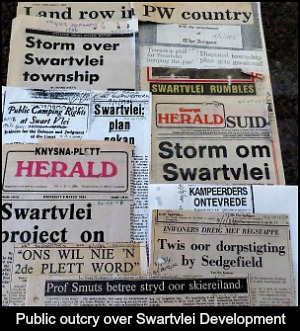 In the 1980's a vast number of concerned citizens were outraged by the news that the Outeniqua Divisional Council had plans to develop a township called Swartvleistrand on the Swartvlei Peninsula across the estuary from Sedgefield.
Aided and abetted by State President, PW Botha, the plans had been in the pipeline for over 30 years until being made public in 1983.
In spite of vociferous objections from conservation bodies, the Sedgefield Ratepayers, the Swartvlei Campers and some private individuals, the development looked like a done deal....EXCEPT a few courageous extraordinary people determined to take on the State.....