Slow down

or miss this

Slow Town
In October 2010 Sedgefield was granted Slow Town status. This completely dovetails into the concept of "conservation without boundaries". It complements the overall vision that the Department of Environmental Affairs and Tourism has for the Garden Route National Park which was gazetted in 2009.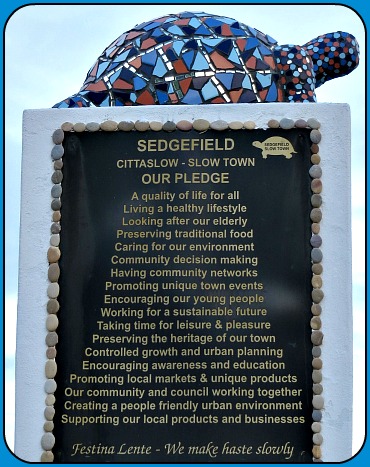 Local businessman Andrè Gauchè came up with the brilliant idea of registering Sedgefield as a "Cittaslow"Town. We are affiliated to the Cittaslow towns of Italy where the movement started roughly 10 years ago.
Sedgefield met the slow movement standards effortlessly and I think it will prove to be a satisfying marketing concept totally suited to this laid back beauty where quality and simplicity triumph over quantity and fads.
The town will be able to consciously shape itself to harmonise with its magnificent natural environment. Furthermore, the Cittaslow criteria will nurture enduring values that endeavour to create a quality of life for all.
Find out more about the Garden Route National Park
Slow Town Philosophy
The Slow City manifesto contains 55 pledges or criteria, grouped into six categories upon which cities are assessed; environmental policy, infrastructure, quality of urban fabric, encouragement of local produce and products, hospitality and community and Citta Slow awareness. Here are some aspects inherent in the criteria -

Choose life without stress - Live kindly.
Slow down and connect with your life - it could prevent serious illness.

Appreciate simple pleasures often taken for granted.
Invest less in things and more in experiences and important relationships.

Respect the small and local in a globalized world.
Find humane, environmentally friendly and durable solutions.
Value local cultures and support local traditions.
Take time for contemplation and reflection.
---
The Slow "Family" Festival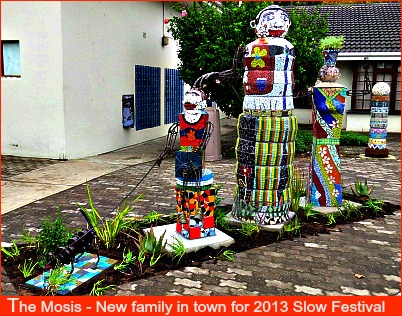 To celebrate our Slow Town status, the organisers have created a Slow Festival with events that encompass the laid-back culture, quality of life and slow town values as presented by our eddict (at the top of the page). 
The Mosaic family situated at the Municipal Offices represents the heart of our festival - fun and funky and importantly, family-orientated. Created by the Masithandane crafters, it is a job creation project that is also beautifying Sedgefield in a unique and special way.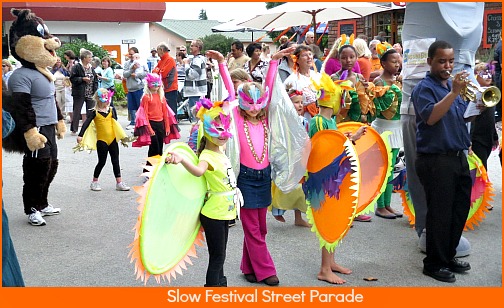 Surrounded by abundant natural beauty, the magnificent sunrises and equally stunning sunsets are a regular talking point of the villagers so its not surprising that ORANGE is the colour that's been chosen to express joyful appreciation and the energetic vibe of the festival. 
On our doorstep we are fortunate to have the world-class Wild Oats Community Farmers' Market and we have access to all the adventure sports and outdoor activities the area offers.
The weekend Slow Festival showcases all of these aspects of Sedgefield. From old-fashioned drive-in movies on the Village Green to a popular Dog Walk and Fun Show. From the 19km Goukamma Traverse to the "How slow can you go" bike race. From Abees Tavern and Smutsville street bash to the "Anything that floats" fun boat building competition.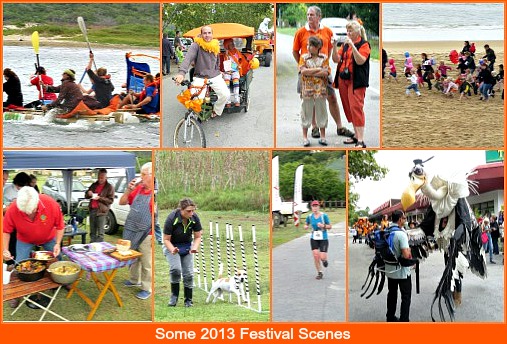 From the Blues Concert with mind-blowing "Wild Lettuce" to the zaney Recycled "Out of the Bin" Fashion Show. Art Exhibitions, MG Vintage cars on show, Trading posts with car-boot sales, a Slow Fest Beauty Pageant, Easter Bunny Beach Fling and not forgetting the Amazing Creatures and band Parade and much more besides, ensures there is something for everyone.
Go to the website here to see what you missed and make a plan to be here next year!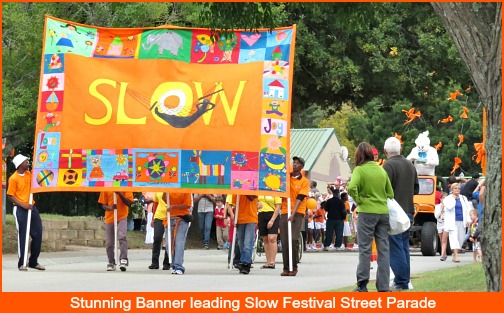 Previous Years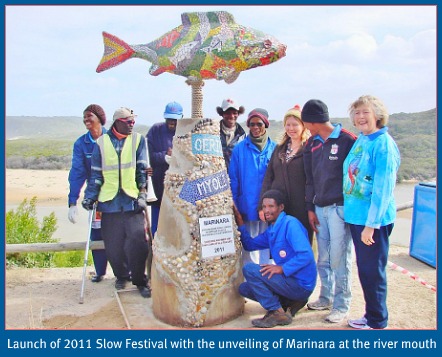 2011 was the Festival's first year. All the events in some way expressed the "Slow Town" theme. There was Art in the Park and MG and Friends on the Village Green; Briony Lidstone presented a Tai Chi class as it is traditionally done - out in the open.
There was a chocolate workshop at Timberlake and a wacky Pedalo Race at Pine Lake Marina, an Easter egg drop on the Beach for kids and a sand sculpting contest.
There was a Boulle and Backgammon tournament at Lake Pleasant Living Hotel and a Back to the Future Evening at Pinella Restaurant. 
There were Pedal and Pant competitions and the Lagoon edge Spinathon and the Amazing Creatures and Band Parade. A photography competition had categories emphasizing the slow aspects of life.
The Wild Oats Farmers' Market had all their stall owners decked out in Easter bonnets.  The flower stalls looked particularly stunning!
A hand built traditional horse carriage pulled by two magnificent and specially trained Boereperde offered carriage rides. The carriage also escorted the two runners-up to Miss Slow in Sunday's parade.
Go here to see more festival photos

The Angulate Tortoise
The Angulate tortoise is the one commonly seen in Sedgefield. It is medium sized and the males grow larger than the females. There are 5 claws on the front feet and four on the two back feet. The single gular or chinshield below the head is a unique feature of the South African species. All other species have a pair of widened gular shields. The males are territorial and court females in the Spring. The females lay 2-6 eggs that usually hatch after the first winter rains.
Angulate tortoises are protected by the Nature Conservation Ordinance No. 19 of 1974 ( amended in 2000). Therefore they may not be collected or transported from the place where they are found. It is illegal to pick them up and put them in your car or take them to your garden.
Although not considered endangered, local populations may be threatened by land clearing for development or collection for the pet trade. A good many have been drowned in the floods in recent years. Hatchlings are opportunistically caught and impaled on thorns by fiscal shrikes and the Pied Crow population also targets them. Domestic dogs kill tortoises and they get run over by motorists so they face several threats to their survival locally and their defenders are right to be concerned about Sedgefield's population.
They are an appropriate Slow Town symbol for us and that should encourage us to consciously take measures to protect the species whilst letting them remain the wild creatures they are, and free as they're meant to be. They are common in many gardens and unoccupied plots especially on the Island - a residential suburb of Sedgefield.
Sedgefield has a Tortoise Rescue Squad made up of about 30 volunteers. A building contractor can contact one of them,
Margaret Underwood on Tel: 044-343 1108,
or Sedgefield Island Conservancy on Tel: 044-343 2448 
48 hours before clearing a plot for development so that a team can be assembled to comb the area and remove any residing tortoises to a safe  location. They can also be contacted about any tortoise needing help.

Links to other Slow Towns

In March 2007 Goolwa, Australia became the first non European town to be affiliated to Cittaslow International. Situated at the mouth of Australia's greatest river, the Murray, this beautiful town is steeped in Aboriginal stories and unique riverboat history.
---
There are currently nine Cittaslow towns in the UK making the UK network one of the largest in the world. Representatives from Cittaslow UK member towns meet formally 3 or 4 times a year, including at an Annual Conference. These meetings offer opportunities to exchange ideas, identify opportunities for joint projects and to simply develop stronger links between the towns.
---
Cowichan Bay warm, friendly, vibrant and funky, is the first Slow Town in Canada. It's a unique and historic waterfront community on southern Vancouver Island facing the Gulf Islands.
---

Cittaslow USA currently incorporates 3 towns. Sonoma Valley is where people fit the land instead of forcing the land to fit the people. Sebastapol has a wetland about to be registered by the Ramsar Convention and Fairfax has a philosophy aiming for Zero Waste by 2020.
---
Discover Sedgefield Homepage > Slow Town