X39 Testimonies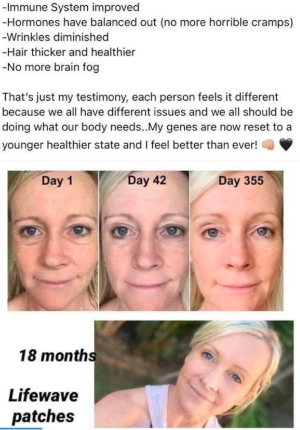 ---
Testimony of Mandy Rowe on Facebook regarding Lifewave's products and the X39 Patch.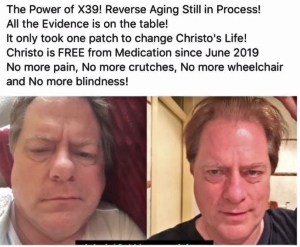 Testimony of Christo Cornelissen
see more on his  amazing X39  story on his Facebook page

---
Rita Wear's Testimony with the X39 Patch
My 78 year-old friend, Rita ripped open her leg on a metal trunk just before Christmas 2019. Trying to move the heavy object, she tripped and cut a deep U-shaped wound into her shin about 10 cm above her ankle.

Within a few days of being medically treated the wound went septic, the leg swelled and the wound burst open. Over Xmas the wound was dressed daily at the local clinic until they were confident Rita could manage it herself. She continued to go to the clinic weekly so they could renew her supplies and check on the wound.

On 20 Jan 2020 a friend loaned her a BEMER Physical Vascular Therapy device. It does not treat ailments directly: it improves micro-circulation in capillaries in the area to which it is applied thereby helping to stimulate the body's innate self-healing and regenerative processes also helping to alleviate pain.

She was able to use the BEMER for 2 weeks and found that it was lessening the wound pain as well as the scoliosis discomfort that afflicted her back (separate issue).  She also started using Simply Natural Hypercal disinfectant to help naturally disinfect the wound and promote granulation and regeneration of the tissue. 

It was important to try and reduce the number of times the dressing had to be changed as this interfered with the delicate cellular reparation process. At the same time she began taking Homeopathic Simply Natural Injury remedy to help the body heal the wound and soothe the injury.

On the 26 March I suggested she try a Lifewave product. It was a fairly new product in South Africa I had been introduced to. She first wore their X39 patch above the wound for 2 days for roughly 8-10 hours a day taking it off at night and placing it on again in the morning. In late April Rita started using two of Lifewave's other patches,  the Aeon patch to reduce her stress levels and the Glutathione patch to help boost her level of this master antioxidant in her body and strengthen her immune system. 

The wound improved exponentially from then on. She had continued to use the Hypercal cream which  helped reduce the proud part of the wound.

By 20 Jun she had only a small scab that no longer needed a bandage. She now has no pain and can walk normally on her leg. She is so relieved that the awful wound has healed. At one stage she feared might even have to have her a partial leg amputation.
---
These patches are proving to be extremely effectively on animals such as horses and on domestic pets. A number of veterinarians are recommending them as supplementary treatments for difficult cases.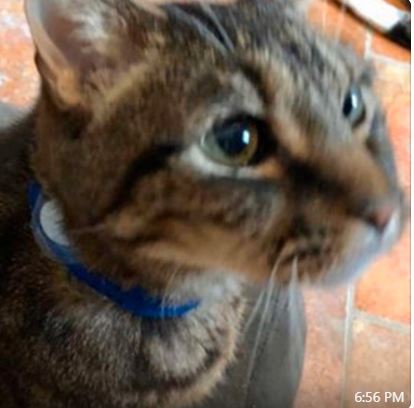 Testimonial by local, Deidra Thompson about her 15 year old cat, Gabriel

About a year ago the vet noticed a growth in my one cat, Gabriel's mouth on the left side and it grew rapidly. It was in the jawbone so surgery was not an option. There was not anything else she could do.

I bottle fed this guy from 2 days old so my heart was crushed.  I had just started my journey with Lifewave and X39.

I had seen a comment or two about using patches on animals and decided Gabriel had nothing to lose. I patched his collar as you can see under the area....it moves around bit but that is ok. About a week after changing his patch every day. I noticed he wasn't shaking his head anymore while eating his wet food. I opened his mouth and his growth was all but gone.

I took him to the vet and she was amazed that the growth had gone… I am forever grateful to David Schmidt for this technology to help my fur babies as well as myself.

I'm a 22 year rescue momma and have been experimenting with patches on my animals....there are lots of them!!! We are seeing some good results !!! Thank you Lifewave!!!!
---