Suaimhneas

A tranquil holiday hideaway
The winding road to Suaimhneas….tranquillity!
48 years ago in 1974 Les Wigmore won a three-week trip to Kenya from his UK company for being their best salesman. Bernie, his wife had always loved the idea of going to Africa and after that trip her husband understood why!
Some time later Les's company offered him a job in New Zealand but an associate who was going to South Africa dissuaded him from taking it up and encouraged him rather to try to get a job in South Africa too. It wasn't too long before an opportunity arose and after a lightning interview at Heathrow airport, Les and Bernie were soon packing their bags and boarding the Ocean liner, the Edinburgh Castle. 12 days later on 2 January 1975 they would disembark in Cape Town harbour to begin a new life in Africa – South Africa!
After spending the night with their UK friends already living in their new country, they took the scenic route, travelling by train, to Johannesburg where Les was to start work. Their lives took many turns through the years but eventually they ended up back in Cape Town and Les finished his working life running his own very successful and fulfilling business.
For their 48th wedding anniversary a good friend gave them a week's timeshare in one of the Garden Route Chalets on the Island and before the week was up they had decided that Sedgefield would be a wonderful place to retire to.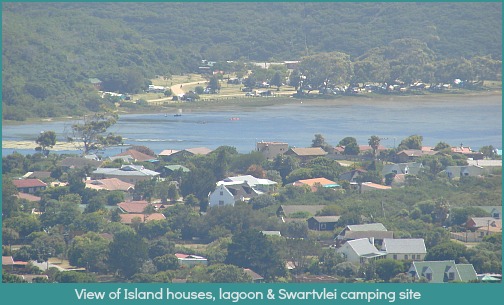 Finding the right house did not happen at once and involved several visits as attempts to purchase a property fell through for one reason or another. The pressure was on because they sold their Cape Town house within a week of putting it on the market. Before desperation set in, they found a place on the Island they both liked, their offer was accepted and in no time they, their pets and all their household belongings were on their way to Sedgefield.
They were soon busy personalising their new home and putting their stamp on it. Unfortunately the first time it rained, water poured in through the roof and light-fittings and they discovered all was not well.

While the family pets settled into their new home, the capable couple put in a lot of hard work themselves to bring the house up to scratch as they uncovered a further number of hidden defects.
Once they had fixed their house and upgraded some of the living areas, Les turned his attention to the yard. It took him many months of patient labouring to turn the bare sandy ground into a lush garden.
In time, they decided to create a 2-bedroom holiday flat for guests. They have called it in Gaelic, Suaimhneas meaning relaxation or tranquillity, a perfect name for a peaceful place and their holiday flat.
Suaimhneas Self-catering Flat - sleeps 4

Suaimhneas' simple lines denote an easy and comfortable living space that is airy and uncluttered. Guests walk into a light and bright open plan kitchen/diner and lounge.
The fully equipped kitchen has a 4-plate hob, large convection microwave oven and fridge with a small freezer compartment. There is a pleasant outdoor braai area with a 6-seater garden set and a shady umbrella when needed.
In the comfortable lounge you can watch four regular TV channels and an electric heater is supplied for the winter.
There is a shower–room (no bath) for guests and two bedrooms, one with twin beds and one with a double bed. There is ample storage in both rooms for personal effects.
There is secure off-road parking for guests and you receive your own gate remote to come and go at your leisure.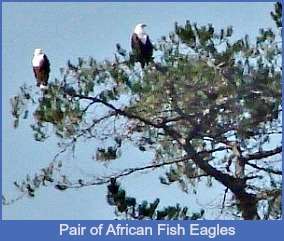 At Suaimhneas, visitors are within easy walking distance of Sedgefield's wonderful Saturday Markets and the lagoon is a few minutes walk down the road where you can swim or fish or launch a canoe.
Nature lovers can enjoy a number of walks around the Island and you may notice a few enviro-gardens too that are conscientiously looked after by the Island Conservancy.
Birders will enjoy the prolific bird life including the likelihood of hearing and even seeing one of the area's resident pair of fish eagles. Bicycles are available for hire at Cycleworx.
To make a booking enquiry, please complete the form below and email it to Bernie.
NB: REGRET NO PETS
Please note the following:
A breakage deposit is required.
Fresh linen is supplied once a week.
Servicing of the flat for stays of longer duration cost extra and can be arranged on request.
Please bring your own beach towels.
Your hosts, Les and Bernie look forward to welcoming you to Suaimhneas!