Eating Out

Cafés, Coffee Shops, Restaurants & Takeaways
Although we are a small village when it comes to eating out we have a few really good cafés, coffee shops and restaurants to choose from around Sedgefield - enough to be spolit for choice. They are almost all owner-run and supervised.

Cafés and Coffee Shops

Our cafés and coffee shops are mostly day time eateries, but there are a few exceptions. Check the times so you won't be disappointed!

---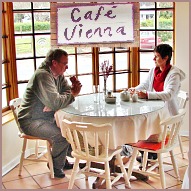 Eating Out at Café Vienna run by Paul
1 Sandpiper Centre, Main Road (South side N2)

I

ndoor/outdoor seating




Open: Mon to Fri 8am-4:30pm (Winter) 8am-5pm (Summer) Sat: 8am-1pm

Tel: 044 343 1234 email: paulherd@live.co.za

Café has a liquor licence.




Breakfasts and Lunches - Quiches, lamb and beef curries popular menu items.

Teas, coffees, milkshakes - Carrot cake, chocolate cake, scones and more.
---
Eating Out at Die Koffiehuis run by Annemie
Cnr of Hoopoe and Main Road (South side N2)

I

ndoor/outdoor seating
Open: Mon - Fri 9am -5pm, Sat: 9am - 3pm
Tel: 044 343 2001 email: diekoffiehuis@yahoo.co.za
Brunches and lunches -favourites - roosterkoek, bobotie pies, mini quiches, tramazinis

Coffees,teas, milkshakes -waffles & flapjacks many toppings with ice-cream and more

All delectables baked on the premises
Home made sweets and savoury treats to take-away

---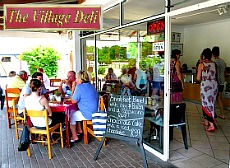 Eating out at The Village Deli is run by Shaun and Heidi
1 Kingfisher Bldg, Main Road (North side N2)

Indoor/ outdoor seating

Open Mon to Fri 8am-4:00pm 

Cell:076 191 6103 email: shaunberriman@gmail.com



Breakfasts & lunches - Specialities are quiches e.g. a)pork belly with roasted veggies, b)bacon, roasted veggies, balsamic onions & feta cheese, bagels, biltong and other take-aways

Fairtrade coffee, teas, milkshakes. chocolate mud pies, blueberry & custard danishes, hot apple, cinnamon & strawberry pies and more.
---
Eating out at Mr Kaai run by Kevin and Mandy
Opposite the Station, Uil Street (North side N2)
Protected outdoor seating only


Takeaways

Open: Mon to Fri 12pm-6pm, Sat 12pm-7pm

Tel: 074 756 8103




Speciality all things fishy - grilled or batter-dipped & deep-fried

Russians

Desserts - Malva pudding or Jelly and custard

Bring your own wine (no corkage) glasses and ice available
---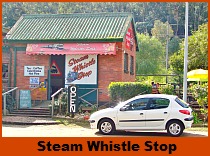 Eating out at Steam Whistle Stop run by Joe and Louisa
Sedgefield Station, Uil Street (North side N2) 

Outdoor/indoor seating




Takeaways




Open Mon to Fri 8am-3pm, Sat 8am-1pm

Saturday find them at Wild Oats Market

Tel: 044 343 1052 email: jklm.groen@gmail.co

Teas, coffee, milkshakes, Toasted sandwiches

Breakfasts and lunches. Shop specialities Pies - sweet & savoury.

Wed lunch special - Roast meat with potato, rice and 3 vegetables. Can be eaten on the premises or ordered as takeaway. Book the day before and bring your own plate for takeaway.




Last Sunday of the month open 8am-2pm Breakfasts and Lunch - roast dinner on the menu.

Shop has a liquor licence.

Catering offered for special occasions up to 20 people.



---