Driftwood Cottage

Self-catering Accommodation
Once upon a time, a lifetime ago, Heidi relates how her family discovered Driftwood Cottage in a magical spot on the edge of the Swartvlei Estuary.
By pure chance in the late 1980's, through a friend of a friend of a friend, a late cancellation found the family holidaying in a divine house on the edge of dune cliffs overlooking the ocean at Wilderness. Falling in love with the area, and looking around at houses for sale, they were treated by a local agent to an excursion in a beautiful home-made canoe on the Serpentine.
The Serpentine Meander through Wilderness
They were so enchanted by their Garden Route experience that they looked around to come back again to the area for their next holiday. This time they found the Swartvlei Lake on the outskirts of Sedgefield. There they enjoyed a number of fun-filled holidays on a large property with horses, staying in the house which the owners willingly vacated over the December season to bed down in their boathouse on the lake!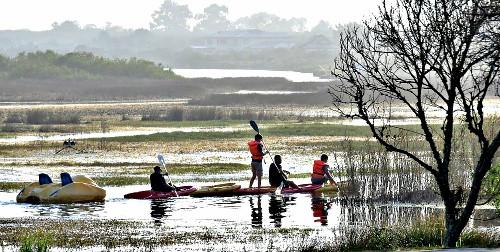 Having fun on the Swartvlei Lagoon
It became the family's habit to spend the final day or two of their holiday looking at potential properties to purchase. When a house situated back from Kingfisher Drive, belonging to a local pottery teacher, became available, Heidi recognised it from descriptions of a beloved family holiday house of an acquaintance in Gauteng.
This, plus its ideal waterfront location and Sedgefield being in the heart of the Garden Route, seemed serendipitous, and the family bought Driftwood without even looking inside.  When they went back to look at what they had bought, they could not have been more delighted with what they found. 
Driftwood Cottage overlooking the Swartvlei Lagoon
Over the next few years the family enjoyed holidays in their lagoon-side cottage at the seaside, gradually making renovations and changes, now reflected in the charming and spacious holiday cottage it is today.
Personal touches add to the sense of a much loved family home from home.
Nowadays, Driftwood Cottage hosts a whole new generation of holiday rental guests and their families, who delight in discovering Sedgefield and the Garden Route for themselves.
Heidi regularly visits with her own family, and continues to fall in love all over again….  

Driftwood Cottage Holiday Rental Information
Please be advised,
Minimum stay 3 nights, except between 14 December 2018 and 14 January 2019: 7 nights.  

Minimum 1 day booking/arrival notice to allow for cleaning and preparation.

R500 refundable damages deposit, for breakages, staining of linen or furnishings, loss of keys or remote etc.




No smoking indoors

Regret - no pets

The property is shared with a garden flat with its own entrance and separate garden.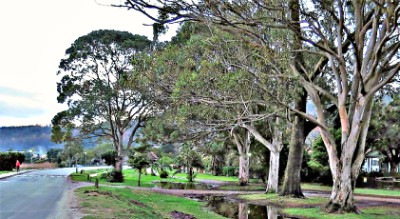 Landmark Gum Trees on Crane Walk
The turn-off to Driftwood Cottage onto the dirt road called Crane Walk from Kingfisher Drive is indicated by the tall landmark Gum Trees from where you are virtually opposite the entrance to the cottage.
There is a garage and convenient off-road parking. The cottage has good security and you will supplied with a remote on arrival.
Comfortable Lounge leading to outside deck
The roomy and comfortable lounge has an open fireplace for those cooler days and nights. For  DSTV, bring your own decoder and smart card & contact MultiChoice to activate "Holiday Switch". Alternatively ask us to activate ours at a small additional daily rate of R25.
Sliding doors  open up onto a large deck to enjoy sunset and lagoon views and for all-weather relaxing. A portable Weber braai is provided. One of the garden's pleasures is its prolific birdlife. 
Open-plan Kitchen & Diningroom
Just off the lounge is the open-plan Kitchen and Dining-room, which also has access through sliding doors out to the deck.
The well-equipped kitchen includes a full stove with oven,  fridge/freezer, microwave oven, dishwasher and sufficient crockery and cutlery for 4 people. 

Main Bedroom & Full En Suite Bathroom
Pre-loaded electricity on a pay-as-you-go basis:  additional units can be purchased from local Pick 'n Pay.
The main bedroom has plenty of cupboard space for personal belongings and a full ensuite bathroom.
The second spacious bedroom has two single beds and good storage.
There is a second full bathroom right next door to it.
Second Bedroom and bathroom
The cottage does not have a washing machine but there is a laundry within walking distance at the Pick 'n Pay Centre.
Please bring your own beach towels. 
Daily cleaning can be arranged with the agent Suzette at Eden-on-Sea Rentals at an additional daily rate.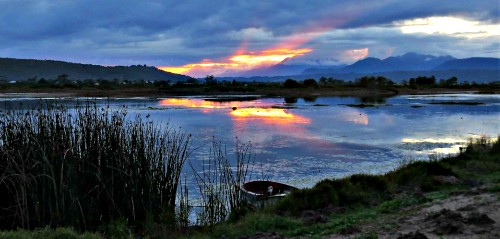 Serene Swartvlei Sunset