Bird Cottages on the Island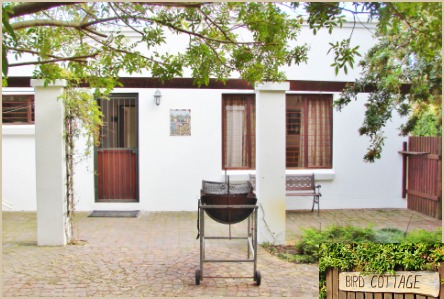 Bird Cottages Accommodation wasn't called that when Andy and Christine first moved to the Island house in Sedgefield in 1998. It had previously belonged to Bob Reimers, Christine's father.
He came to Sedgefield with his wife, from his beloved sheep farm near Tsitsikamma to whence he had retired in 1973. Bob had owned the farm for several years before that, building it up and equipping it to be part of his idyllic retirement plan.
Bob had been employed for many years by SAR&H (South African Railways and Harbours). Diligent and conscientious, he had finished work as the District Engineer stationed at Oudtshoorn. At the time, included in his responsibilities was the maintenance of the Outeniqua Choo Tjoe's railway line.

Andy has an old hammer of his father-in-law's, which he said, was used to check the wheels of the rolling stock. The wheels would be firmly tapped as the coaches trundled passed at low speed and by the "ring" it could be determined whether the wheels were cracked or not. This check was performed religiously as wheel fractures could lead to serious accidents.
Bob had enjoyed farm life for 10 years, when, unfortunately, ill health compelled him to move into town in 1983, and the small rural village of Sedgefield appears to have been an acceptable compromise. Eventually his two daughters, Christine and Ronella inherited the Island house.
Because Ronella had married and was living in Canada, Andy bought out her share and together he and Christine did some alterations and renovations to upgrade the old house that was originally built in 1968.
Andy grew up in Cape Town but spent many wonderful holidays on his cousin, John's Karoo farm. There, free to enjoy all the outdoor pursuits young boys revel in, his own interest in falconry was nurtured by his cousin.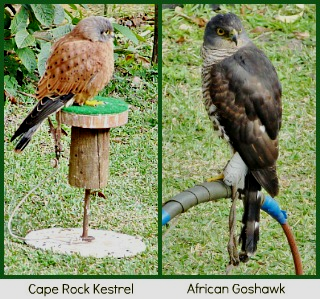 Now an experienced falconer, Andy is often contacted to help injured or sick birds of prey that need rehabilitation. This frequently requires long-term commitment and depending on the condition and injuries of the bird this can take months even years to facilitate.
Some birds can never be returned to the wild. In this instance there is often opportunity to use a matching pair for breeding purposes, although it has to be sensitively orchestrated. If the birds don't take to each other, one could end up being killed in the introductory phase.
Birders, in particular, who stay at Bird Cottage will be fascinated by the insights Andy can give them on these incredible birds of prey. He always has at least one or two birds that he is looking after.
It's not surprising then, that the two holiday apartments on offer here are named as follows:
Guinea Room (Sleeps 2 adults + has a sleeper couch for 1 adult or 2 smaller children)
Bird Cottage (Sleeps 3 adults + has a double sleeper couch)
Bird Cottages - The Guinea Room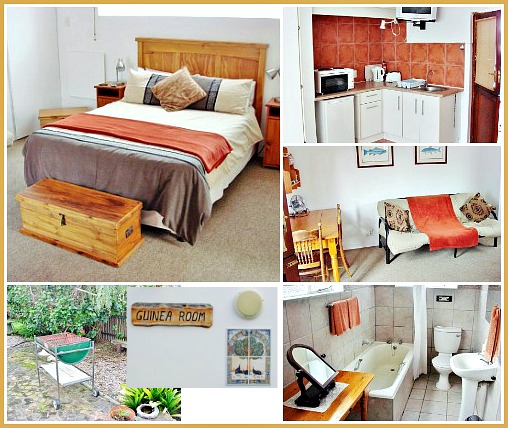 The Guinea Room is a comfortable bachelor flat that has a kitchenette, dining table, settee/sleeper couch, double bed, TV and full en suite bathroom. There are outdoor benches and a braai for the exclusive use of the guests. There is off-road parking for one vehicle.
Bird Cottage
Bird Cottage has a double bed, single bed and a sleeper couch with an en-suite shower (no bath), an open-plan lounge with full DSTV/ dining room, a fully equipped kitchen that includes a full size fridge/freezer, microwave oven and a scullery/laundry with washing machine. There is a private enclosed garden with an outdoor braai. There is off-road parking for one vehicle.
To make a booking enquiry, please complete the form below.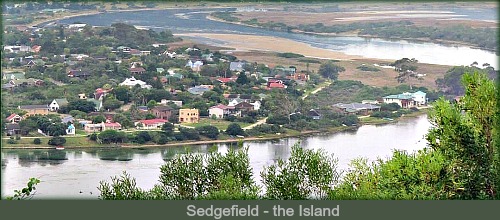 Related Links



World-renowned falconer, Dan O'Brien is a short-story writer, essayist, novelist and author of non-fiction books; a wildlife biologist; a rancher; and a doctor of literature.
Nature is the star of his books - both fiction and non fiction - his essays, and, for that matter, his life. The thread of falcons, especially the peregrine, is a constant in the fabric of his existence. He eventually bought a ranch in the shadow of the mystic landmark Bear Butte, Mato Paha in Lakota and joined efforts to save the peregrine from extinction in the western United States.