Sedgefield Accommodation
Sedgefield accommodation is plentiful. In the prime Christmas holiday season our village swells from 15000 inhabitants to 50000 with its seasonal influx of visitors. Admittedly many have holiday homes here but a greater part of the holidaymakers are catered for by timeshares, B&B's, lodges, all types of self-catering and two very popular caravan and camping parks, one at Groenvlei and the other at Swartvlei.
Different types of accommodation appeal to different people so visitors should always try to find accommodation that fits their taste. Reading reviews which can be found at sites such as trivago can prevent a disappointing experience and word of mouth can also be very effective.
Happily these visitors all come to enjoy the good summer weather at Christmas time and the great outdoors. The holiday vibe in the village is tangible. Everybody welcomes the monetary injection these visitors give to the local economy.
Our great local Saturday markets are jam-packed with Garden Route visitors and its the one time all the locals keep a low profile and give one of their favourite places a miss! No-one notices..... the place is so crowded.
Surprisingly, our beaches still have a vaguely deserted air. One sees pockets of people at the river mouth, on Myoli Beach, walking to Gerickes Point but by and large there's acres of empty spaces and the serenity of Sedgefield is only slightly ruffled even though the holiday homes are occupied and all the Sedgefield accommodation is full.

The Sedgefield accommodation on offer here is solely the self-catering option in order to advertise my own holiday accommodation and that of some of my friends and acquaintances. Ranging from a studio to apartments and cottages I'm happy to recommend them as first rate places to stay for a holiday in our village. 
Please note that I do not organise bookings for other Sedgefield accommodation establishments. Any bookings enquiries made with accommodation entities on this page other than my own, you deal directly with the owners/ managers themselves.

Sedgefield Self-Catering Accommodation

A private luxury upstairs studio with secure off-road parking, overlooking the Swartvlei lagoon yet a stone's throw from all the shops and restaurants......
---
A tranquil hide-away in a luxurious garden apartment in the secure Lake Pleasant Living complex on the banks of the Goukamma fresh water lake on the outskirts of Sedgefield.
---
On leafy Kort Street on the Island, a hop and a skip from Eagle Green boat launch is rustic and unpretentious Hopewell Hut.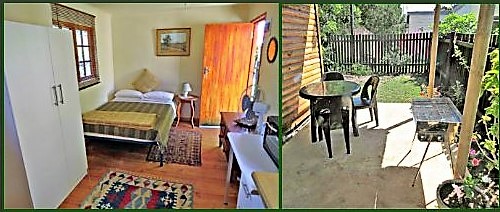 ---
Two cottages - one, sleeping 3 adults or 2 adults and 2 smaller children and the second, sleeping a maximum of 5 adults in a cosy country hideaway in the peaceful Island suburb of Sedgefield within walking distance to our famous Saturday markets.
---
A 3 sleeper country cottage on the island with all the comforts and mod-cons of modern living.....

---
---
Gorgeous laid-back holiday cottage in a treed garden overlooking the Swartvlei Lagoon.
---
A spacious family apartment with panoramic views of forest, the lagoon and seawards.....

---
A Stand-alone House with its own fenced in yard with swimming-pool and garage for 1 vehicle.

---
Two different upmarket holiday lets -one near the beach, Milk and Honeys, the other near the village, Footprints in Sandals..... 
---
A charming character-filled home that has 4 bedrooms that can accommodate up to 8 people with its own private beach on Swartvlei Lagoon.

Links to Other Accommodation


Duet House in Sedgefield on the Garden Route, offers its' guests 3 luxury well-equipped and tastefully furnished self-catering apartments, under one roof, each with their own off-road secure parking. Your host, Gary and his staff are eager to assist and will go out of their way to make sure your stay is a memorable one. 
---

This pretty self-catering accommodation in Wilderness is suitable for 2 adults and a small child. It comprises a comfortable bedsit with bathroom/shower and an open-plan kitchen/diner that leads out into an enclosed garden. It is within walking distance to the beach, service station, convenience store, 2 beauty spas and a lovely restaurant overlooking the sea. To book this holiday unit, email Christine at christineb@altonet.co.za or Tel: 044 877 0153 or Cell: 073 181 0074

---
Helen and Brian Matthew welcome you to "pet friendly" Viola and Owl Cottages independently situated in a quiet residential area just north of Cape Town in a beautiful suburb called Bloubergrant. Five minutes from the beach, each cottage enjoys its own private garden, BBQ, outside eating area, and secure parking.
---