Sedge Travel
Owner-run Sedge Travel is Sedgefield's very own one-stop Travel Shop!
Debbie Stewart started off her career in Johannesburg but on holiday one year, she visited Sedgefield and discovered its beautiful beaches and from then on, she knew this was where she wanted to live. 
Fortunately Debbie can do her business anywhere and 5 years ago she moved to this special "Slow Town" village. If it ticks the right boxes for you, Sedgefield becomes addictive!
Like me, she feels it's the perfect place to be and its not too shabby to be able to start or end your hectic working day (and it is hectic even in Sedgefield) walking loyal and fun-loving companions, her two dogs Max and Runo, on the beach!
Enthusiastic and dedicated Debbie has been in the business since 1986. She has vast experience and the in-depth knowledge at her fingertips to be able to offer the best deals available.
She is up-to-date with international flight regulations and visa requirements. She is able to arrange services for 'special needs' travellers e.g. wheelchairs and assisted boarding or even pet emigration.
Planning and coordinating people's holidays and business trips is a demanding and exacting job but Debbie's attention to detail and passion for her work ensures that she won't disappoint.
She is always willing to go the extra mile so whether it's a simple local flight, a complicated multifaceted overseas holiday or a time restricted business trip, be sure that at Sedge Travel Debbie will help you to get it right! 
Sedge Travel

offers all the regular Travel Agency Services
Flights
Visas
Accommodation
Car Hire
Cruises
Coach Tours domestic and international
Tailor-made Packages
Travel Insurance
So for any of your travel needs no matter where, contact Debbie for efficient and friendly service.
---
Links to other Travel Sites
---

Discover Route 62 – the road less travelled
These back-roads from Cape Town to Port Elizabeth offer the visitor an alternative adventure from the Garden Route, both in the physical sense, and visually. Stunningly beautiful in its own way and steeped in history it's worth doing the round trip along the scenic Route 62.
---

A website with everything you would like to know about Oudtshoorn and the surrounding area of the Klein Karoo, from accommodation, activities, attractions, conservation, culture and history to restaurants, business, general information and local news.
---
Escape Artist.com is a comprehensive website for those considering international relocation. If you want to live in, work in, retire to or visit a foreign country this website is a great resource of information and advice covering investments, real estate, kind of government, state of the country, job opportunities etc. written by people in the know.
---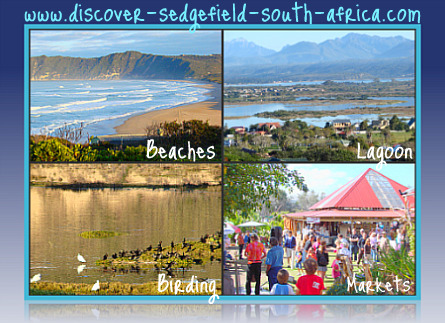 ---
Discover Sedgefield Homepage>Sedge Travel