Broadview

Self-catering Holiday Cottage
Broadview is a gracious and comfortable 6-sleeper cottage owned by Hennie and Gloria, long time residents of Sedgefield who bought the cottage some 19 years ago.
Prior to that a dear old hermit had lived in it and when he died suddenly of a heart attack while swimming in the lagoon, Gloria, who lived close by was interested in buying it.
The family that had inherited it had a tenant living in it by then and the overgrown neglected yard did not appeal to Hennie. Gloria eventually persuaded him to put in an offer that was accepted and then work began to clean up the garden and upgrade the house.
The ground was cleared of years of recycled garbage stored in large rainwater containers and scrap metal that made the chap who collected it a fortune! As the overgrown shrubbery was cut back, a swimming pool emerged that was thought to be a froggie pond because of the croaking that had reverberated from it around the neighbourhood at night.
Seven huge water-guzzling Eucalyptus trees were removed from the garden and once lawn was planted and the shrubs pruned, it began to look presentable. Inside Gloria and Hennie tastefully opened up the living area and modified the bathrooms and bedrooms.
They successfully converted Broadview into a welcoming and spacious holiday cottage that can agreeably accommodate up to 6 people.
Overlooking Swartvlei Lagoon and within easy walking distance to the shops and restaurants of Sedgefield village it is an ideal holiday spot for a family.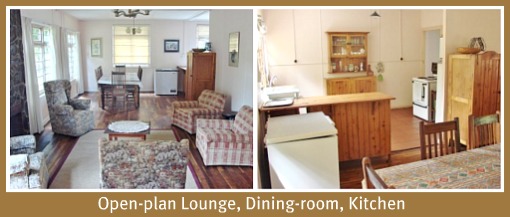 The open-plan living area is a pleasant space that is roomy and relaxing. There is a built-in fireplace in the lounge and the kitchen is well-equipped. It has a full 4 plate stove with oven, microwave oven and fridge/freezer. There's a separate deep-freeze in the dining-room.
There's an outdoor braai and a sunroom off the lounge for windy days or chilly evenings.
There is a facility for DSTV if you bring your own decoder.
The three bedrooms are tastefully decorated with adequate storage space for personal belongings.
A bathroom and a shower room provide the cottage with adequate utilities. A washing machine is neatly tucked away in one of the cupboards. Please bring your own swimming and house towels as these are not provided.
The cottage has a fenced swimming-pool that you may use at your own risk. A lock-up garage with an extra high door secures your vehicle.
To make a booking inquiry for this self-catering holiday cottage please contact Gloria by completing the form below......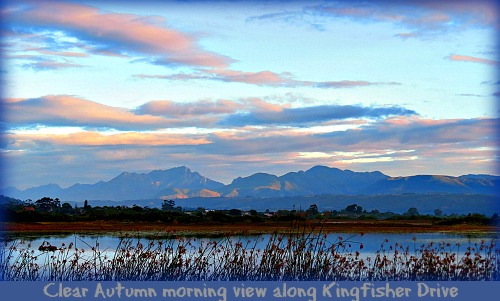 Discover Sedgefield >Sedgefield Accommodation > Broadview